Hello! After missing all the races weekend before last I have started to plan my 2014 Race Calendar.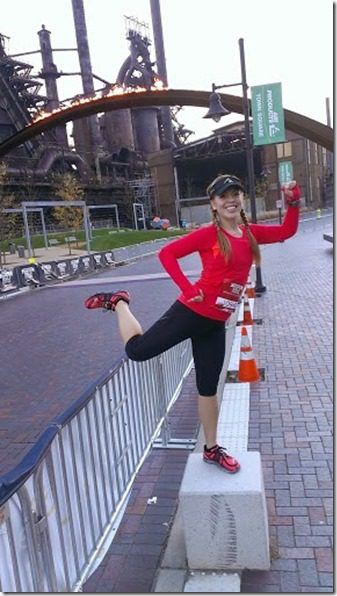 I have a few new races to add and discounts to share!
Palm Springs Half Marathon – Feb 9 <- I'm excited to do a mini getaway with my best friend!!
Phoenix Marathon – March 1 Discount code: runeat10 for $10.00 of registration!
IDEA World Fitness Blog Fest August 14-17 Anaheim, CA $100 off with Coupon Code: BLOGFEST100
And I also have a discount for you to watch The Desert Runners Movie
Use code: 'runners' to get 10% off. You can get a digital download or dvd.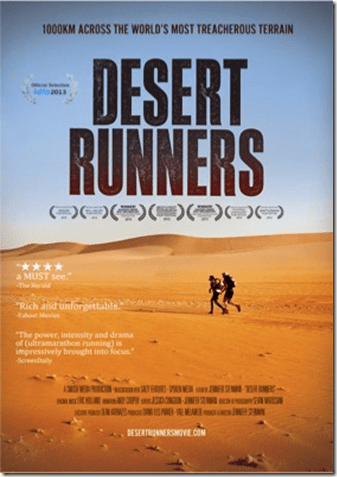 I watched the movie last week and was super in awe of the runners in the film. Amazing. They are not normal people, they have magical powers or something.
"Imagine you've been dropped off in the middle of one of the largest, driest deserts in the World. Over the next six days you will have to run, jog, walk or crawl 155 miles through the incessant heat (up to 120 degrees), across soft sand and hard-packed gravel, over sand dunes multiple stories high and down razor-sharp rocky cliffs. You must do this carrying everything you need to survive — clothes, food, sunscreen, emergency medical supplies, sleeping bag — in a 20-pound pack on your back."
I had opportunity to speak with Samantha Gash on the phone after watching the film and picked her brain about all of her training, running, eating and everything else for this amazing feat!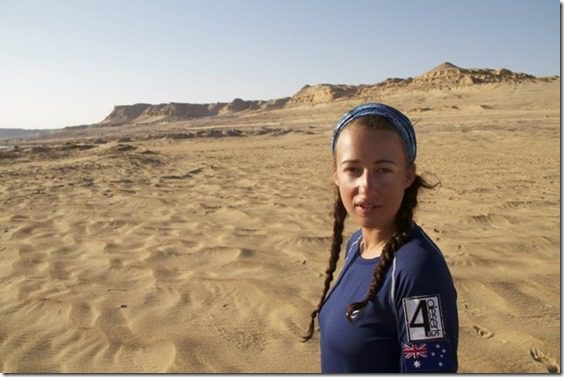 (source)
RER: How did you get started with ultra marathons?
Gash: I suppose I've never done anything in a conventional order. I did a marathon and was really sore after. It was the first time I'd done anything like that. I was sitting there talking to another runner and she was telling me about a series of ultra marathons. She was planning on doing all four. I was really intrigued by the survival element of it, sharing a tent, having everything you need on your back.
It seems like a cool way of seeing a different place. I told her I would sign up.
RER: How did you train for an ultra marathon?
Gash: I didn't know how to train for something like that. I tried to look online for information specifically for women. I knew a women's body would respond different from a man's but I couldn't find anything really. There wasn't a lot.
I ran on a beach with a backpack full of soup cans. I made it up…
When I trained for the Sahara I did a lot of Bikram Yoga to prepare for the heat. I found it was good to simulate the challenges. Visualize how I could work through those possible challenges I would face.
If you can be consistent and smart you can do well if you're not the most natural talented runner. So many people go out too hard and blow up. If you slowly build up and give it everything in the last stage you can push past people by hours. (RER: I love that!)
RER: Do you get bored out there for so many hours?
Gash: When you're out there you switch out from the outside world completely. When you're out there for an ultra your only job is to run. I was never bored.
RER: You had to pack all your food with you. What did you eat?
Gash: I'm a raw food, fruits and veggies girl in real life. In races you need the most highly dense calorie food you can carry. I would bring salt and vinegar crisps crumbled up. I would crumble two bags into a small space. They are light about about 2000 calories. Noodles, they are high in sodium and that's what you really want. I would have hot chocolate and tea at night, a few protein bars. I think females have an advantage because our bodies hold onto fat stores. My body would actually get larger during races. I was craving sodium, my body was responding to the need to fill up.
RER: What are you training for now?
Gash: I have an expedition. It is a month of 80ks. I'm in the build up phase right now, trying to make my body as resilient as possible. Get ride of weaknesses. I love yoga, it's good for core strength that you need to support your body.
I'm also launching Freedom Runners next weekend…
From the site: Running an average of 80km per day for 32 days on South Africa's 2350km Freedom Trail, Mimi Anderson (UK) and Samantha Gash (AUS) will promote awareness of this issue and raise funds for the establishment of a social enterprise business in South Africa. The business will employ women to make and distribute low cost feminine hygiene products in the Namahadi Community in the country's Free State Province of South Africa. Save the Children South Africa will act as Project Manager of the social enterprise business.
Basically, in Africa girls drop out of school because of menstruation. Gash and Anderson are running to raise money and awareness for this. Check out Freedom Runners for more information.
Check out Desert Runners to see the movie (discount code 'runners').
Question: What would you take with you to eat on an ultra where you had to pack all your food??
I'd bring Nutella sandwiches all smashed up or Nutella balls with oats and salty nuts.