This morning I woke up a little tight in the legs and took a short walk to loosen up. I put on a pair of Pro Compression socks thigh highs SR gave me and am hoping they will help speed along my recovery!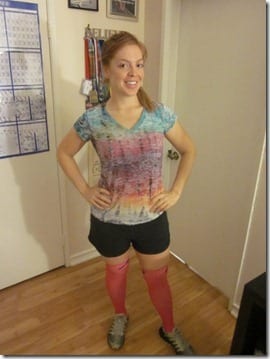 After my 2 mile morning stroll I made pancakes for breakfast and logged onto work. I am so glad I work from home so I can hobble around as needed and keep my post-marathon uniform on all day (see above).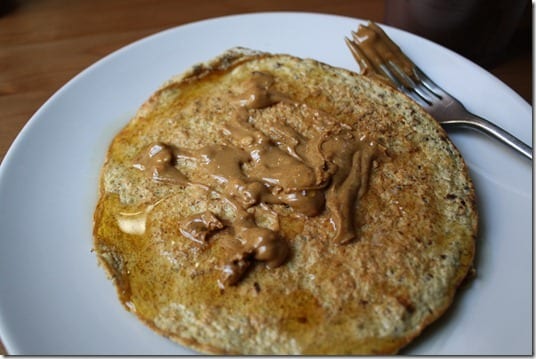 Lunch was a big salad with a salmon burger from yesterdays BBQ, cashews and bag of Food Should Taste Good Chips I got at the expo.
Mid-afternoon I fought off a nap with some lots o' granola. I'm so bad about trying to fix tired with food, but today a nap wasn't in the cards and I was just friggin' tired! Bah, I know this and should have had a better plan of attack for this.
Since Long Beach was a training run for New York, now I need to let myself recover from the marathon while making sure I keep up my fitness level and stay in 'marathon running shape'.
After a marathon I usually follow Hal Higdon's Zero Week Plan. Higdon and Steve both say not to run for 3 days after the race. So, (reluctantly) I will not run until Thursday. I know my body is tired, but my heart is happy and wants to run
The plan for the week looks like this:
Monday: Rest, Eat, Repeat

Tuesday: Chest and back strength

Wednesday: Yoga

Thursday: Easy 4 miler to see how I feel

Friday: Class or strength

Saturday: Run distance TBD
Everyone's recovery is different so I am going to change this if my body is telling me it's too much or not enough or it's better to sleep in
I brought home a plate of leftovers from the BBQ for Ben's dinner, but am not sure what I'll be having. I do not feel like cooking so it might be a frozen pizza or something.
Question: What's your exercise plan for the week?
RER Housekeeping: I changed servers last week so RER should not go down for anyone any longer and my pics should show up in Google Reader and  email subscriptions. If you are still having issues please let me know. Thank you for reading!