Yesterday morning I woke up and did the usual pre-race rituals: change, bathroom, sunblock, eat.
I had laid out my stuff the night before so I wouldn't forget anything.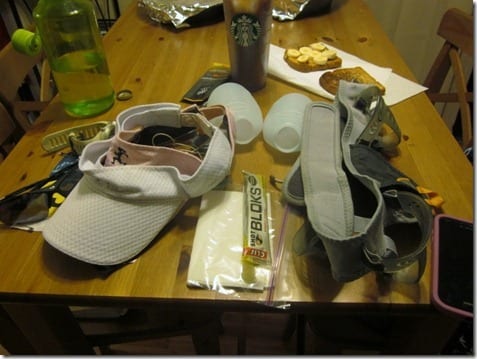 I ate PB toast and cinnamon sugar toast with salt.  Salt was key in this race.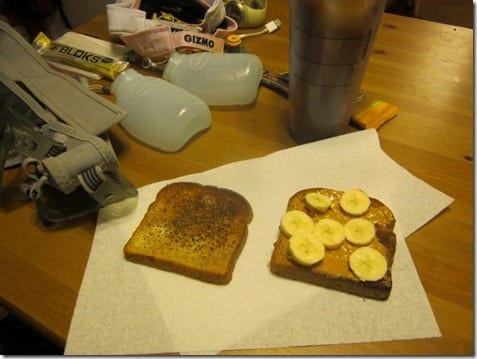 I have run the Long Beach half or full something like 5 times now. So, getting to the start was familiar and nice. This feels like my home town race
My goal for the Long Beach Marathon this year:
1. Run a SMART race.
This meant:
Don't be an a-hole (aka don't go out too fast).
Fuel every 5 miles.
Have fun! <- This is was very very important because I did not want to go to the New York Marathon hating marathons!!! After last year's LB race I was 99% sure I was done with marathons forever. Only after receiving the offer from ING to be an ambassador did I consider signing up for another! I needed this race more for my head than my body.
I jokingly told Ben my strategy for this race was, "Don't be an a-hole and pray."
I'm notorious for going out way too fast and bonking. So, I was determined to go out at 4 hour marathon pace and see if I could do a few negative splits. Remember, I didn't taper at all for this race so I was open to the possibility that it would be very tough to have a good race – that's where the praying comes in.
I fueled every 5 miles and used the new Margarita Clif shot blocks with 3x the sodium of the originals at Mile 5 and 15. The last 2 years I did LB I got the worst cramps in my quads (it feels like my whole muscle was having a spasm!). That did not happen this year! I think the extra salt (from salting my toast, sipping Nuun and the blocks) helped prevent this.
I thought I was still going out a bit too fast at 8:50s the first few miles, but I kept checking in with myself. My goal for the first half was "energy preservation". I wanted to use up as little energy as possible and save it for the second half.
I saw Ben at mile 12 and he refilled my water bottles (I wore my fuel belt with 2 bottles). He is the best!!!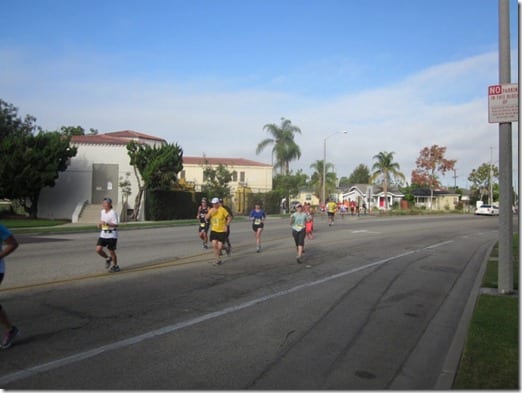 Since this was the third time doing this course I knew I fall apart at mile 17 near Cal State Long Beach because it's hilly. Last year I SLAMMED into the wall right there and it was horrible. This year I knew it was coming, fueled and stayed positive. I ran in and out of the campus and stayed focused on 'up and over' the hills.
Then, I finally turned on my music. I was 'saving' it for the last 6 miles or so. (<- in hindsight I think turning it on early would have made me go out too fast, having no music in the early miles kept me more self aware.)
After CSULB there is a slight incline and you head back to the beach/Finish. I kept waiting for my quad cramps to come and even had one of the aid stations spray my legs with that magic muscle spray (I did this last year too and the cramps still came).
No cramps.
I waited to SLAM into the wall. I saw people around me walk up the hills. I saw their form break down. I waited for it to happen to me.
No wall.
I never hit the wall on this race! I credit luck, fueling and having a good day.
At mile 24 I ran by the Sole Runners booth and one of their runners was just coming out to finish. We ran together from Mile 24-25 and it was something like 8:34?! We both thought the other person was trying to go fast. Talk about a negative split! That was my fastest mile of the entire race!
Unfortunately, we lost each other at an aid station around 25, but seeing that I just ran such a fast mile I kept pushing. I knew I was going to PR at this point and figured I should run (not stumble) it in.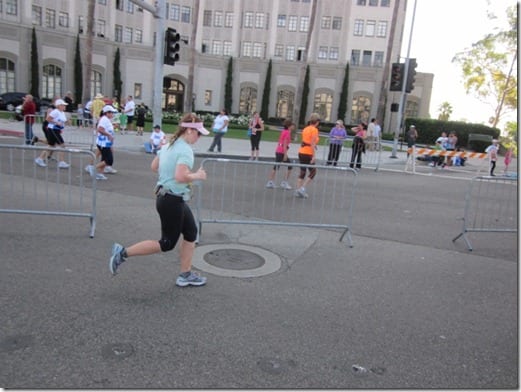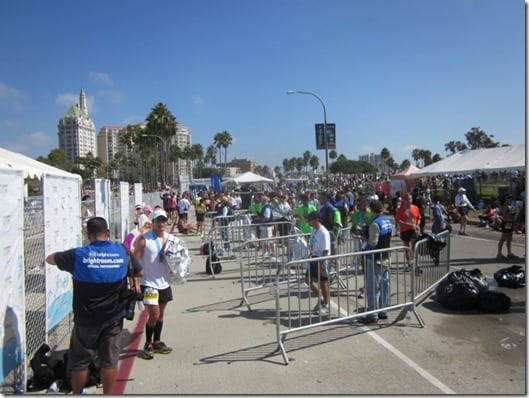 As someone who is not a natural runner my race performance depends largely on how my body feels on race day. My half and full PRs have been when I was just having a good day – not necessarily after weeks of crazy training for a PR. But, I did run smarter not harder and that was more than half the battle.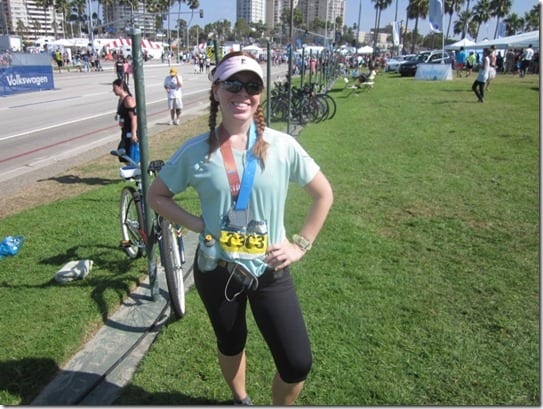 My official Marathon PR time is 3:55:03 Average Pace: 8:58
I went to tell Steve "Hi!" at the finish line festival: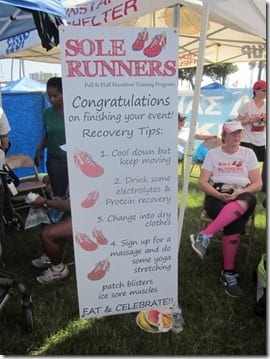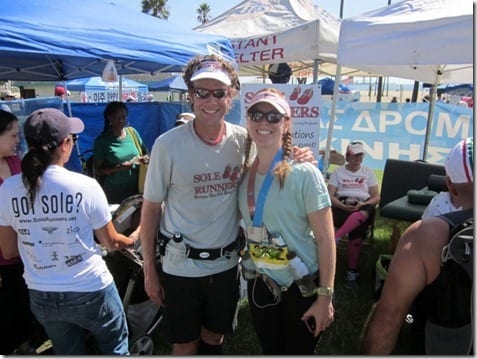 I was exhausted after and we headed straight to my mom's. Instead of an ice bath I took a dip in the chilly pool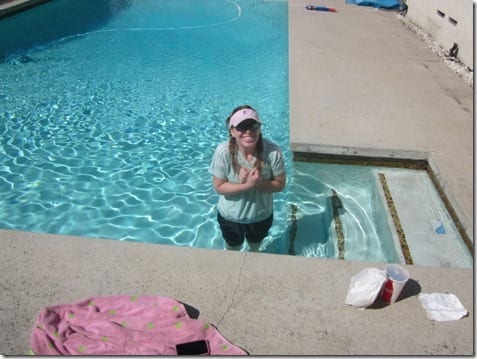 It was cold, but not exactly ice bath torture.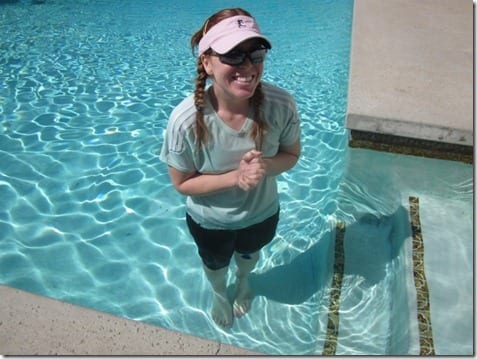 And enjoyed some of Ben's fries. We drove though a place on the way over, but I wasn't hungry at all. I just felt wrecked more than anything.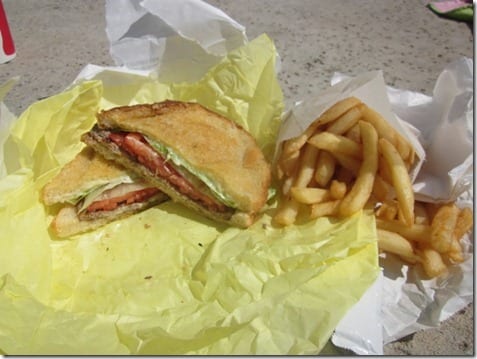 I did sip on a Chocolate Milk from Steve though!
The rest of the day involved a family BBQ to celebrate something for my brother. We had carne asada, salmon burgers, potato salad, beans, rice and fideo. So good!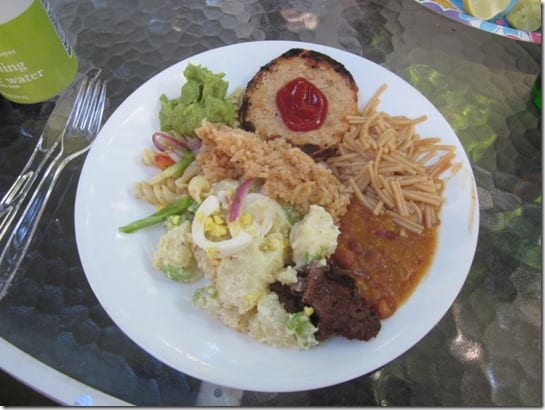 That's why I made the Funfetti cake Saturday.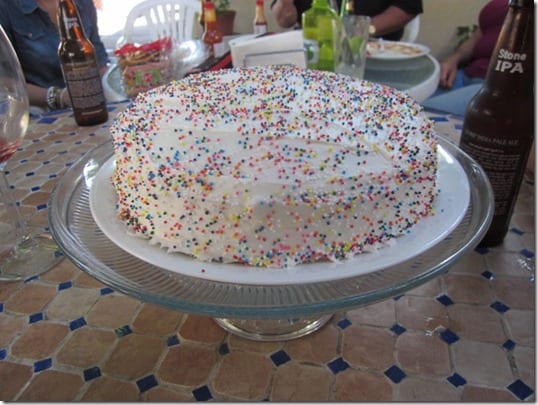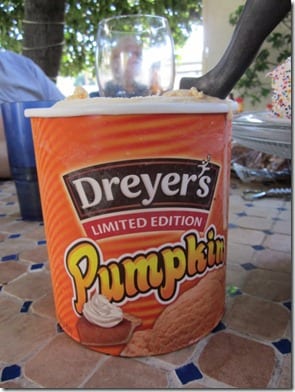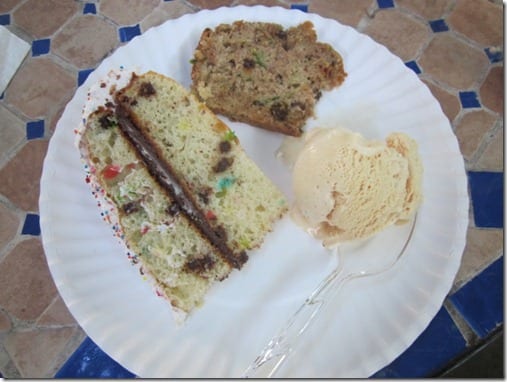 And I had a massive Skinny Girl margarita x2 to celebrate!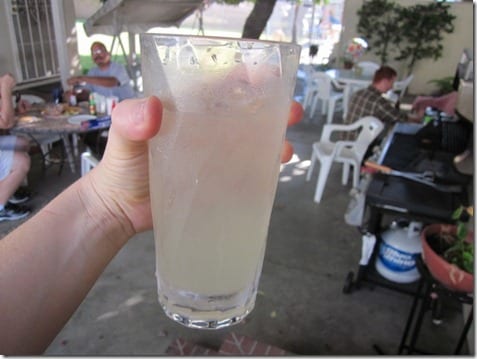 This morning I am a little sore – mostly my quads and toes, but feeling great overall! Next up is the New York Marathon!!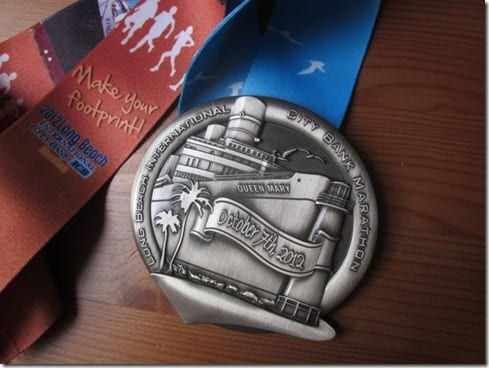 As of right now I still plan on running NY just to enjoy it (not for time) since it is the one time I'll do that epic race. PR-ing in Long Beach has proved to me that last year's race was not a fluke and I could sub 4.
I want to really experience and enjoy the NY mary and then decide what's next. I keep saying I'm going to retire my marathon shoes and stick to halfs, but I'll make that final decision after Nov 4th.
Yesterday's marathon was #5 for me and after each of the previous I've swore that was the last one. This one felt different, kinda like I didn't want to lay down and die right after. Hmmm. I feel like I have a lot to think about, but for now I am basking in my Marathon PR
Question: What did you do this weekend?