Hello!! How's it going? Over in RER-land it's been BUSY because I'm moving! Mission Inn Christmas Lights
And I didn't realize that was a big thing requiring… organization and boxes and muscles and calming tea and somewhere to put all your stuff.
More on that later.
Today I'm sharing some photos and tips from the Mission Inn Festival of Lights in Riverside.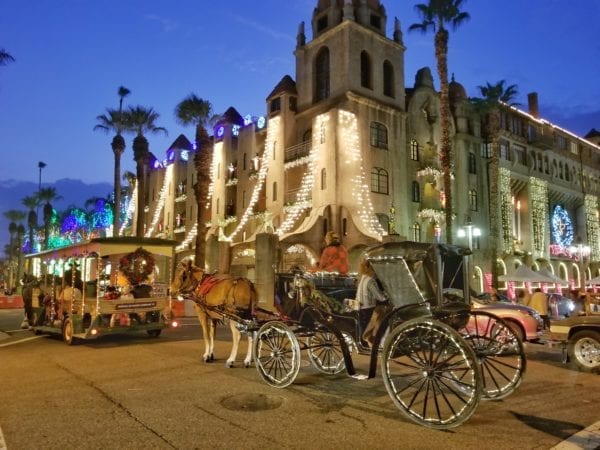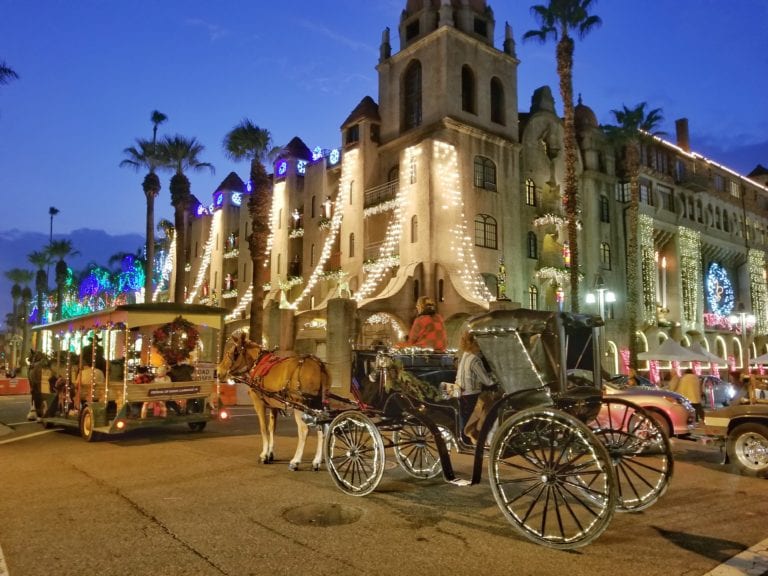 I've heard about it but had never been until this weekend. All I knew was it was in a cute part of Riverside and they decorate it beautifully for Christmas.
My family met there to celebrate my lil brother's birthday and then we were going to walk around and enjoy the lights and snacks.
Dinner was at ProAbition which is a great location to walk around after. The food was great – everyone got a different dish and really liked it.
I got the Miso White Bass – Marinated in sake & miso, served over braised Swiss chard & spinach. Steamed jasmine rice, red, green & yellow pepper jam in a lemon ginger beurre blanc.
Note – It's not a super kid friendly restaurant (we didn't expect it to be). I don't think there was a kid's menu so my nieces got something from the appetizers (they're 3 and 6 years old so a lot was leftover).
The best part was they brought out a BIG sparkling candle to celebrate my lil brother's birthday!! We weren't expecting this so it was a fun surprise!!
While we were waiting for our table before dinner my niece saw the horse drawn carriages being pulled around the area. She wanted to ride one soooooo bad and I guess looked soooooo cute that my parents said we'd do it after dinner.
There are multiple lil ticket booths to get tickets for the horse drawn carriages. I found a shorter line down the street than the one that was across from the restaurant. In total it took about 30 minutes to actually get on the carriage.
We went on the Cinderella Carriage because my niece was all about it.
Horse Drawn Carriage Notes:
It's $75.00!!
There are 3 horse drawn carriage options – 2 are at a group price for max 6 people. Or you can buy tickets at $8.00 each for the bigger carriage.
It takes you around the perimeter of the Inn so you can see some of the lights.
The ride was under 10 minutes
People take pics & video like you're a parade for their Instagram & Facebook stories (I yelled – Tag Me!! So I could share.)
It is 75 U.S. dollars
Um, yeah – I was surprised by the price!
I hope the horses pulling us get fancy organic carrots from Whole Foods for that money!!
But my mom said it's the kind of stuff you do for grand-kids and not your own kids.
Thanks mom.
My nieces really did enjoy it so I think it was worth it for the happy memory.
We walked through the Mission Inn to see the lights and decorations and it was gorgeous!! Unfortunately, I didn't get pics of that because my hands were frozen at that point. But I'm pretty sure you've seen Christmas lights before so just imagine that here:
[ pic of fancy hotel with Christmas lights ]
After that we were pretty much done. It was getting COLD. And all the lines for treats were super long.
Overall thoughts on Mission Inn Festival of Lights:
The Mission Inn Hotel is decorated in a way that reminds me of Disneyland (including random animatronic carolers).
It's a great way to get into the holiday spirit! If you feel like the Grinch this year – check it out!
There are BIG crowds so parking is hard to find and traffic is jammed! Bring your patience.
Walking around to look at the lights is FREE. (There can be a long line to walk through the hotel though.)
There are a lot of vendors selling treats like funnel cake, candied nuts, hot cocoa, etc – but again, lines are long.
It was COLD. Well, cold for California so wear 12 layers or more. (I wish I did!)
It's something super fun and festive to do once. So keep that in mind and be patient, enjoy it and take it all in.
Links and Resources from this post:
Mission Inn Riverside Festival of Lights
You May Also Like This…
How to Make A Christmas Tree Cheese Platter
Best Minimalist Christmas List – Free Printable 
Free Gift Certificates for Runners to Print & Personalize