A few weeks ago I got my ACE Personal Training Certification. Since I don't have PT experience, applied to a local gym for the front desk thinking I would eventually "work up" to a PT position. But, during the interview the District Manager saw I was certified and asked me a bunch of questions about that.
A day later I got a call and a job offer, but not for the front desk – for a Personal Training position! I actually considered not taking it because I didn't feel ready. Finally, I decided to go for it and risk falling flat on my face in an embarrassing heap.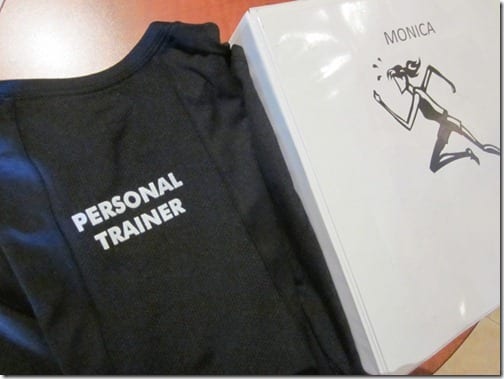 Between my new Personal Training position and coaching my little running group, my life has went from 0 to 60 in a few weeks. Oh, and the blog has been growing as a very happy rate too!!! It's crazy.
I am very excited about "my new life" as I keep calling it. But, I did want to acknowledge it here. What does this all mean for me and RER?
My new schedule: I will be working afternoons Monday – Thursday (M & W at the gym / T & TH with the group) and mornings T, TH and F. I will still be posting 2-3 times a day (I apologize to those of you who were hoping this was my letter of retirement).
The person this is going to have the most effect on is my intern. But, I am not sure how he's going to handle the extra work load…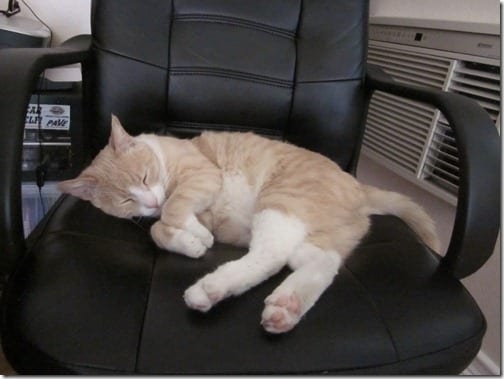 My new busy schedule will also have an effect on my meals – something I don't want to neglect (because I'm trying to lose and avoid attacking the kitchen). I can't really time my meals to hunger since I'm going to be on the move during the week, so it's probably going to be on a schedule of sorts to keep me going…
Breakfast: 7am

Snack: 10am

Lunch: 12-1pm

Snack: 3-4pm

Dinner: 8pm
Question about my new gig:
Do you feel like ACE prepared you for what you are doing now? Knowledge-wise, yes. There's a ton of good info you learn from preparing for the exam. But, hands-on not so much. I think hands on experience is super super important for a job like this!
Did the facility your at want/require more than the ACE cert? They are giving me a lot of training with fitness evals and equipment stuff  – basically all the vital "hands on" info I was talking about 🙂


www.toothpastefordinner.com
I worked this morning and got home around 1pm for lunch.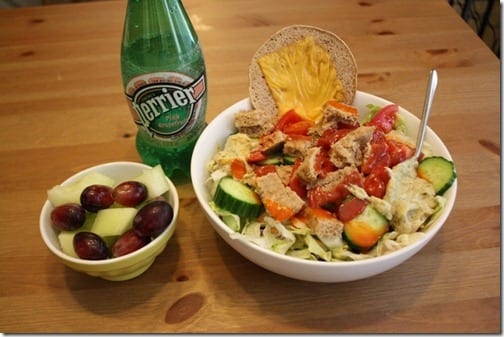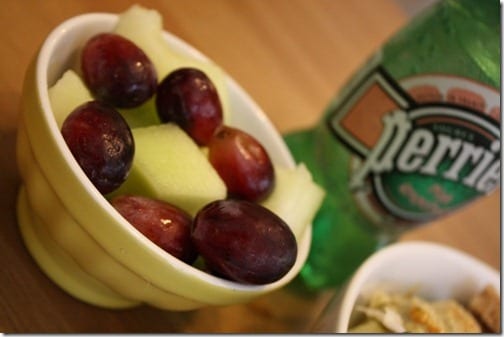 Things this salad has: veggies, veggie burger, hummus, bread with cheese, ketchup, buffalo sauce, love…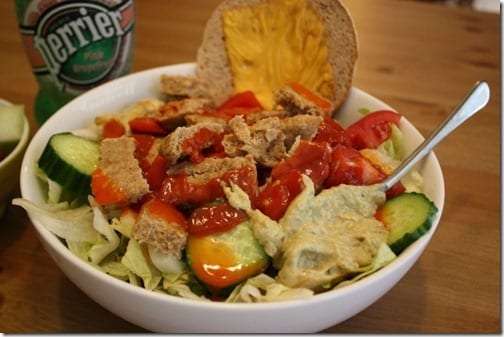 See ya tonight