Have you tried the NEW Chobani yogurts? The company recently released 5 new flavors – all featuring nut butter along with their signature Greek yogurt. I spotted them a while back and grabbed 4 of the 5 flavors. And on a recent trip to Target they had all 5 flavors on display.
I knew it was a sign from the universe that I had to buy them again to do a full review for you. (Although I'd like to kindly ask the universe to make sure they're on sale the next time it sends me a sign. K. Thanks.)
Chobani Nut Butter Yogurts are Available in 5 Flavors:
Chocolate with Hazelnut Butter
Honey with Almond Butter
Vanilla with Almond Butter
Vanilla with Cashew Butter
Plain with Almond Butter
I've tried all of them except the plain with almond butter. I don't eat plain Greek yogurt as is… I'd mix in honey or stevia or a candy bar… or really all of those! So it wouldn't really be the real experience and I'm out of honey anyways…
All the flavors have similar nutrition facts to the fruit on the bottom Chobani yogurts (not identical, similar). These flavors have about 160 to 180 calories, 11 to 12g of protein and 7 to 8g of fat.
Thoughts on the Nut Butter Yogurts: 
They're good. I mean – that's what you wanted to know right? Should you buy it? Would I recommend it? Yes.
The nut butter is on the bottom – similar to their 'fruit on the bottom' yogurts. I didn't expect that! And I love it. I was pleasantly surprised to dig into the cup and find creamy nut butter on the bottom.
I prefer dark chocolate so while the chocolate hazelnut yogurt was pleasant – it wasn't my favorite. If I'm craving chocolate I need something dark and rich. I'll probably skip this flavor next time.
Call Goldilocks because these new nut butter yogurts are just right. They're sweet – but not too sweet. They're nutty but not overwhelming. The balance of yogurt and nut butter is spot on.
They're pricey. Don't act surprised. Greek yogurt and nut butter are both expensive items on their own. You can save money by buying a quart of yogurt and a jar of peanut butter and mixing it yourself. .. But then what would you complain about? Your split ends? The traffic in the Whole Foods parking lot??! Nah – if you have the privilege to complain about the price of fancy yogurt – you're very blessed. Stop at church to light a candle and thank God on the way home from WF.
And because I was on a food review bender…
I paired the Vanilla Almond Butter yogurt with the NEW Chex Peanut Butter cereal. I've seen this new flavor from Chex at Ralph's and Target for a while now.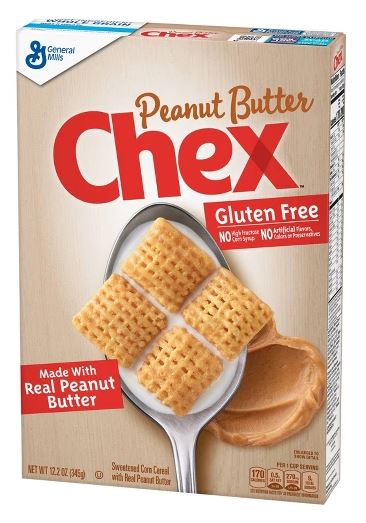 And it's amazing. I definitely recommend!
I combined both of these new nutty treats to make an amazing yogurt bowl for breakfast. So good!
Question: Have you tried the new Chobani Nut Butter Yogurts? Have a fave flavor? Thoughts??
What about the new Chex PB cereal?