Podcast: Play in new window | Download
Subscribe: Apple Podcasts | Google Podcasts | Stitcher | RSS
Today I'm sharing 11 non-fiction books that are a very interesting mix. The list includes books that can be considered among the BEST ever written, interesting stories, sad ones and funny books! Something for everyone! And I'm trying this new thing – Review in 2! I'm going to review all the books in 2 minutes or less – each, not total! I have a lot!
Follow @RunEatRepeat for more and check out RunEatRepeat.com for the show notes and links to all the books mentioned. 
Best Books to Listen to While Running Podcast – Nonfiction Edition
Let's start with a warm-up:
Updates… 
1. I have the Samsung Galaxy Note phone… I love it because it's big and I've always used an android.
But… I wanted the apple ear buds… air pods… ear pods? 
I was thinking about changing phones for that reason alone! But – I spotted the Samsung Galaxy Buds and my life has been better ever since (2 weeks ago). 
I recommend them! 
2. I recently updated RunEatRepeat to be easier to navigate – it seemed like it was hard to search on mobile. So I changed the homepage to break down the blog posts, recipes, podcast posts, training plans and discounts page.
Please let me know if it's the worst. I'm open to constructive feedback and suggestions! 
3. I'm supposed to ask you for a favor… can you give me a ride to the airport at 5am next Tuesday? 
No? Oh, okay. 
Well instead – Can you please leave a 5K review for the podcast in your podcast app. I use Stitcher so I only know how to walk you through that… but whatever you're on right now – I'd appreciate it. 
And be sure to subscribe to the show by adding it to your favorites or whatever so the episodes show up auto-magically and you never miss a beat! Thank you!! 
Top Non-Fiction Books Review Podcast…
The review of a book shouldn't be longer than the actual book, right? Right. So I'm going to try and keep it short by reviewing all of these books in 2 minutes. I call it a Review in 2!! As in 2 minutes. Because it rhymes. If 'Review' rhymed with 9 it would be a nine minute review…so thank Mr. Webster or whoever made up the word 'review' for that one. 
You can see my previous podcast episode 114 with Fiction Book Reviews here.
Let's go… 
Book Review Scale… 1 to 5
1 = Didn't like it. Didn't want to finish it. Wouldn't recommend. 
2 = Assigned reading. Tedious.
3 = Okay. Either – good story w/ okay writing OR meh story w/ good writing. 
4 = Good! Liked it. Would recommend.
5 = Great! Loved it. Will recommend/force on everyone I talk to for a week after reading it. 
Non Fiction Books on Audible
by Trevor Noah
Rating: 4.5
Great. Loved this book. Loved that Noah read it – he was fun and animated. Love learning about his experience growing up in South Africa. Thought it was very interesting how he was treated differently because he was light skinned. 
By Michelle Obama
Rating: 5
Loved. Love that she read the book. Love the insights into behind the scenes of the White House. I can't imagine! I want more of that. All the little things that completely changed – like taking her daughters to school and going out to dinner – so interesting! 
by Tara Westover
Rating: 5
GREAT. Also – heartbreaking and horrible. Ugh. I got so mad. If I think about it I'll be mad again. I'm really upset with her parents. I cannot believe her brother. 
I'm going to give a spoiler: He adult brother KILLS his dog Diego. Stabs him to death. I hate it. It's bullshit and he's a violent person with an anger issue that's a ticking time bomb. 
by Jeannette Walls
Rating: 5
Heartbreaking and frustrating. The reader's voice sounded like my mom's friend so it was a little distracting though. There's an interaction with her mom towards the end that's super frustrating. 
by Lisa Brennan-Jobs
Rating: 3.9 while reading it… but later 4.
Go-kay. While I was listening to it I didn't really love it. I text my bookie friend and she said she liked it. So I decided to make a bigger effort to give benefit of the doubt. As the book went on I started to like her more. 
by Lori Gottlieb 
Rating: 4.5
Great. So interesting to hear about a therapist going to therapy. BUT didn't think it was super believable that she struggled over basic things like… does her therapist like her?… 
by Abbi Jacobson
Rating: 4.3
Great. I loved it, but it was too short. If you're a fan of Abbi Jacobson you'll like this. It feels like you're on a road trip with her just chatting. I wish there was more.
By Viktor E Frankl
Rating: 5
Amazing. Perspective yo. 
by Jeff Guinn
Rating: 3.4
Okay. Read this because I wanted to start a book club with my 1 friend and he was already reading it. I didn't know anything about Jonestown before reading it – and I think that was a drawback. A lot of the book told the story about Jim Jones and how he built his church and following in the US. It wasn't interesting. It was like a boring history lesson at times? And if I would have known this guy is going to lead a cult and kill a bunch of people… maybe in that context he'd be more interesting. 
by Heather McDonald
Rating: 4.3
by Matt Fitzgerald
Rating: 4.8
Unexpected life story from a running coach sharing his life, relationships and running.  
You can click here to check out all the books on this list and more on Amazon:  Books – Reading or Listening on the Run.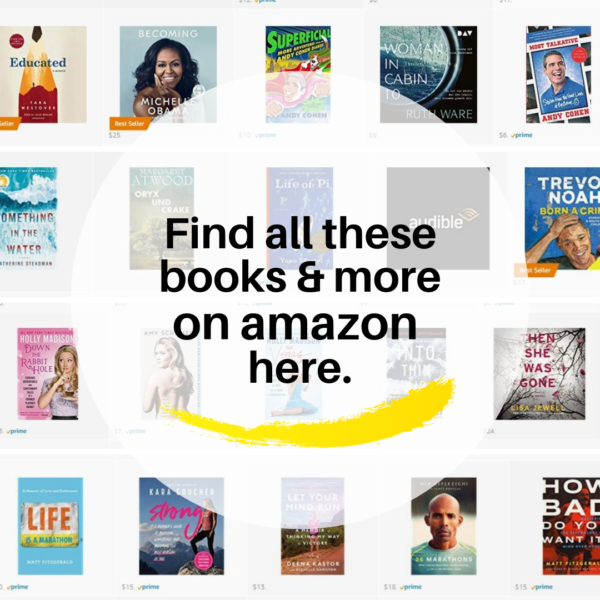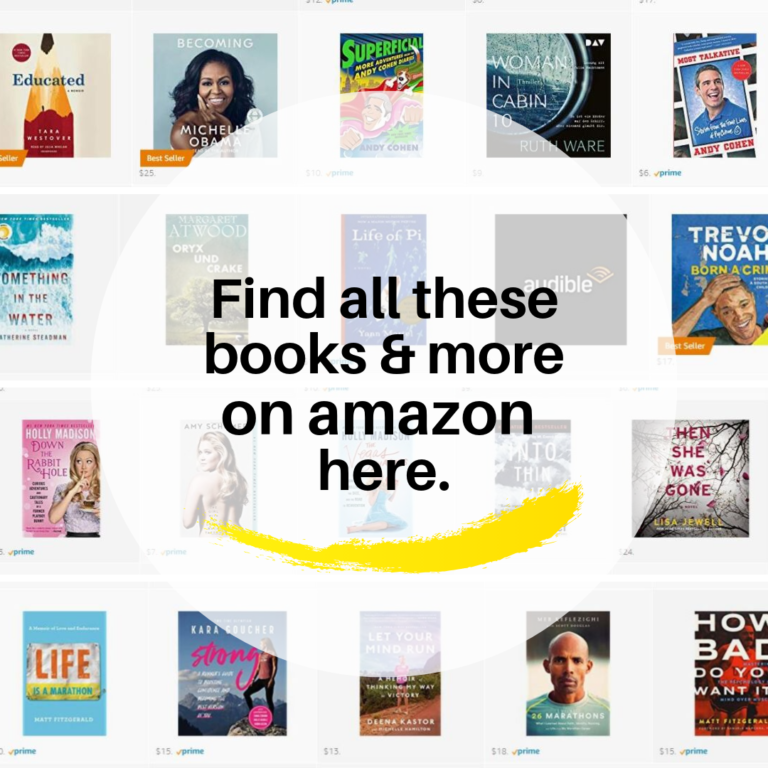 Currently Listening to…
Big Little Lies – by Liane Moriarty
and Getting the Love You Want – by Dr. Harville Hendrix and Dr. Helen LaKelly Hunt
Want more reading or listening suggestions? 
Podcast 114 – Fiction Book (Audible) Reviews
Podcast 111 – Reviewed Ladies Who Punch and Duped (both non-fiction)
 What books should I read next?
If you have any book recommendations please share them!! 
Comment on my IG post about this episode or DM me!! I like interesting non-fiction, light mysteries but nothing super violent, funny books, books that will change my life and make me a better person.  
Awards: 
Last place: Me.  
If you have a question for me… 
email [email protected] or 
call the podcast voicemail 562 888 1644 
Remember to tag @RunEatRepeat on instagram and let me know what you're doing right now or what was the BEST part of your month so far.