I couldn't decide if this PB & Chocolate yogurt should be considered a snack or dessert. It's so delicious, it tastes like Chocolate Peanut Butter Pie filling, but it's packed with protein and healthy fats to help keep ya full and satisfied. So… I guess it can be considered a snack, dessert or anytime treat!!
PB & Chocolate Yogurt Snack for One
Ingredients:
6 oz. vanilla yogurt
1 Tb peanut butter
1 Tb chopped nuts
1 Tb dark chocolate shavings
Directions: If your PB is a lil hard to stir – soften it in the microwave for a few seconds.
Mix PB & Yogurt. Top with chocolate and nuts.
Enjoy!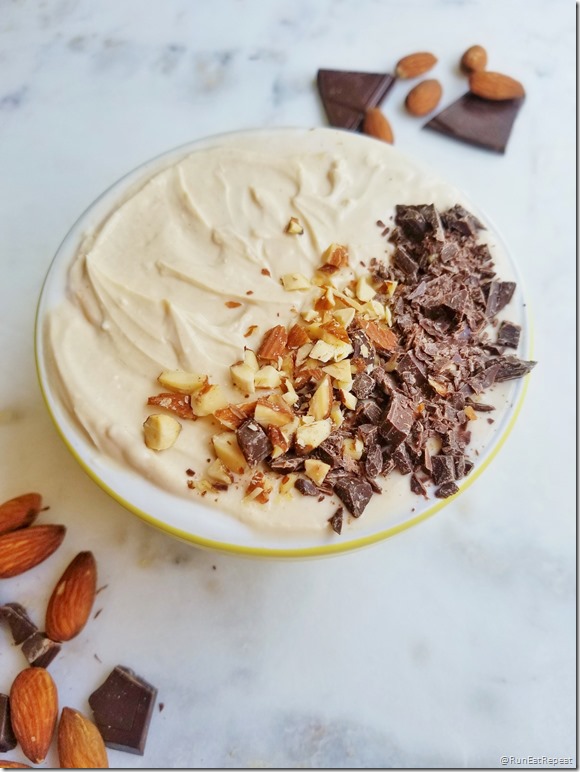 This recipe can be used as a guide to create your own delicious treat! You can use your favorite Real California Milk vanilla or honey yogurt, switch PB out for almond butter, use milk or dark chocolate and top it with chopped peanuts. There are so many possibilities! 
PB & Chocolate Yogurt Swaps:
Real California Milk Yogurt –> vanilla, honey yogurt or plain yogurt that you sweeten to your taste
Peanut Butter –> almond butter, cashew butter, walnut butter
Dark Chocolate Shavings –> mini chocolate chips, milk chocolate, cocoa nibs
Chopped almonds –> chopped nuts, granola, crunchy PB
I try to keep vanilla yogurt in the fridge all the time so I have an easy base for all my favorite yogurt creations. Remember to look for the Real California Milk seal when grocery shopping. The seal means it's real food made with ingredients from California dairy farms. And 99% of those are family owned, which is really awesome!
Question: Is this a snack or dessert? 
This post is sponsored by Real California Milk.  All opinions are that of the author.