Hello! Sadly, I had to leave the strawberry farm yesterday afternoon kicking and screaming. But I had a blast and will fill you on on more soon!
This morning I was up bright and early for the PCRF Half Marathon in Irvine, CA. The race also offers a 5K and 10K option so if you didn't come out this year – let's see ya next year!!
The race is fairly small and parking and packet pick-up was a breeze. Those are the little things I appreciate
I met SmushTush and Natalia at the start and ST came in 2nd! Congrats to her!!
I know I've run a lot of races, but this was a first for me…
FIRST HALF MARATHON that I've run without my Garmin!!!
My watch strap is still broken and I do have a Timex that I need to figure out how to use but I didn't have anything to use today so I just figured I'd run a race without it for once.
My thoughts on racing without a watch:
It was very challenging because I am the worst at starting out too fast. I joke that I always try in PR in the mile and then realize it's more than a mile race.
So, the entire race I was questioning myself…
"Am I going too fast?!"
"Wait. Is this too slow?!?"
"Pancakes?? No, waffles."
"Is that the 1:50 pacer in front of me? I can't see. But if I speed up and realize it's the 1:40 pacer I'll be going way too fast…"
"Yeah. Pancakes."
"Should I ask this guy what his pace is? But what if the pace is slow and then I have to run off after I find out. That's kind of a jerk move."
"I need to take a math class…" <- when I pass the 6 mile mark around 50:xx and don't want to take the effort to figure out my pace. Or can't. Either way.
Luckily, I decided to just freakin run and stop worrying about it. But I realized how helpful my watch is just to keep me on an appropriate pace (at the same time it's not like I need it unless I'm going for a specific goal).
Half marathon finish time: 1:50:07.5
At the finish they handed out water, Propel water, oranges, bananas and Popchips.
I saw a line for smoothies at the Whole Foods booth and had to stop! I love me a smoothie!! But they were making a new batch and needed something to blend it! They were using a human powered blender bike to blend the smoothie. It's funny but no one really jumped to do it so even though I just ran the half I got on.
Makes the smoothie taste better when you work for it
PCRF Half Marathon is for the Pediatric Cancer Research Foundation. If you feel compelled to donate check out that link.
Now I'm eating pancakes and relaxing in my ProCompression Marathon Socks. Don't forget to use code "RER" for 40% off and Free Shipping PLUS you'll be entered into the contest for a pair of running shoes and socks!!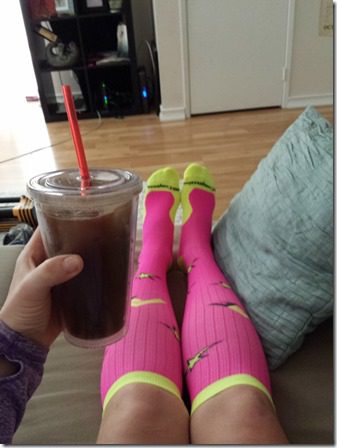 Question: What are you doing today?