Hello and Happy Monday!
I had quite the exciting weekend, but after yesterday's half marathon I was busy catching up on life so here is an update.
Friday you saw the deal – I drove up to Ventura, CA for an event with the California Strawberry Commission.
We stayed in Ventura Friday night and actually it was at a hotel right along Ventura Beach! This is very close tothe Shoreline Half Marathon race route (check my race discounts page if you want to come).
Luckily Anne was on the trip too and wanted to run with me! We did four miles along the beach – the best way to start the day!
Breakfast!
(via TheLemonBowl Insta)
From there we headed to Terry Farms. The Terry family has been farming in California for over 110 years.
We met the father and son team Edgar and William. As soon as we got there they welcomed questions and said they were an open book. So, we did ask about organic farming and the farm workers – two topics I am curious about and know many of you are too.
> The farm is not organic. But, William said organic fruits are still often sprayed with pesticides, just approved/organic ones. (Natural News article about that here.)
> They also explained that strawberries grow fairly quickly compared to other produce. So, the fields are harvested about two times a week. This also means the fruit is not subject to repeated exposure to the things they use to mitigate bugs.
> The strawberry pickers get $9.00 per hour plus bonuses for a certain amount of boxes picked. In high berry season they are making significantly more than that. The farm workers at this particular farm are not unionized, but the United Farm Workers have come to talk to them in the past.
> You are not supposed to wear any jewelry while out on the field for food safety reasons. We also had to were close toed shoes and were very careful about following directions.
I have no idea what's going on here…
We took a tractor ride around the farm for a tour. Check out that view…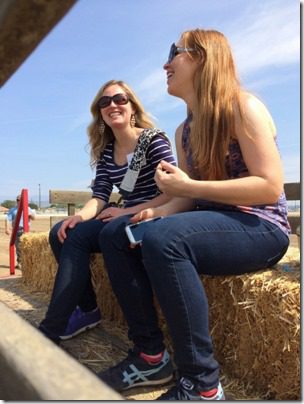 The bloggers were able to pick the berries to try and compare.
William gave us a lesson in strawberry picking too…
I was surprisingly good at it! All the better to eat you with
It was GORGEOUS! I had the best time.
After that the Lobos Truck served us lunch. It was epic. The main course was a kobe beef slider with peanut butter and jelly. I don't have pictures of that because I was too busy eating. And my phone died.
Overall: I ate 12 strawberries – way below my 365 goal.
But I had an amazing time! Also, I made a few new friends!! Liz from The Lemon Bowl and Kevin from Closet Cooking were super awesome!
My favorite Strawberry Recipes:
Question: What's your favorite fruit right now?
Disclaimer: The California Strawberry Commission invited me on this trip. All opinions are my own.