Podcast: Play in new window | Download
Subscribe: Apple Podcasts | Android | Google Podcasts | Stitcher | RSS
The ultimate treadmill runner  – Run Emz is sharing her secrets on what some runners not so affectionately call the 'dreadmill'.  She loves the treadmill!  A lot! She's run 100 miles on a treadmill in one shot! 100. Miles. Seriously. So if she can run 100 (million) miles on a treadmill you can get through your workout!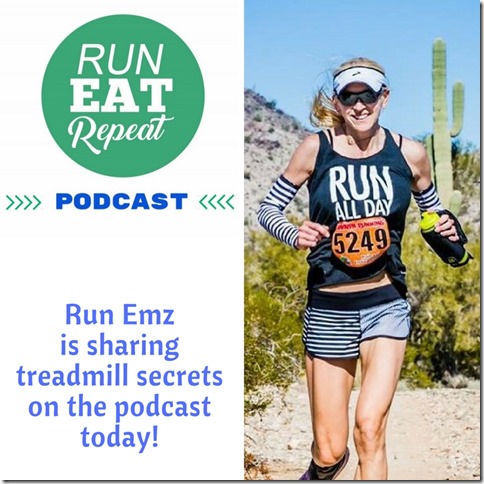 Warm up:
I got a taser!  I'm surprised my dad didn't buy me one, seems like something a dad would give ya, right?
Taser Self Defense sent me this one that looks super intense and legit. You can check it out here: https://buy.taser.com/   (Also – Does your state have restrictions on having a taser? Check here for state regulations.)
I need some more time to figure it out – but I want to share because I want you to be safe. And if this helps one RER follower prevent a bad situation I want to put it out there. It's kind of big to run with but running isn't the only time we might be put in a dangerous situation, right? Stay safe kids. xoxo.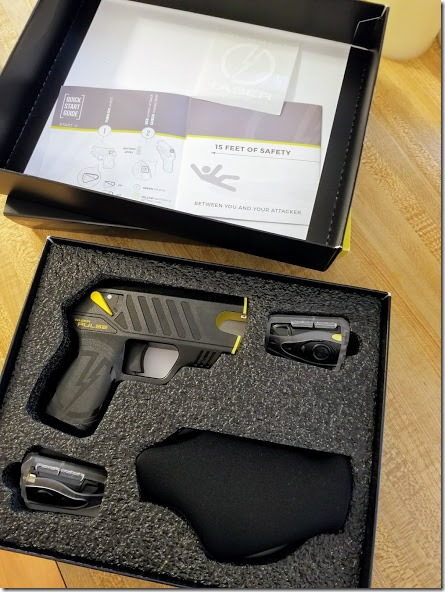 Aaaand I got a very different package from Health Warrior. It's kinda funny how different and random the things I got in the mail today are!
In stark contrast to a taser I also got a … coloring book!  Health Warrior sent me a pack of their Chia Bars and their Marathon Training: The Coloring Book. It comes as a free gift when you buy some chia bars.
Podcast Quiz: What does the letter "F" stand for in the Marathon Coloring Book??
*The answer will be at the end of the show!*
Now… Run Emz!!
Run EMZ is my friend (I don't know if she knows that though). I met her at the Phoenix Marathon a few years ago. And I'm grilling her on the best treadmill tips because she's probably the best treadmill runner in the world! Seriously. She's run 100 miles on the treadmill – in one shot.
Head's up – we had some issues with her audio so there are a few spots during the chat when it cuts out and you can't hear her for a second. Please just roll (or run) with it because she has some great insight.
Tips to LOVE Running on a Treadmill from the #1 Treadmill Runner
We talk about how she got started running on a treadmill – and why she's stuck to treadmill running.
What is her favorite treadmill.
And why she runs SO so sooooo much!
You can follow Run EMZ on Instagram here
Running Books RunEMZ Recommends:
Podcast
Awards for the Week:
1. Reese's PB Pumpkins – because the holiday shapes are better than the original. Agree or Disagree??
2. Everyone that ran a PR or their first race this week!! Super super proud!!
3. Learning how to make popcorn in the microwave – from kernels not the bagged kind!
Check out the step by step here – How to Make Your Own Microwave Popcorn Bags
And the answer to the quiz
F is for… foam roller!
Running Question? Eating Question? Question on life in general? I'm down to share my opinion.
Do you have a question for me? Ask me anything (not that I'll answer anything – but you can ask.)
Got a question for your local Monican? Leave a VM (562) 888-1644 and I'll answer it on the PODCAST (share your name & location bcs it's fun)