Hello! How are you? This was such a rollercoaster week. Thank God for God and therapy and chocolate. Am I right?
I'm the not-so-proud owner of a bunch of new pimples. So I have that going for me.
I did really go to therapy this week to talk through some stuff. I am a fan of therapy. If you've never given it a whirl, I'd suggest considering it. We all have stuff that would be nice to talk out with a neutral person.
Unfortunately, therapists aren't supposed to tell you exactly what to do. I guess that's what mom's are for?
I just want someone to tell me what to do with everything – life, liberty, the pursuit of happiness. Or maybe I'm supposed to listen to God and I'm drowning it out with wine and trash TV? Or maybe this post has taken an odd turn and I don't even know where I'm going with any of this??
Anyway.
I had a lil snackaroo of raspberries and all the Costco samples this afternoon.
Then, I took a walk. It was only around 4:45pm and looked like midnight. But I prefer early morning sunrises because that's when I run,  so I'll take it.
I made a fancy (to me) dinner of salmon, sweet potato and salad. I always make extra when I cook so I have easy, healthy leftovers for lunch or dinner the next day. Boom. Lazy and smart at the same time.
This afternoon I was craving a fun pumpkin treat. I decided to make a pumpkin protein shake since it's still so warm here. It was the perfect filling, sweet snack.
The best advice I can give you in life is:
add whipped cream to everything.
Ev-er-eee-thing. Trust.
Smoothies, coffee, cereal, ice cream, your cat, fruit, sweet potatoes, pie, on your finger, pancakes…
Easy Pumpkin Protein Smoothie Recipe
This Pumpkin Pie Smoothie was super easy – just protein powder, ice, pumpkin, pp spice, stevia, almond milk. Then, add whipped cream per my life advice.
Pumpkin Pie Smoothie Recipe:
Vanilla Protein powder – link to my fave but use whatever you like
1/3 c pumpkin (canned)
1 tsp pumpkin pie spice
1 Tb honey / maple syrup OR 2 packets stevia / sugar
1 cup almond milk
ice
Then, blend and add sweetener or ice to your preference.
I topped it with whipped cream and more pumpkin pie spice.
Enjoy!!
Pile on the Miles Day 12
LAST DAY of week 2!! How are you doing? Sticking to it? Need a push?
Well, imagine Vegas is pushing you with his little furry paw to get up and go!
November is Runner Safety Month. I have done a whole series on runner safety before – it's important!
This week Nathan is sponsoring the challenge and giving away two pieces of must have running gear. I'll pick a different winner for every day this week tomorrow.
They are giving away a Speedraw Plus Waterbottle and a Neutron Fire Runner's Headlamp to 6 different POTMers! Check in below with your POTM update to be entered to WIN.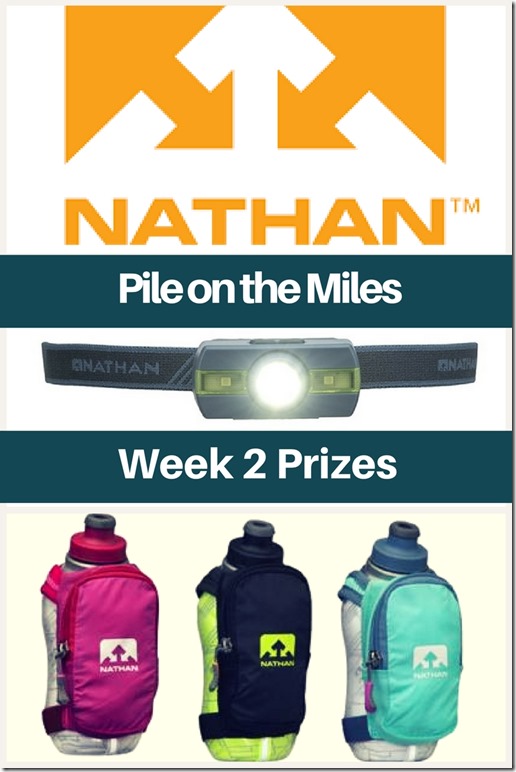 Follow them on twitter at @nathansportsinc for more information on Runner Safety Month and their line of running products.
Leave a comment on this post and you'll be entered to WIN a Nathan Headlamp and Handheld Waterbottle! Closes tomorrow at 9pm PST.
*Use #RERMiles on social media to share your progress!!*
Question: What is your POTM check in?
Me: I have a race coming!
Disclaimer: Nathan is providing the prizes for this week's POTM challenge. All opinions are my own.