After some down time in the room it was time to head to the Foodbuzz Street Food Fair. It was held in the Herbst Pavilion in Fort Mason.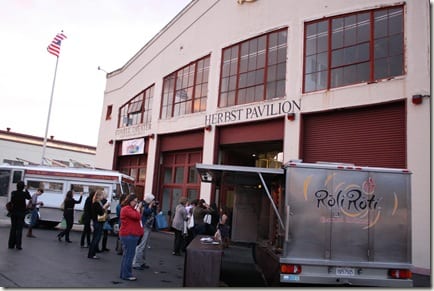 We arrived right at sunset and it was gorgeous.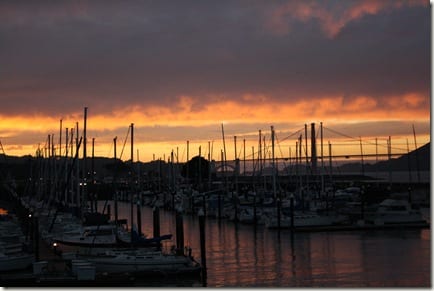 But, we had to peek over a dirty wall near some dumpsters to get a good picture….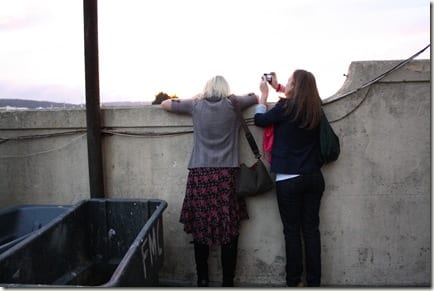 totally worth it 🙂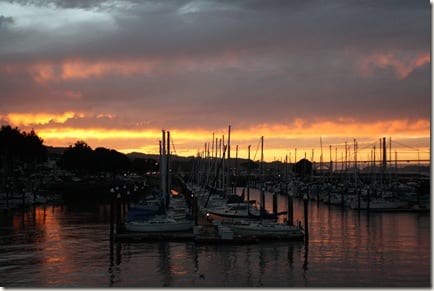 Then it was time to EAT!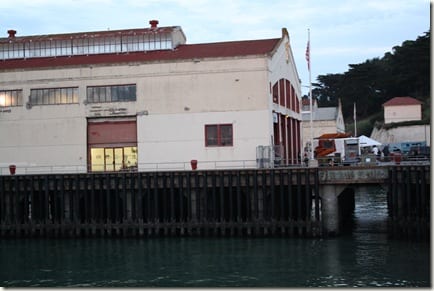 How better to welcome foodies to a food celebration then with  "FOODBUZZ" written in cupcakes?!  Ahhhh! It's good to be here.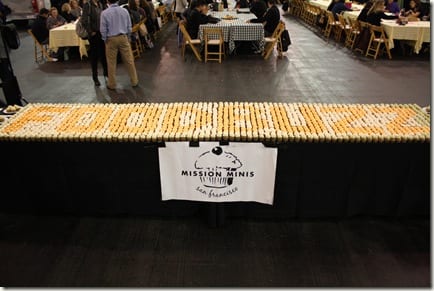 First we sat down and played a little game. Each food blogger was asked to bring a gift that represented their blog or area.  We exchanged them in a little game and I totally scored!
The plate of snacks on the table…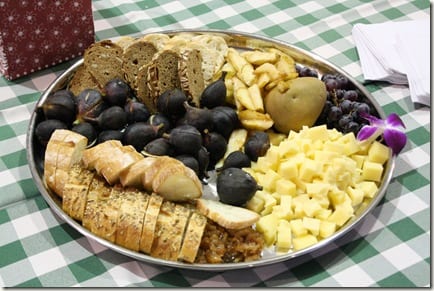 Each of us took turns explaining our blog and our gift.
That is The Ravenous Couple and Sippity Sup.
I got the Michael Pollan book "In Defense of Food". I was SUPER excited about it and raved about how I love Pollan, and have read other books of his but not this one yet. I was very happy about this gift. So, I was very disappointed when after walking around and enjoying the food I came back to my seat to find my gift GONE. Boo. I'm upset. Let's leave it at that.
Before I realized my gift was MIA we walked around and enjoyed a bunch of different delicious foods. I started with the vegan paella, which was amazing. Who needs meat when you know how to work the spices?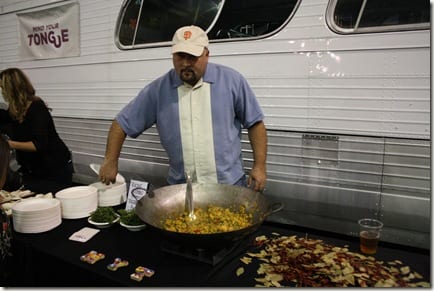 Then we made it to a place I love for the name, if nothing else…
A veggie taco with beans! I love that. I appreciate when veggie options have more than just veggies in them 🙂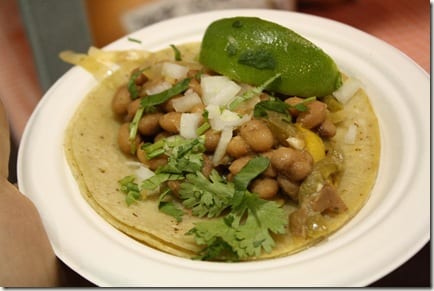 While everyone said I should take "smells like enchiladas" as a compliment, I'd rather be called "tacolicious" any day. Thank you.
Melissa and I shared some chips and salsa with our tacos!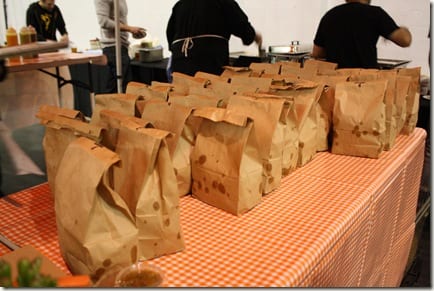 Pizza was enjoyed. Nothing else to report about it.
My favorite food of the night was this Indian wrap. It was full of veggies, egg, cheese and curry spices. I loved it!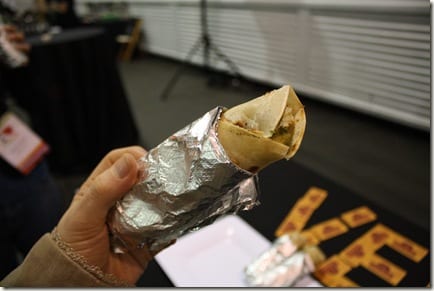 I think Melissa did too 🙂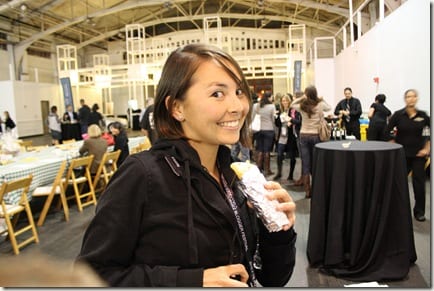 Finally, it was time for dessert!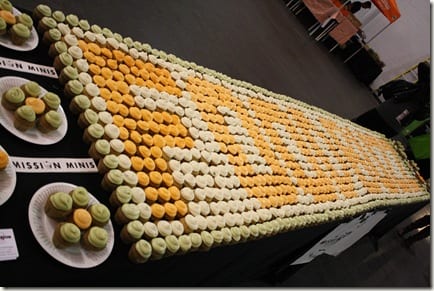 I had been planning on devouring these cupcakes since we arrived…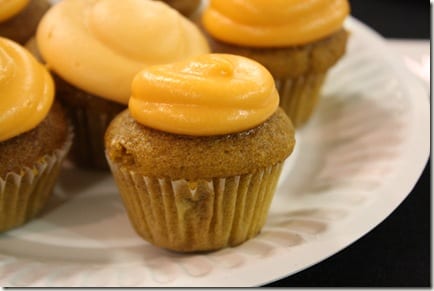 But, I had to wait a little longer since the Food Network was there filming. The cupcakes where made by Mission Minis and the network is filming something for Cupcake Wars. In case anyone cares, I just came up with a name for my cooking show. Just saying.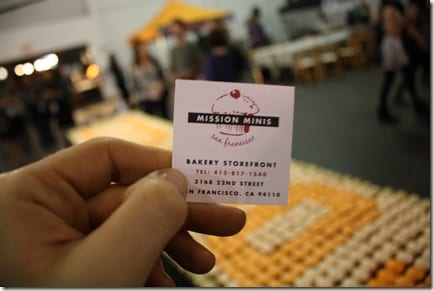 It was cool to see the cameras following them around.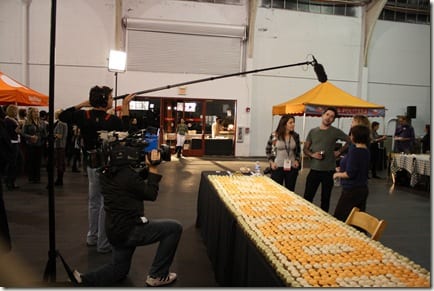 And everyone clamoring to get in front of the cameras when it came time to dig in.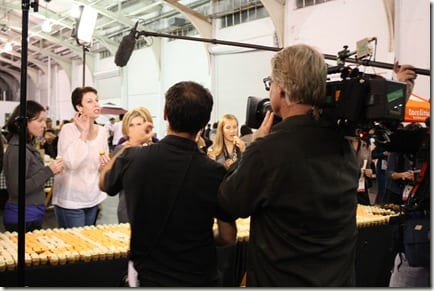 But, no one wanted to take the first cupcake! Finally one brave soul decided to go for it. I wish I knew who this was… he's my hero.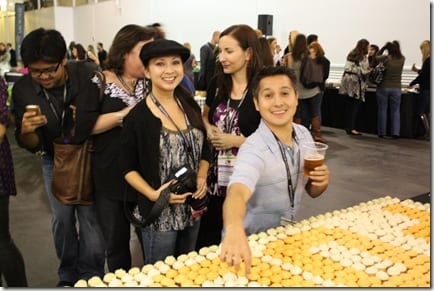 I had one of each kind of cupcake. The pumpkin flavor was AMAZE.
But, we all know I come for the ice cream!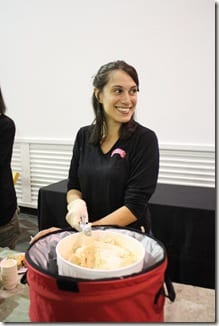 Organic Brown Sugar Banana Ice Cream to be exact.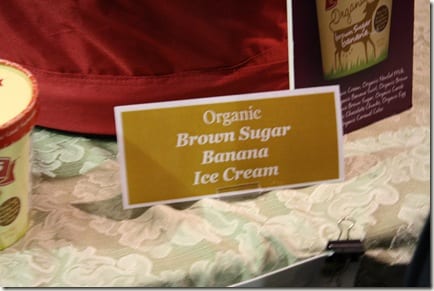 There was also a toffee flavor I tried. Real ice cream is so good, but my heart and taste buds belong to fro-yo. Growing up my mom would take us to fro-yo to celebrate accomplishments or down our sorrows, so it's a comfort food thing I think 🙂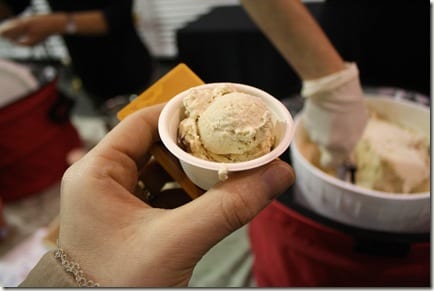 Someone, who I will now say is smarter than anyone else I know, asked to have a scoop of ice cream put in their vanilla beer. Yes, they are smarter then you. But, that's okay. Go make yourself a beer-ice cream float and just be happy someone thought of it even if it wasn't you.
The ice cream girls are my new best friends. I can be bought with ice cream, or money (that I can use to go buy ice cream).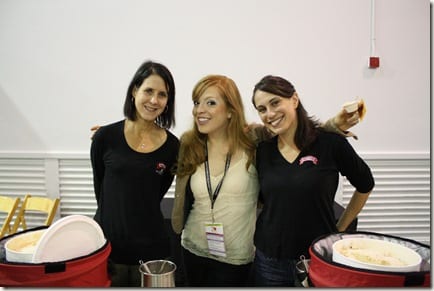 Tacolicious (that's me) has to go to bed now. See you in the morning!