Hello! Summer is here! Are you planning a vacation? Growing up we did at least road trip every summer. I've been to San Francisco, Yosemite, San Diego and tons of places in between all around California.
Today I'm sharing a list of 20 Road Trip Must Haves to have in your road trip kit (so you won't want to hide in the gas station bathroom after 3 hours of listening to the same song over and over because you forgot to update your playlist).
Road Trip Survival Kit for Adults
1. Screen shots of directions and hotel confirmations. Screen shot the 'must have' information in case you don't have service at your location.
2. Neck Pillow – they're not just for airplanes
3. Sunblock – yes, even inside the car.  I've been on long road trips and felt the sun beating through the windows burning me.
4. Games on your phone – Best Fiends is a free puzzle adventure game. You collect lil Fiends and defeat the slugs by matching color coded objects. And now the slugs are going to Boot Camp. I guess they want to be in tip top shape to fight the Fiends.
5.  Audiobooks or podcasts – A good book is a great way to pass the time!
6. Headphones – This is great if you're listening to the audio version of War and Peace and your travel buddy is listening to Britney Spears.
7. First aid kit – you should have this in your car already!
8. Mouthwash and/or gum – especially if your road trip is to the annual garlic festival (that's a real thing in California!).
9. Your best "Never Have I Ever" game ideas – after a few hours locked in a small space with someone you get real comfortable to spill your deepest, darkest secrets.
10. Gallon of water – Bring your reusable water bottle, but sometimes it's hard to find a water fountain or angle it under a water fountain. Having extra water is a good idea.
Tip: Stay hydrated! But also consider skipping the romper so your entire wardrobe doesn't have to be peeled off in order to use the restroom at a random seedy truck-stop.
11. Hitchhiker ground rules – before your trip decide what kind of hitchhikers you are open to giving a ride and if they are allowed to call shotgun.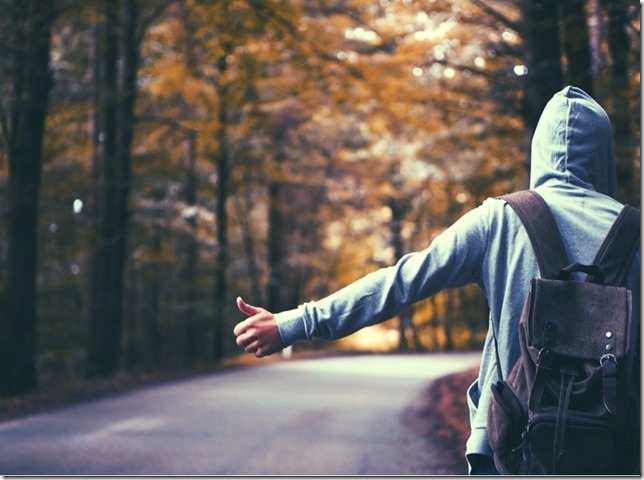 12. Snacks – Stock up on snacks to save money on pricey gas station chips. Bring along some healthy options. Make sure to pack snacks with protein like beef or chicken jerky, protein bars, string cheese…
Tip: Portion out snacks in baggies so they're easier to grab. This also keeps ya from mindlessly eating an entire bag of chips just to help the miles pass.
13. Patience – always pack extra patience when traveling. Something might go wrong – roll with it and don't let it ruin your trip.
14. Napkins or toilet paper – You'll need the napkins for snack time and hopefully you won't need the TP. But bring it just in case.  You'll thank me later.
15. Magazines or books – These are like podcasts but written down on paper. It's wild.
16. Tums or Pepto Bismo – You know what's worse than getting diarhea on a road trip?       Nothing.
17. Baggies – Baggies are great for snacks, deck of cards, rubberbands… they end up coming in handy.
18. A Towel – have a towel handy in case of major spills, to block the sun, as a blanket, to dry off after an impromptu dip in the ocean…
19. Baby wipes – Yeah, this is a list for adults but baby wipes can help with quick clean ups of your hands/face/random messes.
20. Duct tape, rope, a tarp and shovel – Just in case. Kidding! But put this on the list to freak out your travel partner.
And put it all in a container so it's easy access and organized.
Question: Do you have any audiobook suggestions? Playlist suggestions?? Snack suggestions?