Happy Monday!
Sorry I've been MIA, but I had the most awesome weekend. I did a lot of sole searching and running and eating and drinking – this is the way life should be, right?!
My fun started Saturday morning with Coach Steve, he invited me to run a few miles in Rancho Palos Verdes with the Sole Runners. They are training for LA and this is a cut back week so the plan was 6 miles. We only ended up doing 3 super slow miles because we were 'Sole Searching' for Starfish in the tide pools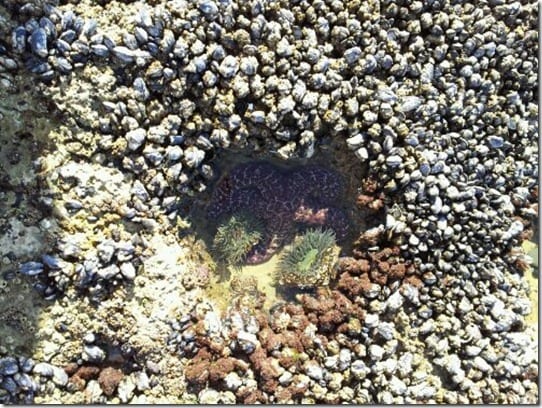 Plus, our third musketeer Dave from the ING Class of 2012 was in town and Steve wanted to take a romantic walk on the beach with him. They let me be the third wheel if I took pics for them.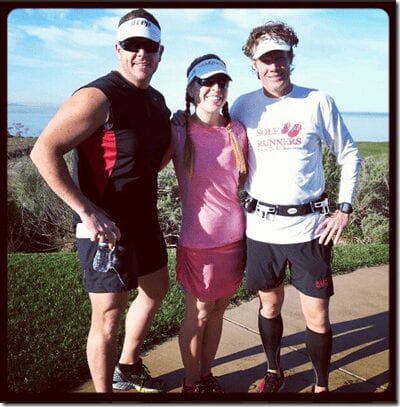 I wish I was kidding.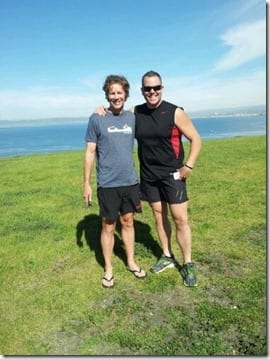 It was a gorgeous day and you could see all the way to Catalina. I love California.
After our 3 mile stroll we hit up the Hermosa Beach Pier for some lunch.
These boys know how to have a good time. I'm not normally a day drinker, but when in Rome Runnerville do as the experts do…
After lunch we hit up the expo for our race kits.
Win of the day = I scored a beautiful piece of runner jewelry that I'll post about soon! Love love love.
The Rock N Roll Pasadena Half Marathon
This was only the second time for this race and it's relatively small by RnR standards – I want to say just over 5,000 people?
Lucky for me I scored a VIP wrist band and was able to hang out with the one and only Dan Evans before the race for a few minutes. You might remember him from a little show called The Biggest Loser. #NoBig
Apparently we're close enough friends that he can make fun of my "hey I'm running" pose…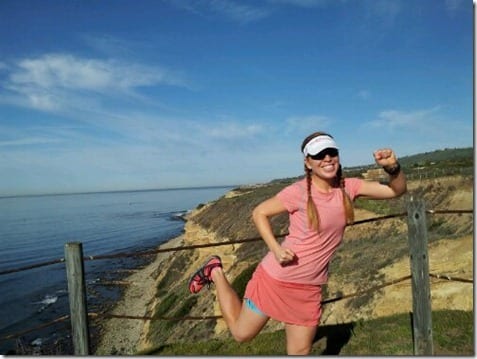 See.
It's kinda random that ING introduced Steve, Jen (not pictured), Dave and myself to each other in June for the #INGClassof 2012 and we've become such great friends! It is so much more fun to do races with people and then celebrate with them after.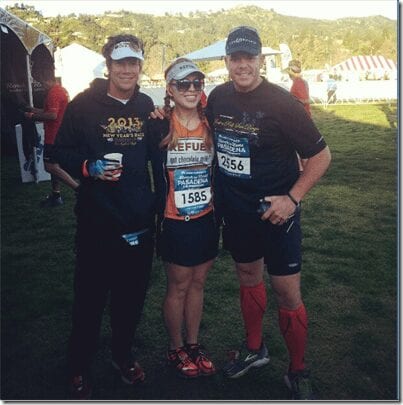 This was Dave's 682nd race (give or take, I round up) and I asked him for some advice on racing. He said something about the key being pre-race mimosas and Dan decided to give it a whirl…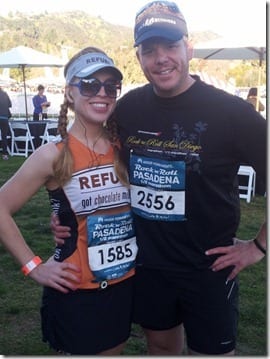 Allegedly.
This RnR Pasadena race is only a half marathon (no full option). It starts and ends at the Rose Bowl.
The course has a few hills, but I wouldn't call it hilly all together. There are also a few out and back sections (I know some people don't like that). You run through Old Town Pas and there are bands along the course per the RnR signature move.
I wasn't in great shape going into the race given the night before so I took it easy breezy and just enjoyed running with my peeps.
Race #5 / Half Marathon #4 of 2013 = 2:07:30
Thank you to Refuel for giving me a bib for this race and then providing me with all the choco milk my heart desires after!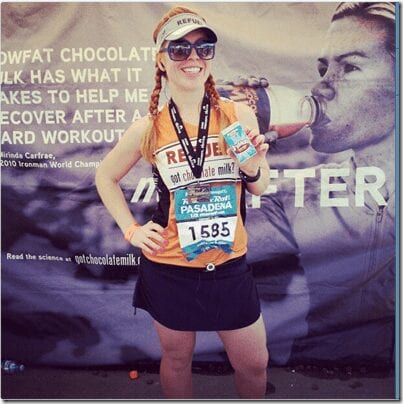 After the race I headed back the VIP tent and SAW DEENA KASTOR!!! I was too embarrassed to go up to her and now that will live on as the biggest regret of my life.
I also saw that lady from Grey's Anatomy being interviewed!
We watched The Far East Movement play and I think this is my favorite post-race concert so far! They put on a solid, high energy show!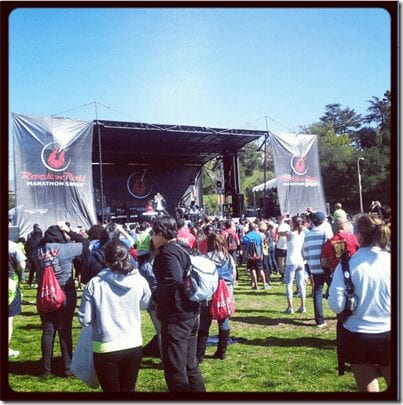 (Instagram RunEatRepeat)
Then, we got to meet the band! How cool is that?!
After the race we grabbed lunch…
and hit up a hole-in-the-wall joint for Bloody Marys.
So pretty!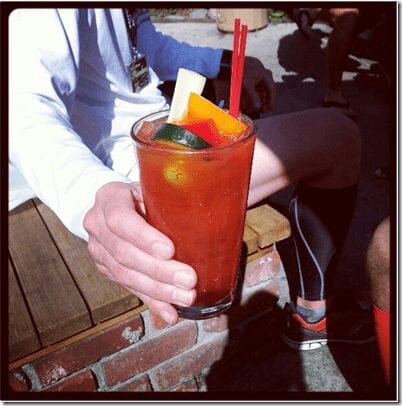 Dan was the post-post race concert.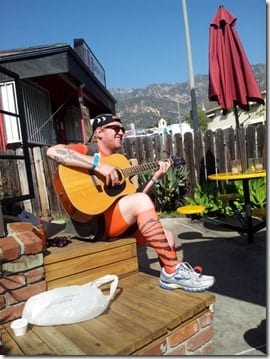 Margis and pizza were the post-post race deliciousness.
And I had a blast! The end.
Question: Did you run RnR Pasa – share your thoughts in the comments!
Did you run this weekend? Where/Why/How??