I ran the Rock n Roll San Diego this weekend and have a ton of pics and fun to share! But I'm going to keep this fast and just give ya the top 13.1 highlights…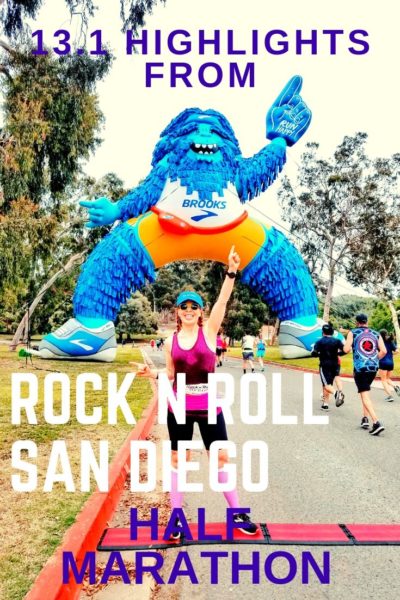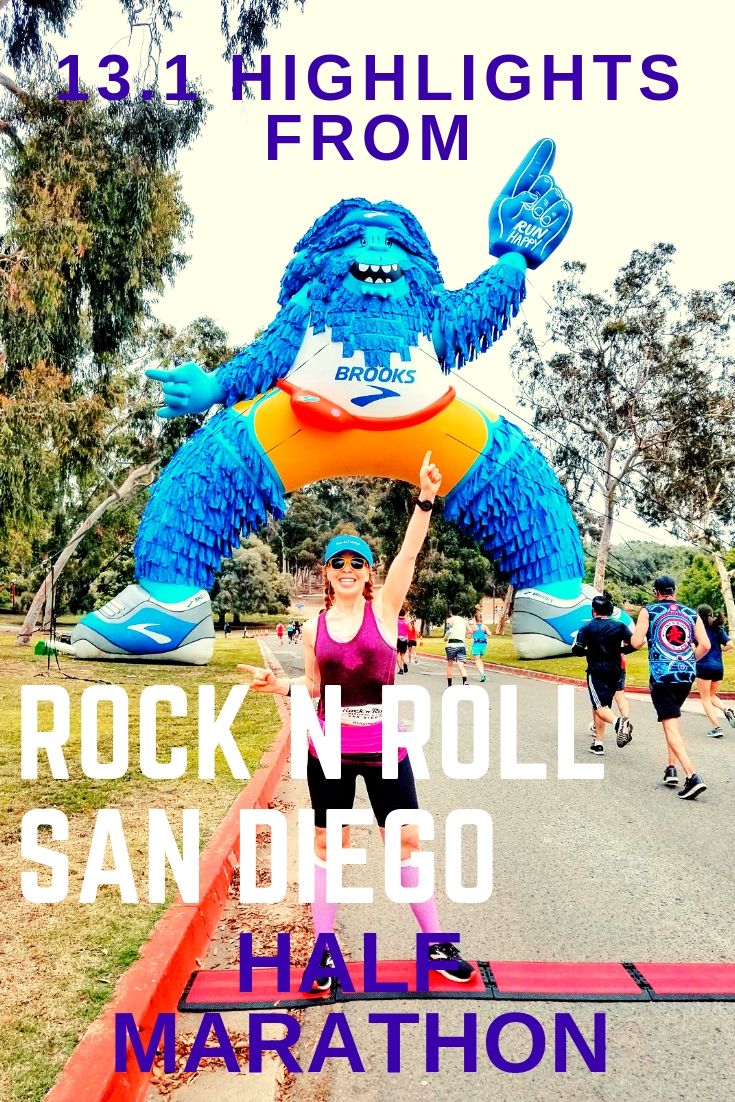 1. The night before I stayed with Kristin @StuftMama and she brought it with the pre-run carb-loading! We made pizzas with tons of toppings. There was also salad but I was too distracted and didn't get a pic of it.
2. I did a flat runner with everything I was going to take for the race. [Flat Runner = setting out all your clothes & gear before a run to show what you're going to wear/have on your body during the race. It helps make sure you have everything.]
Kristin has a lot of pets including 2 hairless cats that slept with me. She also has a big dog that I love! I would have preferred to spoon with him but I'll take what I can get…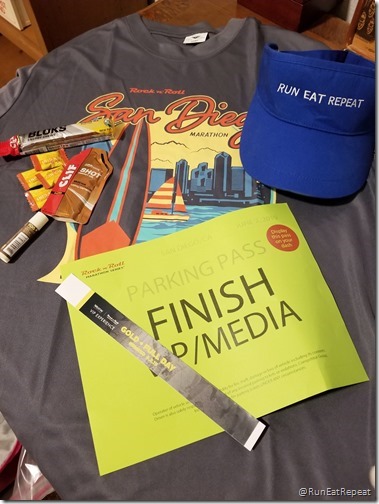 3. Cute Shuttle!!
The race series gave me a pass for the VIP Experience – it was amazing! It includes a parking pass for a specific parking structure and shuttle to the Start. This was super helpful because we got a lil lost off the freeway and were running late!! If not for the shuttle I don't know what we would have done!
4. The day before the race I did an 8 mile run while listening to Meb's latest book –
I LOVE IT. I'm not done with it yet, but so far I think it's the best running book I've read. I'll review it when I'm finished, but I definitely recommend it.
The book is a highlight alone… but extra special because of something that happened post-race.
5. The VIP Tent with soooo close to the Starting Line. You can see it and hear the race announcer so you know what corral is starting next.
Plus there's coffee, juice, yogurt and a spread of bagels…
6. There's a separate VIP bag check – which I really appreciate because I got to wear my pre-race clothes for as long as possible. I swear my body has an unreasonable reaction to cold!! So I waited until the last minute to take off my throw-away gear, put it in my checked bag and didn't even have to throw it away so I can use it again!! Boom.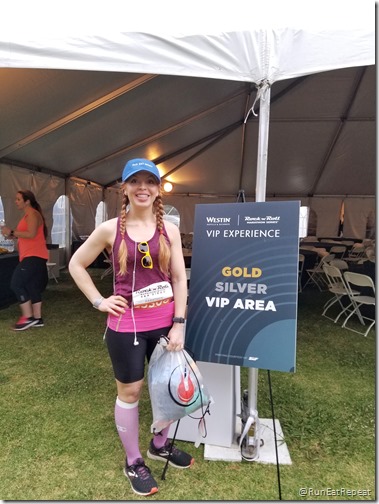 The area has it's own restrooms and extras in case you forgot something. (Oh, this reminds me I still have to tell you about Laguna Hills.)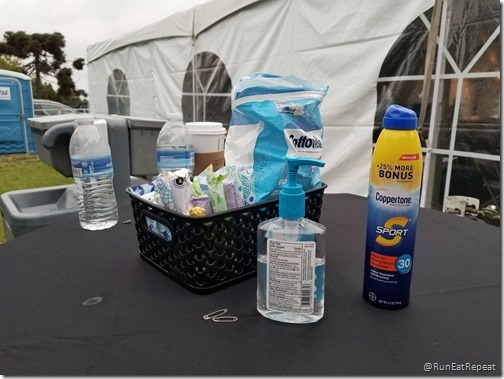 7. The Race!
Kristin and I took our time starting. I wasn't really able to eat before the race because I just felt extra nervous and weird. So I was going to listen to my body on pace and race day goals.
I still have this super tight spot in my left glute that goes down a little bit to my hamstring. I've been stretching and rolling it out but there's still something there. I've noticed it gets extra tight after I drive and I drove about 2 hours the day before so that probably exacerbated it. (Autocorrect wants to make 'glute' – gluten so bad… but I'm happy with my gluten thank you very much.)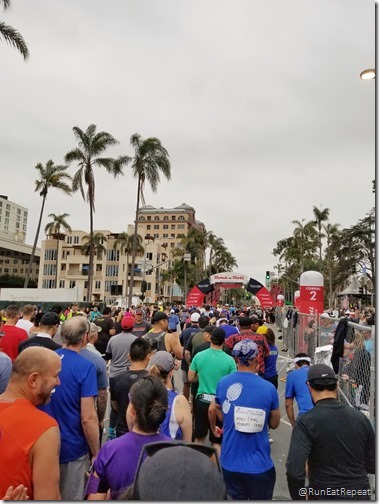 8. My favorite part of the course!! I love this guy!!
This is one of the landmarks for every Rock N Roll Marathon Series race – a big rocker you run under through the legs. It's huge and fun! In the past it's been a guy I think with a guitar?
Anyway. He's rocking Brooks Run Happy gear because they're the main shoe sponsor of the series. So the foam finger says 'Run Happy' – that's a good reminder mid-race!!
9. Done!
Rock N Roll San Diego Half Marathon Finish Time 1:55:13
The Race Course / Review and Information
Course: The course is moderate in difficulty. There are hills. I think they're evenly spread throughout the course so there's not one section that really kills ya. There were a lot of cute lil shops and pretty murals to look at.
Weather: The weather is nice and mild at the start but can get warm as the marine layer burns off.
Race Day: RnR always seems to be well organized and on time. There are plenty of water stops.
Extra notes: The Music!! There are bands spread out across the course which makes it fun!
There were also a couple of different people providing beverages to runners. Cheers!
My race: I want to learn something from every race so I can improve. I feel like I've been phoning it in (or texting it in?). So I'm going to go over my race review form and think about my race, training and goals today.
Use this Race Review form to check in with how you did on your race.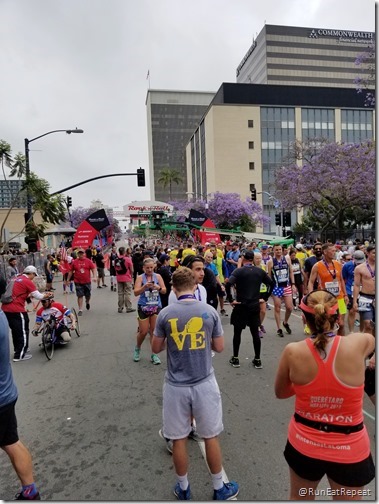 10. Post-race silliness… it's just me.
Kristin has been my running buddy for the last 3 races and it's been so much more fun to run with someone!! I've had a hard time getting back out there and knowing she's going to race too helps push me to show up.
11. Massage!
After the race we headed to the VIP tents, easily grabbed our stuff from the checked gear tent and signed up for a massage.
Then, I changed and by the time I was done my name was being called for massage time. The guy used some electro-magical tool to make my muscles vibrate like WILD and then they relaxed. It was exactly what I needed!! I meant to ask him what the tool was and how I can get one, but I was just in the zone enjoying it (and kind of laughing from how it felt weird and awesome).
12. Mimosas!!
Cheers! And the race medal…
and food!!
13. MEB!!
Meb was in the VIP tent and before we left I asked for a picture and told him his book is the best running book ever. I don't know if he believed me so I just repeated nodding my head and saying it has great stories and lessons. I probably just repeated myself and didn't make sense but I think he understood it was a compliment. The point is… MEB!! I was listening to his book the day before and then just hanging out in the VIP tent like this is normal life.
13.1  The VIP Experience is available at all races – you can find out more here: Rock N Roll VIP Experience
Now I need to find my next race!! I'm seriously so inspired by running a lot of races lately and Meb's book and earlier morning sunrise time!! I want to sign up for all the races!
Want more?
Listen to my podcast with Paul Huddle from the Rock N Roll Marathon Series and IRONMAN
Question : What's next on your list?
Note: The Rock N Roll Marathon series provided me with the race entry and vip pass. All opinions are my own.