After the Benjamin Franklin Institute…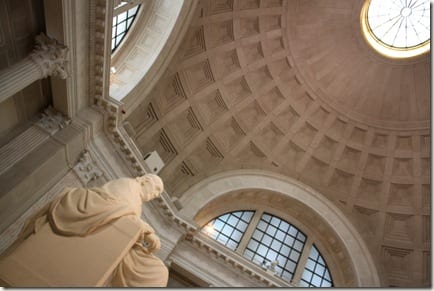 …we headed to the Philadelphia Art Museum.
This is my first time to Philadelphia so it was great to walk around this city a bit and take it all in.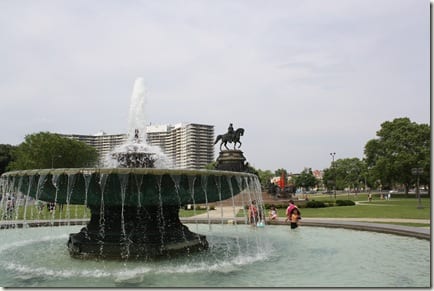 It was warm and pretty out and a lot of people were enjoying the good weather. Our walking group felt like a field trip – use the buddy system!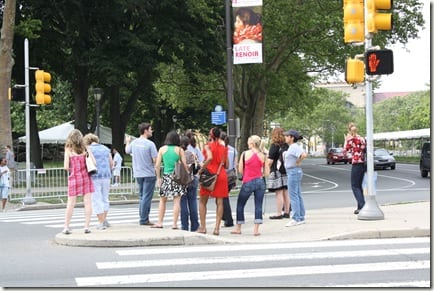 We went to the Philadelphia Art Museum to recreate the famous Rocky scene where he runs up the steps.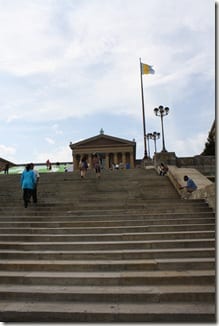 Fun fact: I have never seen Rocky, but when I was training for my marathon Ben caught up with me on a long run to help motivate me. He rode along side me on his bike and kept telling me, "You're a bum Rock…" Because apparently boys motivate each other by being jerks. Anyways, I've wanted to see the movie ever since 🙂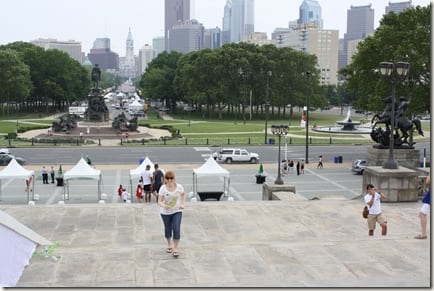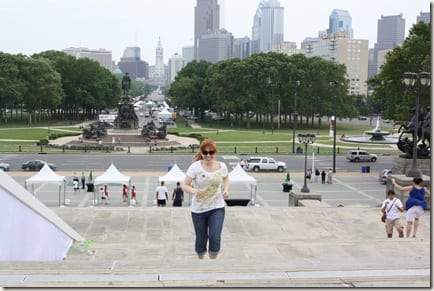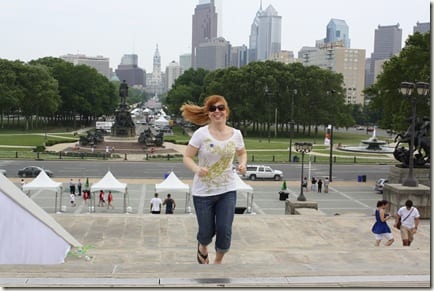 I did it!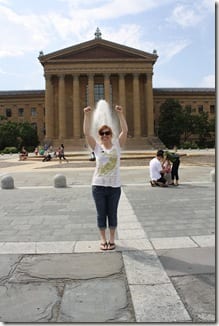 I also stood in the Rocky footsteps. I have big feet.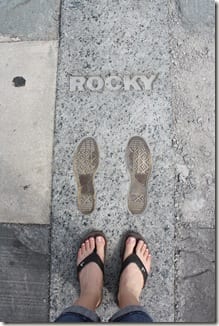 The views from the museum steps was great too 🙂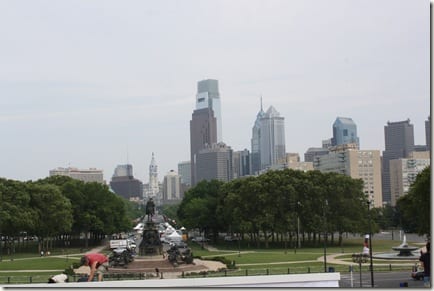 After all the festivities of the day we had some down time before dinner. I was hungry and had a few snackaroos…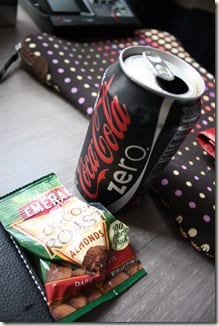 I randomly picked up this bar at GNC. It has 140 calories and 12 grams of protein. I like those stats, but don't necessarily like the ingredient list. You can't win em all.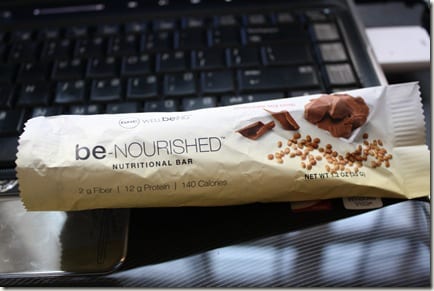 Then, it was time for dinner at James.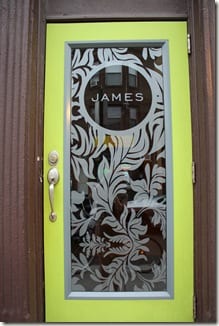 I love the color and design of their sign and door.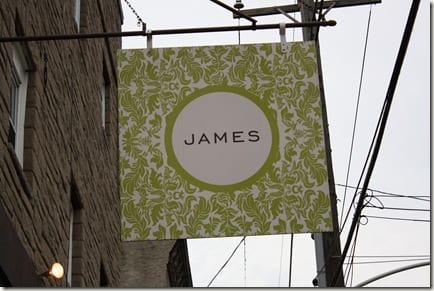 The restaurant was small and decorated with a funky, but modern feel.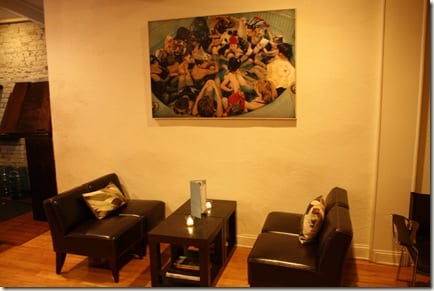 I love brick walls and candles in the fire place 🙂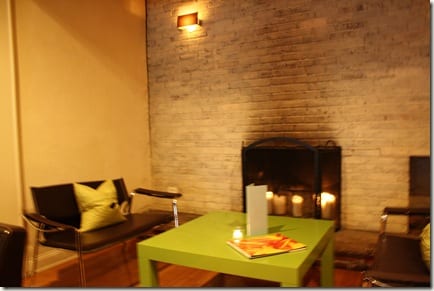 I enjoyed a glass of Rose while we waited for our table.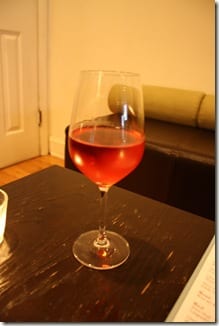 Let's just say I drank more wine in the last two days then I've drank in the last 2 months.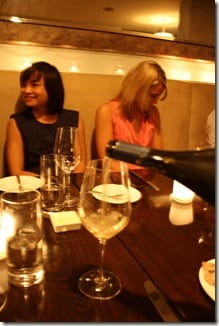 James had a menu pre-planned for us. We had two choices for each of the four courses.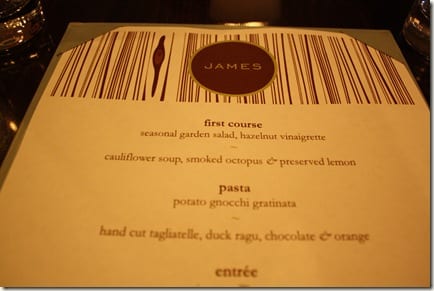 I need to learn how to turn down bread. I am a fiend.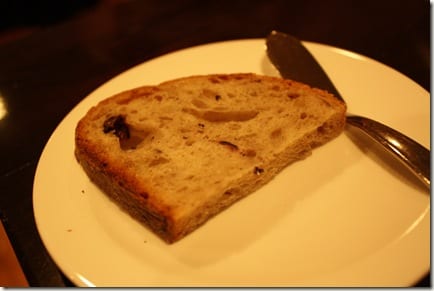 I started with the salad. I definitely don't feel like I've eaten enough veggies this weekend.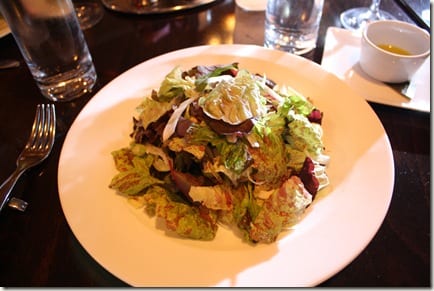 For the second course I ordered the gnocchi. Actually, I think everyone ordered the gnocchi.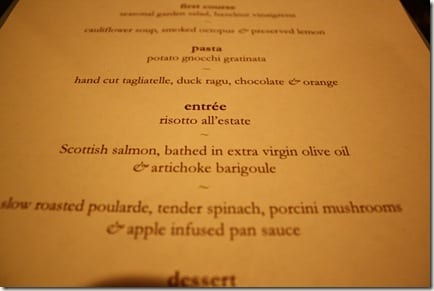 And it was AMAZING. This dish was definitely the highlight of the meal. I wish I had magical words to describe how good it was, but just trust me that a table full of food bloggers were raving about this one!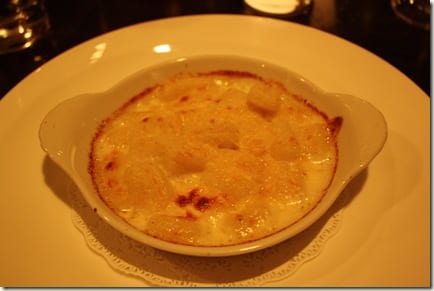 I ordered the risotto for my entree even though I don't like risotto.  The salmon dish sounded too rare for my taste (the waitress described it as similar to sushi) and the other option was chicken. This was okay, but a little on the salty side (and that is crazy for me to say).
Dessert was an espresso mousse served with oranges. It was very good, but I prefer all desserts include chocolate 🙂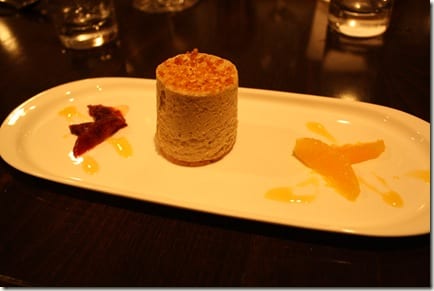 The dinner was well over two hours because it took so much time in between courses. But, that gave us a great chance to talk. I met so many smart and successful writers/bloggers this weekend. It was great!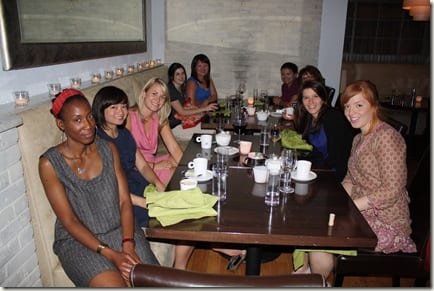 The bloggers:
Tanya from Iateapie
Maridel from Vital Juice
Jenna from Eat, Live, Run
Christine from No Meat Athlete
Anne-Marie from http://www.thismamacooks.com/
Tina from Carrots N Cake
Anne from fANNEtasticfood
Jenna from Eat Right Around Chicago
Great to hang out with you all 🙂
I am very proud of myself for hitting up the gym this morning despite staying out late last night. It was not easy to wake up, but I knew I would be sitting on a plane all day and didn't want to get antsy.
I usually take Sundays as a "rest" day so I just walked on the treadmill with an incline for 40 minutes and stretched a bit.
Then it was time to pack it up and head south to Florida 🙂
I was sad to leave the hotel though. We stayed at The Palomar. It was very nice and the service here was some of the best I've ever had at a hotel! The staff was super attentive and helpful.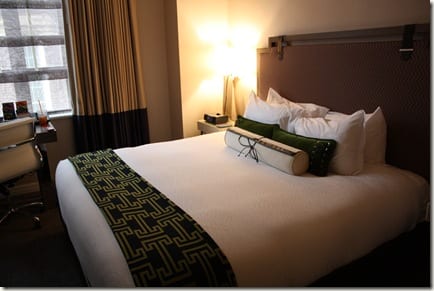 It worked out great that Tina and Jenna were flying out at the same time and airline as I was so we shared a cab to the airport.
Once we got through security we were on a mission to find oatmeal. We almost freaked out when we heard there was no Starbucks in the Philly Airport, but luckily Au Bon Pain has oatmeal. Score!
I got oatmeal with raisins and a banana and mixed it with a packet of almond butter. I totally scored and found this on the cheap recently! They are amazing for traveling 🙂
Now I am on a plane on my way to Fort Myers, FL. I will be spending a few days with Ben's family at a time share and then it's back home to MD for a few weeks before I move home to CA. How crazy is my life right now?!
Despite the craziness, I am very happy, very lucky and very thankful 🙂
See you in a bit!