Podcast: Play in new window | Download
Subscribe: Apple Podcasts | Google Podcasts | Stitcher | RSS
Hello! It's my first round up of the year! I like to post my favorite run, eat and repeat every month. I actually didn't do it December of last year – that is a red flag for my metal health(!!). But I'm back on it this month with all the highlights in RERland.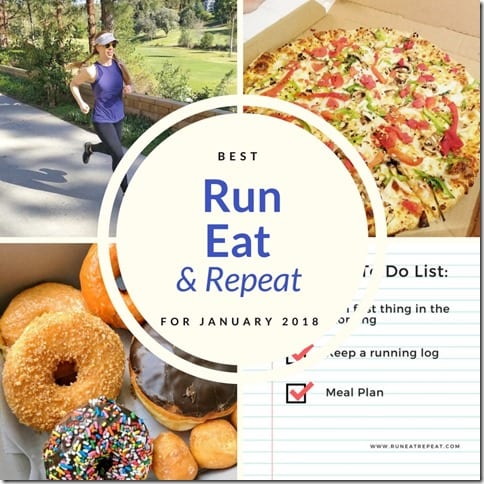 I might do the December and/or full year recap soon. Let's see how together I can get it! I really love recap posts and things like 'best of' round-ups – I just need to take the time to put it together before I forget everything I did last year.
Anyway.
Let's talk about the best run / eat / post I want to repeat from January!!
Best Run Eat Repeat from January 2018
Fave Run – 16 miler last weekend.
Last weekend I finally got back on track a tiny bit and stuck with my long run plan. It's been really hard for me to get myself to do really long runs lately. It's more of a mental thing than physical. Putting together the notes for this episode made me realize I'm really not confident in myself and my running right now and my mental game is bad.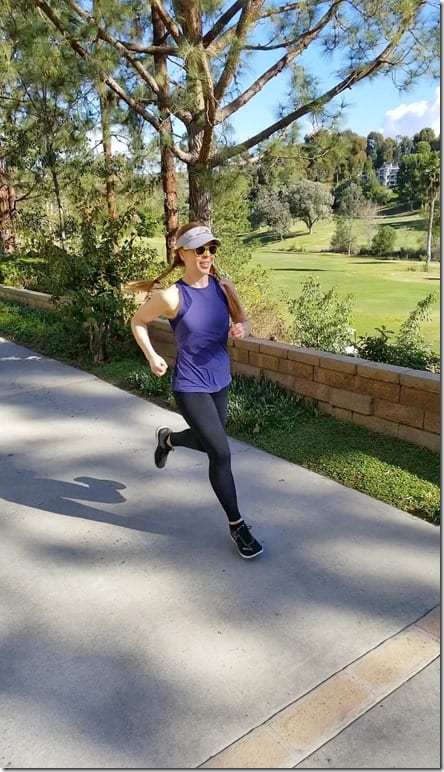 BONUS: What I'm wearing in this pic…  Fabletics tank and leggings.
The leggings are the most flattering I've ever worn. I've worked with them in the past and have pairs that are years old and still look great and the stretch and compression is super strong (I think that's part of why they're so flattering).
I'm working with them again this year so let me know if you have any questions.
You can check out my workout gear picks here.
Fave Eat – PIZZA!!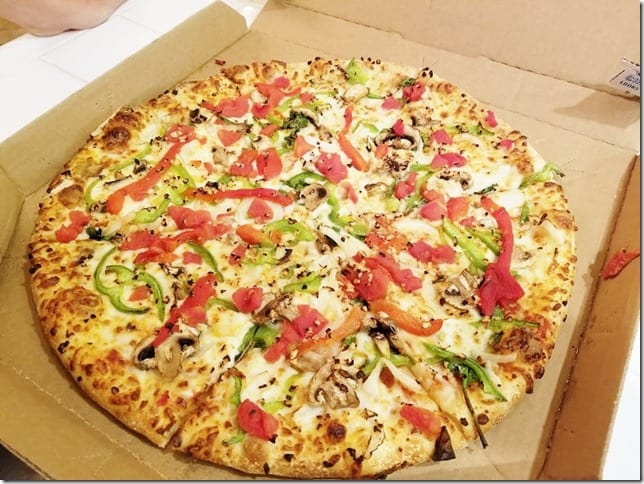 My favorite eat from the month is the pizza I had while watching Halt and Catch Fire with a friend we usually make a blue apron meal or something but I have been craving pizza like crazy. Actually my plan was almost foiled because two places I tried to order from didn't workout. I ended up going with Pizza Hut because they have  a Brooklyn style thin crust pizza. It worked and made me happy.
And honorable mention goes to Breakfast Potatoes in the Crockpot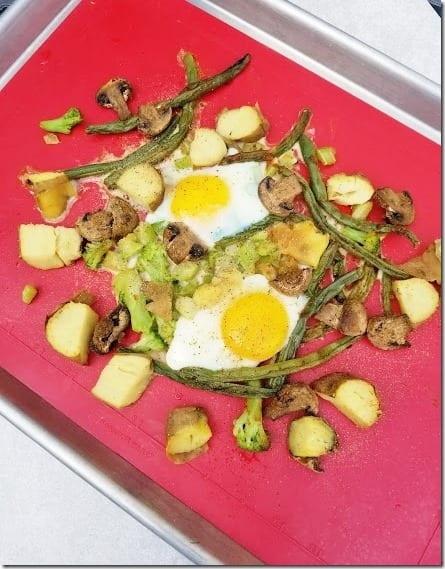 Check out my super random Facebook Live talking about the recipe here
Follow Run Eat Repeat on Facebook for more videos, recipes, running and repeating!
Follow Run Eat Repeat on Instagram for less… okay, more of all that stuff too.
Fave REPEAT – 3 things that will help me be a better runner
Run first thing in the morning…
Keep a running log… using an app instead and I downloaded my Garmin info
Meal Plan… I did this great for 2 weeks and then fell off. Gotta get back on the wagon!
Honorable mention…
New Supplement post and Know your water post
So….
I finally checked in with my running watch and uploaded all the miles from the last few months. Turns out I was .76 miles away from running 200 miles in December!! Fail.
How many miles I ran this month:
December 2017 – I ran 199.24 miles
January 2018 – I ran 217.60 miles
December 2017 – I ran 199.24 miles
January 2018 – I ran 217.60 miles
Question: Would it super bug you if you almost ran 200 miles in a month but stopped at 199.24??
Thank you for listening! Please subscribe in  your podcast app – iTunes, Stitcher or Google Play!