Podcast: Play in new window | Download
Subscribe: Apple Podcasts | Google Podcasts | Stitcher | RSS
Today's I'm talking about the Surf City Half Marathon – results, who I ran with and how it might affect my mindset and mental game.
Pre-race – I wore the race legacy tee as my throw away gear.
Warm Up:
Last week I mentioned that I just missed running 200 miles in December by 3/4 of a mile. I asked if that would bother you and it seems like 90% of team RER say YES – it would bother them. Someone said they'd run around the block at 11:30pm on the last day if needed.
And I shared a transformation Tuesday post on Instagram that I wanted to share in case ya missed it. The Surf City Marathon was my first full marathon. I was a lot heavier when I ran that first full 26.2 miles. You don't need to wait to start working toward a goal. Start today.
Surf City Half Marathon Results and Recap
Surf City Half Marathon finish time 1:43: 33  – average pace 7:53
Starting Line of Half Marathon:
Looking back on my running and training when I was getting faster a few years ago I realized a few things… I'm going to talk about those next time. But the race reminded me about a few super important habits and actions I was taking to get faster.
I mentioned last time that my mental game is really bad right now. I'm not confident in my fitness or my mental strength to be able to run a hard race and push myself. I feel like I lost it.
I went into the Surf City half marathon looking to assess where I am right now with running. I wanted to keep the pace at 8:10.
The race started at 7:45am so I had plenty of time to get ready.
My pre-race morning routine consists of: coffee / sunblock / water / bathroom / change / [get distracted by social media and let 22 minutes pass, realize I'm late and freak out] / put hair in braids / take picture of myself in mirror / freak out that I'm late / grab fuel to eat on the way / rush out door.
Starting line – saw Coach Steve from the Sole Runners!
My goal: 8:10 pace for the half marathon.
Steve's goal: 8:00 pace for the half marathon.
What happened…
Steve was running with one of the Sole Runners "Fast Phong" who was going to keep the pace for them. Steve didn't have his running watch.
I ran with them for 2 miles – lost Steve when he hit up the bathroom and figured it was better so I could run my own race.
It was warm, I was thirsty. I was dehydrated the day before from running 13.7 miles without water.
I tried to focus on form and just run strong. Steve popped up at my side around mile 8.5 and said he lost Phong (he'd been sick last week). Since he didn't have a watch I would tell him our splits at the mile markers. We were around 7:50 to 8 for the last few miles.
It seemed like a slight incline the whole way from mile 9 to 11! I was hurting but Steve wouldn't run away. I told him to go finish fast around mile 11 – I don't have a kick and I think that pace was as good as I could do in that moment. Nope. He said he was around capacity too.
We basically somehow made each other run faster and finished better than goal!!
Why this is important:
A.) I needed this confidence boost.
B.) It reminds me I need to race more – which is something I've been thinking about.
C.) It's making me consider running with Steve and the Sole Runners for races again.
D.) Donuts.
E.) I ran a strong race and pushed myself out of the comfort zone I would have stayed in if not for running with Steve.
Podcast Awards for the week:
1. Past behavior predicts future behavior.
2. Almond butter with coconut  – so good!
3. Today is National Frozen Yogurt Day.
Do you like frozen yogurt or ice cream? Or something else??
Got a question for me?
Leave me a voicemail or email [email protected] with "Podcast Question" in the subject line.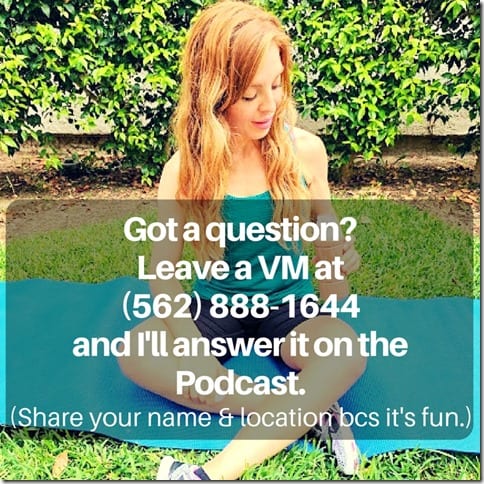 Mentioned in this episode:
Question: Do you like frozen yogurt or ice cream? Or something else??
Surf City Marathon & Half Marathon 2021 Discount Code