Hello! This morning I woke up at 6am for the Runner's World 'Five and Dime' aka 5K and 10K. (Noting the time because it was really 3am to this CA girl.) I rallied, grabbed coffee and took this group shot with the other bloggers: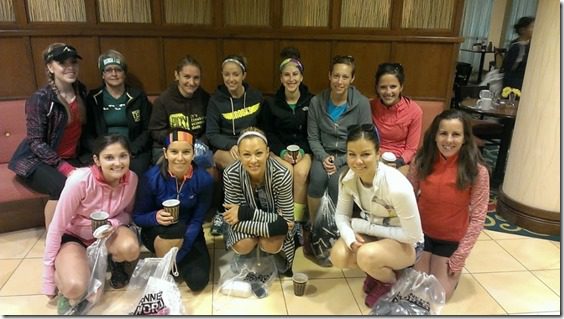 From left top: RER, Because I Can, Enthusiastic Runner, Nurse on the Run, Running Bun, The Sweet Life Erica, Hungry Runner Girl, Eating Bird Food, Carrots n Cake, SkinnyRunner, Dietician on the Run, Race Pace Jess.
It was super cold before the race, but everyone is able to wait inside Arts Center building before the start!
Brooks Running Co. sent me this awesome Utopia jacket a few weeks ago and although I LOVE that it's super cute I didn't think I would wear it at home. Well, I am so glad I packed it because it was about 40 degrees this morning, which equals –6 to me! I didn't want to take it off, but finally parted with it for the races.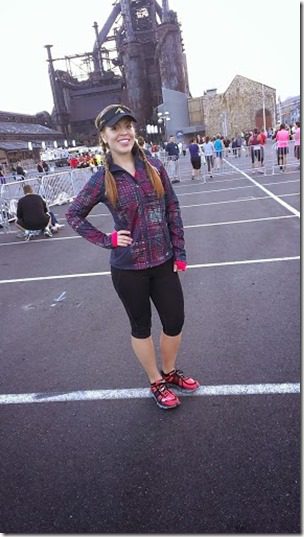 Gotta get my running pose ready in front of the steel stacks.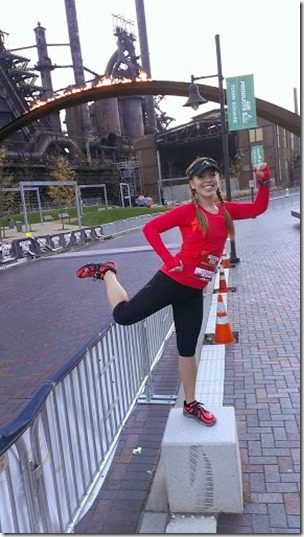 The 5K start time was at 8am – time to line up!
And done in 26:04.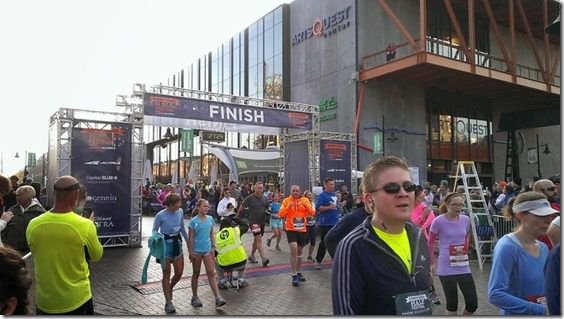 After the 5K I met a few readers at the finish! This is Alyssa who rocked it out…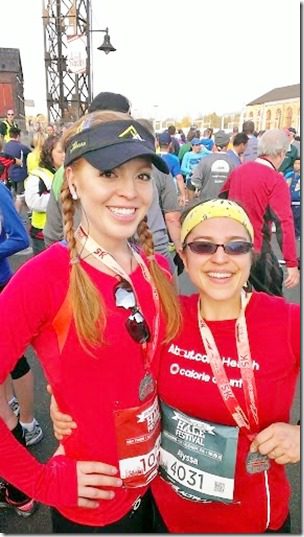 And Ashley!
I also met Anna, but my sad phone died today. (I am that person with the 6 year old phone.) Anyway. Nice to meet you Anna!!
I ducked inside to get warm after the 5K and randomly saw Cliff Scott walking by. He is one of the runners featured in Spirit of the Marathon II. I was super excited because I was out of town when the movie was shown in SoCal and forced SR and HRG to see it with me last night!
Scott and I talked about the Rome Marathon! I asked him a million questions until we had to line up for the 10K.
Time for the 10K!
I finished in about 51:40 unofficial. Even though my phone died I'm lucky to have friends in high places with phones so SR took this pic for me. Because if you don't put it on the blog it never happened, right?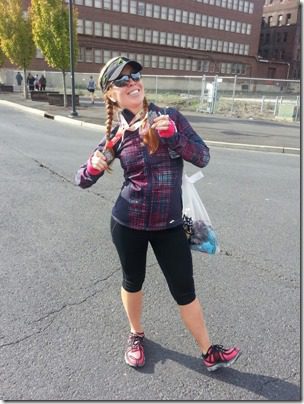 Thoughts on the 5k and 10k:  It is very well organized! There were plenty of porta-potties and inside restrooms. Baggage check was a breeze – and you could get your stuff in between the 5k and 10k if you needed it.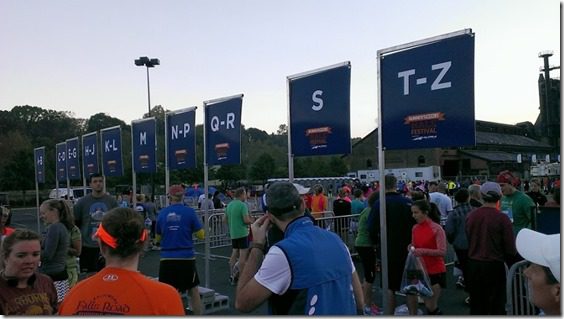 Chilly weather, which is great for running. The course is hilly, but you get some good down-hills with it. I think it's really pretty course – not sure if this is the usual routes for some of you, but the fall leaves, historic homes and steel stacks made it awesome. Post-race: bananas, bagels, apples, Larabars, water. There is also a whole schedule of seminars for runners throughout the day! You can really tell this race is organized by runners for runners.
After the race we headed back to the hotel for showers and FOOD.
Panera.
And cookies!
Now I'm maxing and relaxin before the half marathon tomorrow!  I gotta put that Fox song on my ipod…
See ya in a bit!
Question: What cookie would you choose?
Me – chocolate chip.
Disclaimer: I was invited to this race weekend by Runner's World. All opinions are my own.