Hello! How's it going? I have a free printable Running Planner with space for you to note the day and time of your run AND what the weather forecast is for that time. This is super important when you're training for a race and the weather adds an additional challenge.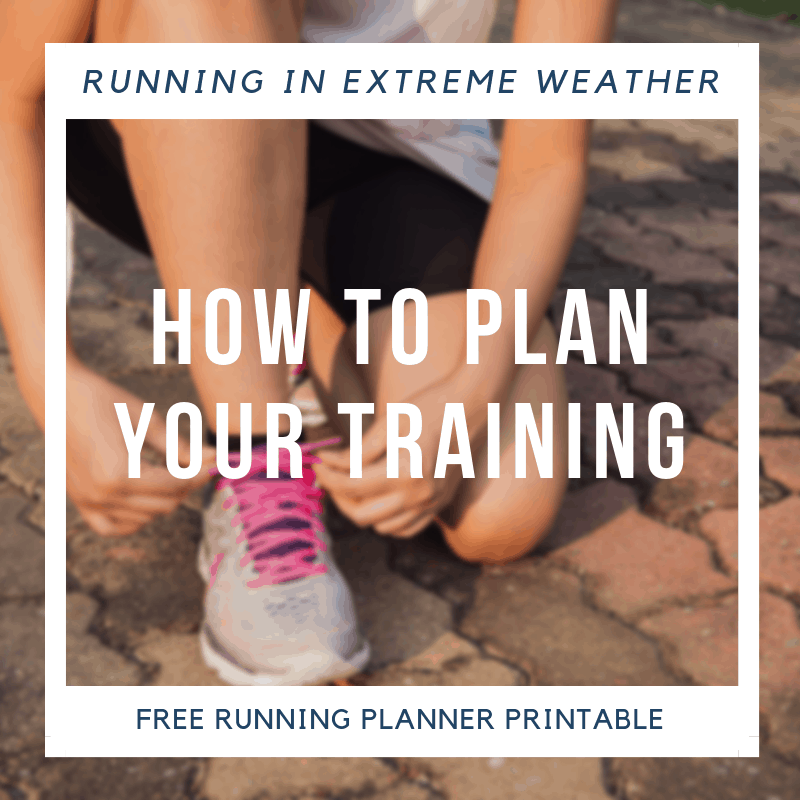 Extreme weather conditions affect your training, performance, motivation, running and sometimes prevent your workout from happening all together! So it's important to plan your workouts accordingly whenever possible.
Depending on the time of year, your work/school/life schedule, training schedule and weather like heat, humidity, cold, ice, lightning, etc. – you may need to switch up the days or times you plan certain workouts.
This hit home for me last week when I realized I had my long run day scheduled for the hottest day of the week when temps were going to hit 99 degrees. WHAT.
At that point it was too late to switch things up but I wanted to plan the following week smarter. So I'm not just planning my training runs based on getting in certain workouts – I'm factoring in the day/time I can run and the weather.
I note the day/time because some of you run early in the morning, mid-morning, during lunch, in the evening… and temperatures can fluctuate a lot! So don't just look at the weather forecast for the day – look at the weather for the time you're running.
Tips for Training in Extreme Weather:
Note the time you can run each day AND the weather during that time period.
Plan your hardest runs for the 'best' weather time periods. (Mild and/or safe conditions)
Note any days/times when running might not be possible or safe. Assign rest or easy days as needed.
Fill in your training planner with key workouts on the days you know you can run for sure.
Complete your plan for the week with any rest, easy or optional days around that.
* Click here for the Free Printable Running Planner pdf * 
*The above is a photo of the planner – click here for the Printable PDF version.*
Bonus:
Once you have your training plan for workouts – make a plan for your body and health. 
How to Run Healthy in Extreme Weather:
Be sure to stay healthy and hydrated.
Have the proper clothing ready to wear.
Listen to your body. Stop or take a break as needed.
Keep your long term goals in mind. If one run is going to put you in harm's way – is that going to help you reach your goals? Can you skip it? Are you hurting yourself or helping yourself in this workout?
Use any safety precautions and equipment necessary. (Examples: If you're running in low light conditions – have lights and reflective gear. Sunblock. Warm gear in the cold. Sweating-wicking, light colors in the heat.)
Always err on the side of caution with your body, health and safety.
I'll be back soon with my August mileage round up and more!
Happy Running!