I ran the Santa Rosa Marathon in 3:37:23!
Well. I don't know where to go with this one because I'm really happy and really confused at the same time.
I considered myself a 4 hour marathoner until today. So, every PR that I've gotten this year has been a genuine surprise to me more than anyone else.
(Today's race is not a PR, I ran faster at the OC Marathon in May which was 3:36:23.)
Now I'm questioning everything in the world. But, we'll chat about that later.
Let me recap the race in my usual peanut shell style.
Pre-race – I stayed up way too late trying to figure out how to switch my ipod playlist. I'm obviously very smart.
4:30am wake-up call because the race started at 6am. I stayed a mile from the start so it was very easy to get there.
Ready to do this!
Santa Rosa Marathon Course: It started near the Santa Rosa trail path and from there went out toward the vineyards. The sunrise over the vineyards was gorgeous. I didn't take my phone or I would have stopped to take pictures.
The trail bike path was okay. You had to go under a few streets so this added some small hills early and late in the race.
My race results:
I always say I just have to wait and see if I'm having a good day before I set a goal for any race (not a 'real' goal, but a goal pace/time aim) because I don't know how I'm going to feel. Today I didn't feel like I was having a good day in particular, but I wanted to try and push it so I could see where I am before I get into my Fall marathons (I have three races back to back).
I started out on goal pace and stayed about 10 seconds within GP until about mile 18. I had a bad mile but brought it back for about 3 miles.
Then, at Mile 22 I lost it and couldn't get it back. I stopped looking at my watch because it was just discouraging. I started to run on effort instead of pace as a tool and it helped me keep going.
I also felt nauseous for a while and that scared me. I need to get better about being able to tell the difference between discomfort and looming death.
Ben came to the race and we had a small mix-up with our plans. He was going to refill my water, but couldn't so I ran with a plastic water bottle that started to tweak my shoulder a bit. But I'm so glad I had it because I was very thirsty the whole race!
Thank you to reader Sonia who saw me two times on the course and cheered for me. I really needed that!
Thoughts on my performance: I need to review tomorrow with a clear head.
Santa Rosa Marathon Race Review:
Great race! It was well organized. Expo was at a winery. Had enough porta-potties at the start. Started right on time. Decent weather (got a little hot toward the end). Fairly flat course (NOT pancake flat like their reputation is though). There are rolling hills around mile 10 and a few up and overs on the bike path out and back (so you hit them in the high 20s).
Plus, they have watermelon at the end!!!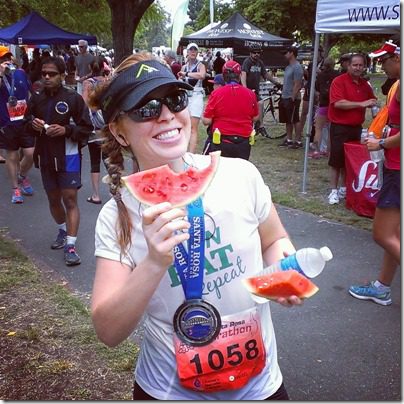 Bonus: You get a jacket and a bottle of wine as swag! I love that! I have so many race tees this is awesome!
And then you get to celebrate or drown your sorrows with a whole bottle of wine! (Sadly, I had to give my bottle to someone at the airport because I wasn't checking a bag.)
And this is the BIGGEST race medal I have ever received!
Now I am headed home to collect my thoughts and eat a lot of pizza and fro-yo. See you there!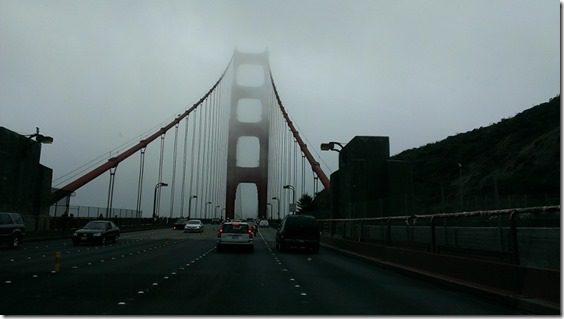 Question: What did you do this weekend?