I'm super excited to share my thoughts on Silk Cashewmilk today! I got my hands on it a few weeks ago and recently a rep from Silk contacted me about a blog mention. So, my sips are below.
But first I want to give myself a lil clap for sticking with the 25 days of Fitness and taking a drizzly walk yesterday. Wednesday's challenge was to take a 30 minute walk. I live in Southern California and it RARELY rains here – like, I don't remember the last time it rained.
I bought this umbrella because it was on Target clearance or something and I remember my bestpeep laughed at me for it! That's how random it is! However, it was raining yesterday and I got out for my lil fitness walk.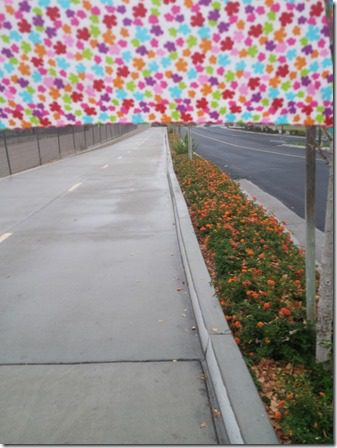 25 Days of Fitness – today the challenge is =
Stretch out for 10 minutes after your workout. Today's a rest day from running for me so I'm doing some strength training and then I'll s-t-r-e-t-c-h!
Silk Cashewmilk
I use almond milk on a daily basis in my coffee, tea and cereal. But when I spotted Silk Cashew Milk recently I had to try it. I LOVE eating cashews even more than almonds (I'm kinda obsessed with snacking on all nuts tho).
I grabbed a carton of Cashewmilk and loved it. It works in everything I sip – iced coffee, hot tea, straight up for drinkin'.
The #1 question I got when I first posted about cashew milk was, "How does it taste?!"
I feel like it tastes like almond milk – which I think only kinda tastes like almonds. It's creamy, slightly sweet and a tiny tiny bit nutt-y.
I use it generously in all my tea and coffee and love that it adds a cream factor without adding a lot of calories to my drink.
I heard a rumor that signing up for their newsletter scores you a coupon and you check out the Silk FB page for more.
Question: What do you put in your coffee?
At home I put stevia and A LOT of cashew or almond milk, out I use whatever sweetener and reg milk.
This conversation is sponsored by Silk. The opinions and text are all mine.