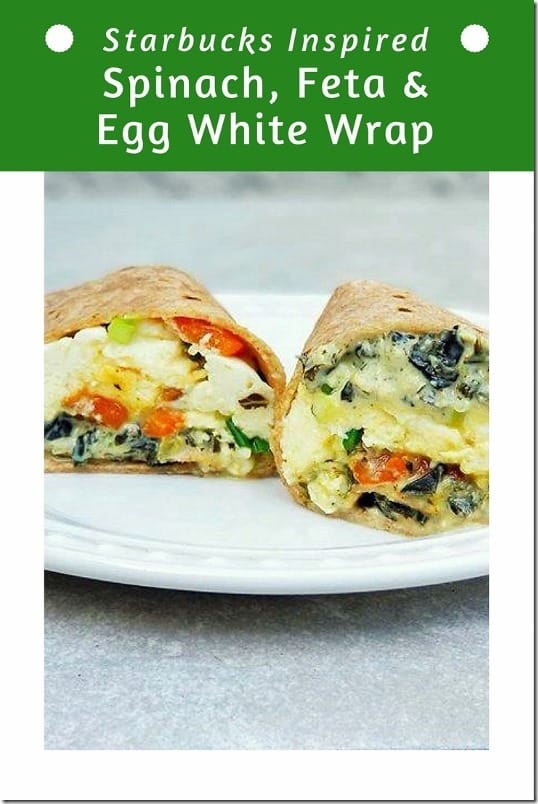 I'm obsessed with the Starbucks Spinach, Feta and Egg White Wrap but it's not super convenient to go there all the time.
So I made a homemade version that might actually be a little better! Plus I can save money and make it healthier or add tons of Sriracha – something seriously lacking at the Starbucks condiment bar…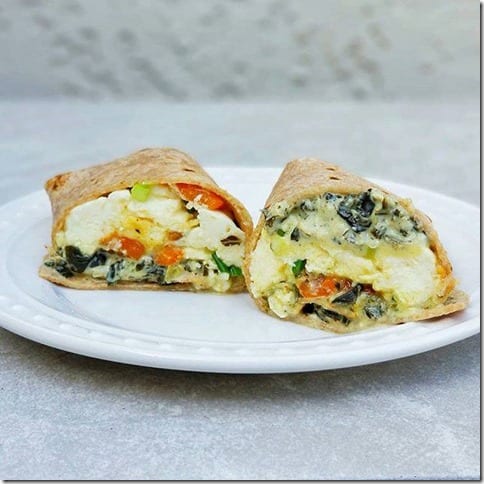 (Posted on Run Eat Repeat's Instagram – check it out for comments.)
Starbucks Egg White and Feta Wraps Recipe
Recreate one of Starbucks' most popular foods with this easy diy wrap recipe! It's a healthy version of one of my favorite menu items. A few Trader Joe's favorites make this super easy to throw together in 5 minutes! Boom. Try it and let me know if you added Sriracha.
Spinach and Egg White Wrap Recipe
Ingredients:
Whole wheat tortilla or flat-out wrap
1 c egg whites
1/4 c bell peppers
4 Tb. TJ's Spinach Greek yogurt dip
Optional: Green onion, Sriracha
Directions: Heat small skillet with non-stick spray or oil. Begin to cook egg whites, season with salt & pepper. When eggs are half done add bell pepper & green onion. Cook through.
Heat tortilla & spread w spinach dip. Top with eggs & roll into wrap. Place back on hot pan to toast on each side.
One of the best parts of the Starbucks version is the wrap is perfectly toasted.
I made this in part because it's not convenient and too expensive to go to Starbucks all the time. So, I recreated my favorite treat at home. But my friend Katie chimed in that it's always convenient to go to Starbucks… she loves that place and goes a la la lot.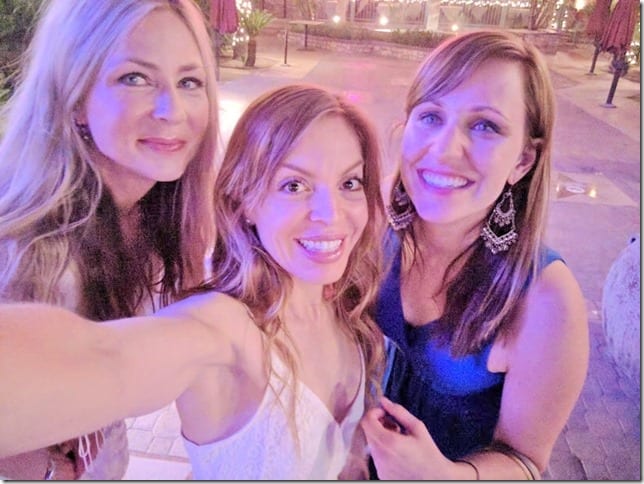 There's not a drive-through 'bucks near me so I don't go very often. And I prefer iced coffee from other places. But I really do love this wrap. Anyway… it made me curious – how often do you go out for coffee?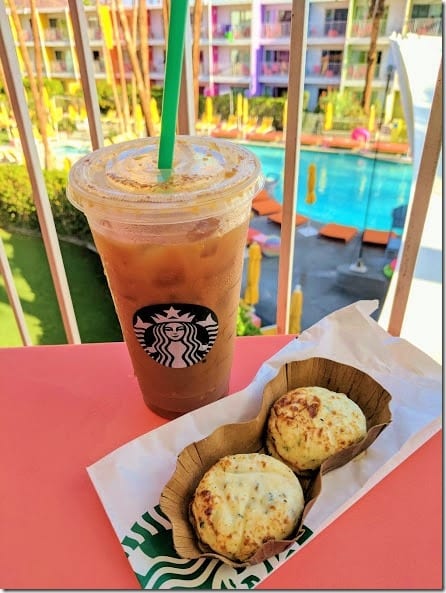 Bonus: This summer I discovered the Starbucks Sous Vide Egg Bites – it was when I went to Palm Springs with Skinny Runner and Katie.
I wanted to recreate them but heard it was super hard to do since you'd need a Sous Vide thinger (the technical term for it). Well, the Fitnessista has a recipe for Homemade Sous Vide Egg Bites without needing any fancy equipment! Check it out if that's your fave.
You might also like…
– What to do in Palm Springs (post from trip mentioned above)
– Fitnessista's Homemade Sous Vide Egg Bites
– Run Eat Repeat Instagram for more recipes, meal ideas and running updates
Question: How often do you buy coffee (like a cup of coffee not coffee to make at home)?