Hello and good morning! I have an early client this morning so I'm hoping to run later. Let's see how my body cooperates…
And I'm sure I'll be having this for breakfast
I don't know why, but I have been on a mission to de-clutter my life the last few days. I started with my 6 month closet clean out (which is still in progress). But, it's already very obvious I don't wear 90% of the junk I have in there!
Then, I gathered up 4 bags of clothes for the Goodwill…
And this week I will tackle our wash closet. It is a huge mess right now! I'm embarrassed to even show you, but here's the "Before" picture. Hopefully, I can have the "After" to you by Friday.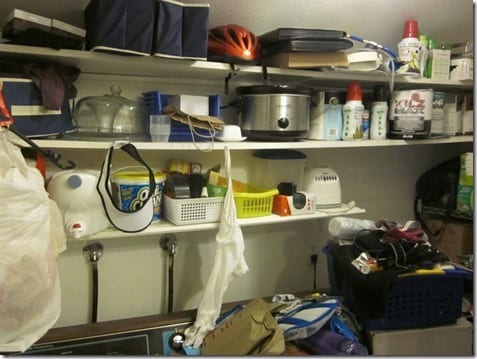 Spring Cleaning To Do List:
Clean and organize wash closet
Clean and organize exercise equipment corner
Put down drawer liners in all drawers
Take bags to Goodwill
Go though mail container (I do everything online, so this is piling up!)
(Long term) Paint bedroom and kitchen
Question: Got any great organization or cleaning tips? Thoughts on that Natalie Dee cartoon??
Disclosure: Compensation was provided by AVEENO® via Glam Media. The opinions expressed herein are those of the author and are not indicative of the opinions or positions of AVEENO®