This week called for a step back in long run mileage. Most marathon training programs decrease in mileage every 2 or 3 weeks to let your legs recover. So it will be like 10 miles, 12 miles then down to 8 miles.
I planned on 14 today and I'll go back up to 18 next week. Before my run I fueled by with the usual – SB&J toast.
Today I took a long Gatorade and my Spibelt to hold my phone and emergency money. You know, because getting a Panera bagel is an emergency sometimes
I packed some Poweraid chews in my fuel pocket. These are so hard to eat though
Too chewy, take forever to get down. I keep trying to eat chews because I have a ton of them, but they just don't work for me.
I picked a route that was out a ways but not back all the way so I called Ben to come get me when I was done. (We planned this so he knew I would be calling.)
I know this is a little weird, but I like running a certain distance away from home and having him come get me. Out and backs always make me sad to turn around because I know I'm only half way home.
14 miles in 2:05:47 average pace 8:59
I felt just okay today. My legs are tired and I really needed this step back week for my psyche. Marathon training is very psychological and my heart and head wanted a break too.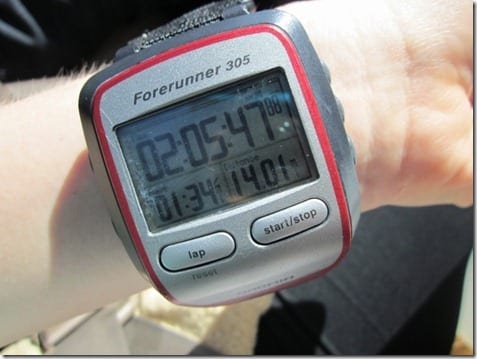 I came home and polished off the watermelon I bought on Wednesday. Someone asked how I differentiate eating an entire watermelon in 3 days from binging? This is a great question!
First off, I kinda think if you have to ask you aren't a binge eater. And I mean that in a nice way
Binging is something I do without really tasting or enjoying the food. I'm not "just overeating because it tastes good". I binge because I'm tired, overly hungry, stressed or lonely. It's a comfort thing. I'm not enjoying the food. It's also something I've done since high school to deal with stuff.
I eat and eat and eat watermelon because I love it. Also it's similar to Christmas cookies or another special/holiday food for other people because I think of watermelon as only available for a limited time (even if that limited time is really 4 months long!). It is one of my favorite foods and I keep eating it until my belly is bloated.
Being bloated is uncomfortable and crappy. But, the difference is – after a binge I feel like shit physically and psychologically.
Evelyn Tribole (RD and one of the authors of Intuitive Eating) told me overeating is common and doesn't mean you have food issues. Most people eat too much of their favorite food every now and then. Most people eat too much during special events surrounded by food – this doesn't equal a binge.
Hope that explains it
I didn't want breakfast after my run so I made a super early lunch.
Plans for the day include visiting my fam and Yogurtland
Anyone want to chime in on binging versus overeating a favorite food?