Hello! How's it going? I am packing up and getting ready for a mini road trip right this second!
We're celebrating my cousin's birthday in Palm Springs (where it's literally 115 degrees). So, wish me luck and coolness and AC!!
Before I left to the desert I ran 10 miles this morning. Even though I'm not in Palm Springs yet – it's still super hot here in the OC right now. It was rough out there. Whew!
Who else is struggling in this heat?!
And I'm also having some weird pain in the muscle on the side of my knee – it's definitely not the same as when I had IT Band Syndrome.
It's hard to describe – it feels like a small tight band in my leg. It's not super painful, but annoying. I almost think it might be my vein right there? I've always had an oddly large vein directly on the side of my knee. Attractive, I know.
I told Vegas I might have a blot clot and be dying. He doesn't seem too concerned…
Okay, now for the good stuff – I had some time to kill while waiting for my cousin to meet me for our road-trip so I had the bright idea of making sangria for the festivities!! It's healthy because it has fruit and happiness.
This combo only requires 3 ingredients and no chopping fruit – see, so easy!!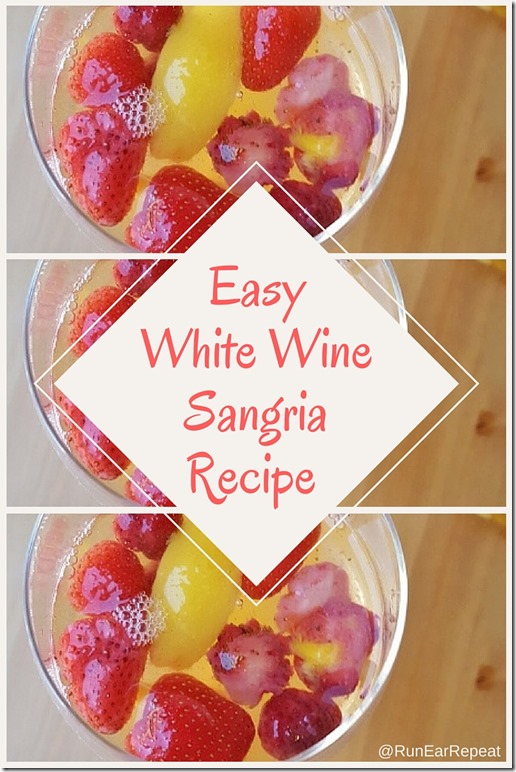 Easy Sangria Recipe
Ingredients:
20 oz of frozen fruit (I went with peaches, strawberries and mango)
white wine (the BIG bottle because I'm not here to mess around)
1 cup triple sec.
Combine.
Let marinate for a while in the fridge for at least 1 hour.
Drink!!
Be happy.
The best part is eating the fruit at the end! Do you agree?
If not, can I have yours? (I also eat other people's pizza crusts. Fun fact?)
Question: How is your summer running going?
What are you up to this weekend?