Hello!! As we wrap up the month (and year) I wanted to take a minute to encourage you to list everything you accomplished this year. Before you make your goals for next year or race calendar or New Year's Resolutions… give yourself credit for every victory – no matter how big or small! And I have a fun free printable if you want to write it out OR screenshot for Instagram or Facebook.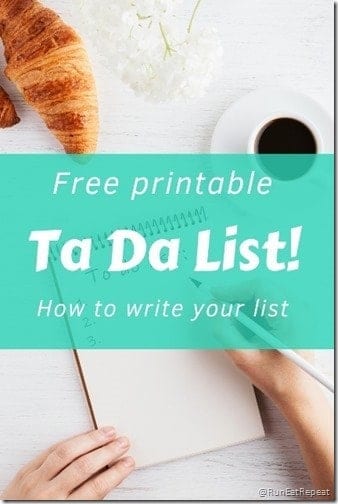 Full disclosure – I don't think I've accomplished anything this year. I didn't hit any of my goals. I think I actually took steps in the wrong direction on a lot of them. I don't even want to go through the New Year's Resolutions for this year because they'll just make me feel bad. And then I'll feel discouraged to set new goals!! I mean – who wants to set goals after thinking about how you failed at your last ones??!
But it's not helpful or productive to focus on failure outside of taking what you can learn from the situation. You have to move forward from setbacks.
One of my favorite quotes is – Don't let what you can't do get in the way of what you can do.
And it kind of ties in with this concept of writing a "Ta Da List".
A TA DA list is a list of all the things you have accomplished in a given time period. Today I'm thinking about my accomplishments for the year – but you can do this daily, weekly or monthly too. It's encouraging to see what you're capable of! It's motivating to remind yourself about all the things you have done! So before I write a To Do list for next year – I'm going to write a Ta Da list and at least give myself credit for the things I accomplished – even if they weren't my big goals or resolutions – they still count and I still deserve credit for that.
I made 2 versions of the Ta Da list – one is a list you can write in of your accomplishments, whatever you choose to focus on and note. The second list narrows it to the main areas of life goals we often focus on – personal development, spiritual, health, relationships, finances, fun, etc. Click on the links below to get the free printable pdf OR go to @RunEatRepeat Instagram stories and you can screenshot it and write it your answers to share with Sasha Medea.
Ta Da List printable:
* Click here for the Ta Da List pdf printable *
Ta Da List printable with different areas of life goals: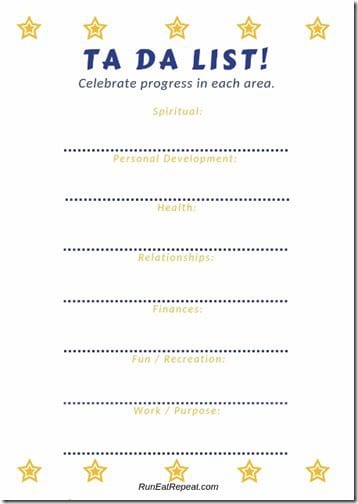 * Click here for the Ta Da List with areas pdf printable *
And in super exciting Ta Da news…
[ drum-roll please ]
If you follow me on Instagram or Facebook you already know this but…
I GOT A DOG!!!
I'll share more about him very soon!! But we're celebrating every tiny Diego victory right now – especially when he goes to the restroom outside. GOOD JOB DIEGO!! YOU WENT PP OUTSIDE!! YOU'RE A GOOD BOY!!! GOOD JOB!!!
So if we can celebrate Diego pee-ing… I think we can celebrate other small victories because they encourage us to keep moving in the direction of success and good habits.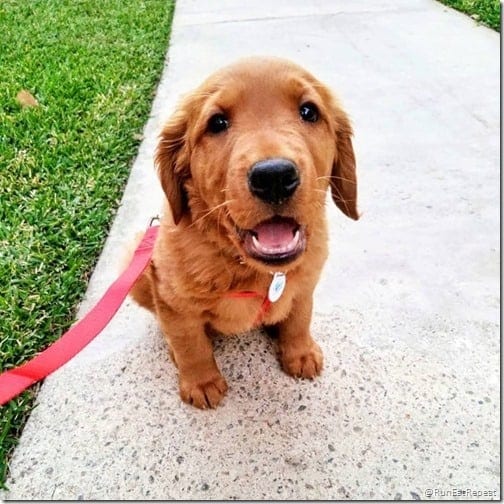 Make sure to follow @RunEatRepeat on Instagram and the Run Eat Repeat Facebook page so you don't miss out on any exciting (or random) updates!!
Thank you! Talk soon!!