How to plan your best running year ever! Check out this video with 5 steps to plan your race calendar for this year. It's simple but very important if you want to get faster, run farther, PR, get healthier or just have more fun running. I've been using this hack to plan my running and training calendar for years. It's so important to have visual reminders of our goals. Check out the video and let me know what your goals are for this year!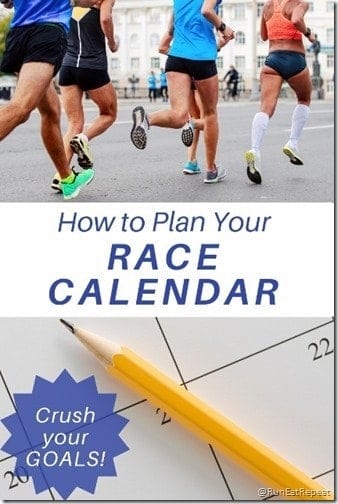 How to Plan Your Running Calendar for the Year:
These tips for planning your running or racing calendar can work for runners or all levels. Make sure you are setting goals that are relevant to YOU. Your goals should be about your fitness, health, goals, priorities, time, resources, etc. Don't let other people on social media or around you irl impact how you feel about yourself and the goals you set.
Planning Your Race Calendar:
1. Set goals
set 3 goals – they can be all running goals or a combination or running and fitness goals
2. List races
list the races you want to do, races you do every year, potential goal races…
3. Important dates
note any important dates / events / other and note race dates – check to see if there are conflicts
4. Assess your goals, dates, timeline, your health / life prioritiesr
finalize the races you can do
5. Go!
register, plan, research training plans, get going!
Plan your running and race calendar for the year video:
Race Planning Tools:
1. Yearly Calendar – dry erase calendar for the year
It's 2-sided and has the calendar horizontal and vertical
3. Calendar
If you aren't using a dry erase calendar – consider using the small post-its to note potential races and dates.
Now go get em!!
What are your goals for this year?
What races are on your calendar?? Let me know!
Remember to follow @RunEatRepeat on Instagram for the daily run check in!