I got tagged in to run the Ragnar Relay SoCal race Thursday night. Yes, the night before the race. (Sheila, who ran the Boston Marathon on Monday was hurt and on strict orders from her PT to not run.)
So less than 24 hours before the race I was told to pack three sports bras, vaseline, my laptop and report to a school in Orange County to the run relay with Team Nuun.
I may have forgotten the vaseline, but I did pack my ridiculous running pose.
I'm missing here because I came late. Team Nuun Van #1
Team Nuun Van #1:
Sarah "bring your "A game" to this relay or don't show up" from Once Upon a Lime
Emily "the Cardigan lover" from Sweat Once a Day
SkinnyRunner "fastest porta-potty user in the world" .com
Kristina "what I always look this cute after staying up and running all night".com
Farah from "I have the coolest job in the world" Diego
*The rest of this post is the Clif's Notes version because you're probably at work sipping coffee, pretending like you're working and catching up on email but you're really catching up on blogs and telling your friends about your weekend
Top Ten Moments of Ragnar SoCal #TeamNuun:
1. Boston Love. It was everywhere.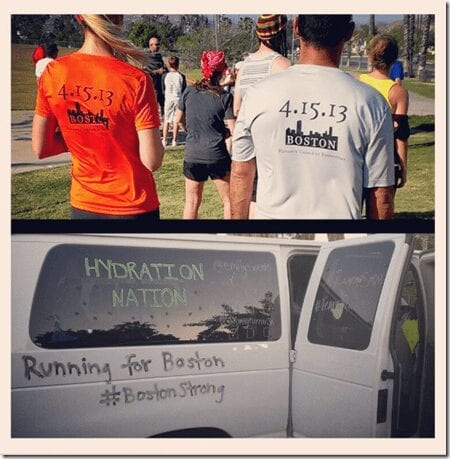 2. My first leg of the race was only 2.5 miles BUT ALL UPHILL. This is when I realized the girls were playing a joke on me called "Run the hills and in the dark by a mountain because you are a sucka". Not cool.
Luckily our friend Pam (who also ran Boston last week, so good to see her) brought me watermelon at the exchange. And all was right with the world.
3. Camaraderie. Running is usually a very solo sport, but relay races build teams and friendships. Relay races are full of cheering and love and positivity.
4. Porta-potties. You need them more than they need you.
5. You get tight after running and sitting in a van. Luckily my van brought a foam roller and 'the stick'.
Added bonus: Senorita SR  agreed to roll me out since they suckered me into a 2 mile hill for leg 1.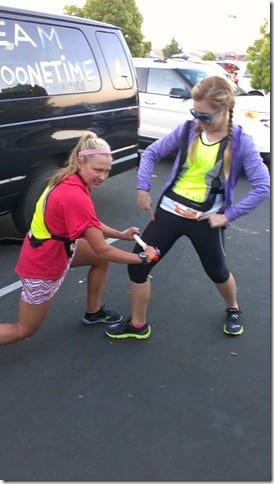 6. Run, Drive, Sleep, Repeat. They forgot the Eat part.
7. Around 12:30am it was my turn to run leg #2 – the dreaded night leg. I was terrified after what happened at my only other relay – solo night run.But, this night run turned out great! There were other runners out AND it was ALL downhill. I have never run faster in my life. Seriosly. You want me to run fast? Put me on top of a  hill at night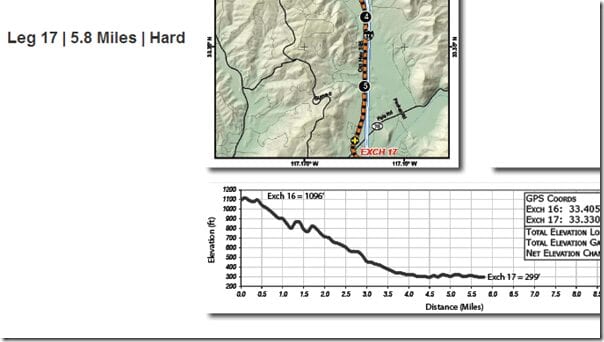 I didn't cry or die or fall. #Winning
We did it!
8. We slept from 2:50am to 4:46am. 2 hours of glorious rest.
Then, it was time to RALLY and RUN!
Ha! I am a mess.
9. By leg #3 we were near the beach and this was one of the exchanges. Love it.
10. My last leg was 4.5 miles and I flew! I got a third wind and was feeling GREAT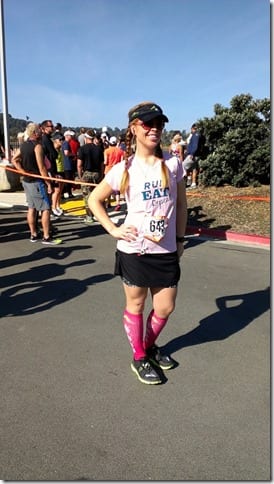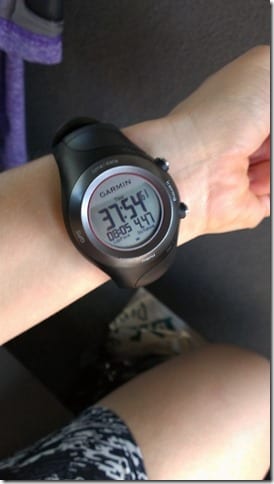 Then, it was time to party!!!
Except Van #2 BROKE so we had to play damage control and shuttle runners around for a bit. Luckily, we were able to work it out
Finally it was really time to party.
I need to give a big Thank You to Nuun! I have drank Nuun for a long time – love the taste and the hydration, but meeting the leaders of the company and seeing how they support runners made me really fall in love with the company!
Oh, and yes I totally drank all the Watermelon Nuun on the van.