I have been wanting to try Flame Broiler for weeks since I spotted an ad for it that shared decent nutrition information. So last night I got an all white meat chicken with brown rice bowl. It comes without sauce so I needed to add their "magic sauce". And I'm sure by "magic" they mean "sugar", but we'll ignore that part.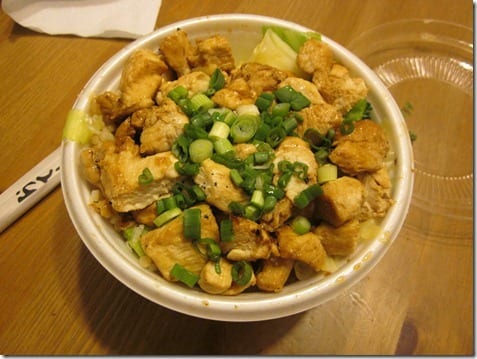 Ben got the combo plate. I am an orange thief.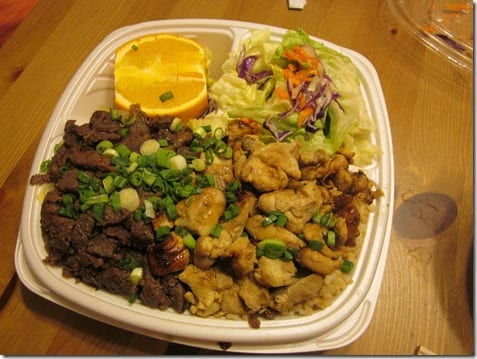 I'm going to do a strength workout today so I went straight home after teaching boot camp.
Okay, I'm a liar.
I passed by the amazing scone place  on the way home because I've been craving one for a week. But, they don't open until 7am (I was 15 minutes early)!!! Fate decided no scone for me. It was probably for the best.
So, I went home and made my favorite sweet breakfast – pancakes. I have been using this Hodgson Mill mix and adding 1/2c egg whites to 1 serving for more protein.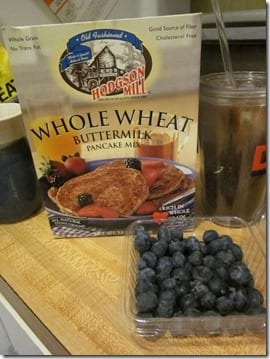 Pancakes with PB and sf syrup. It's not scone, but it's delicious.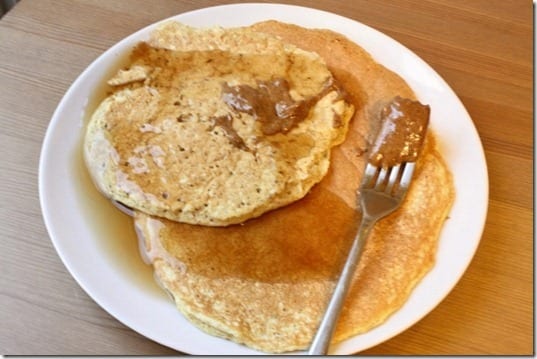 I'm having a really "eat-y" week so I'm trying to fill up on iced coffee for now.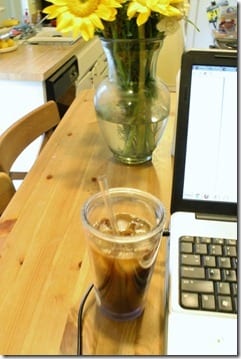 Food Fact: Breakfast is the most important meal of the day because you can put syrup on it. Yes, even cereal.
Breakfast is my favorite meal of the day and I was doing a little research on "the best breakfast" yesterday. I found this study that says eating protein and carbs at breakfast is best. Good, I'm glad that's settled.
New research suggests eating protein and carbohydrates together at breakfast can help support long-term weight control, at least compared with a high-protein, low-carb breakfast. In the study, published online in the December issue of the journal Steroids, 193 obese, non-diabetic adults were given either a high-protein, low-carb breakfast, or a mixed protein-carb breakfast as part of a weight-loss diet.

After 16 weeks on the diet, weight loss was similar: the low-carb breakfast eaters lost 15.1 kg vs. 13.5 kg for the mixed breakfast group, but the result did not reach statistical significance, which means the outcome may have been due to chance. After a further 16 weeks, however, the low-carb breakfast eaters regained 11.6 kg, while the mixed breakfast group lost a further 6.9 kg.

(source)

The article has some good breakfast ideas too.
Unlike the magic sauce in my dinner I don't think there is one magic breakfast. I think you need to find a meal that's realistic for you to make and eat and that keeps you full and happy.
Question: What's your best breakfast?
I think my best breakfast is an egg sandwich because it's satisfying and delicious, but my sweet tooth loves pancakes.