My lil or I guess I should say not so little Golden Retriever, Diego got fixed last week. And before the surgery I did some research on alternatives to the 'cone of shame'. In the past I've used the soft collar for my old dog and it worked well. So I was going to get that one but then I saw two new options that seem even better. Or at least these other options seemed cuter and that was enough to get me to buy 'em! And now I'm sharing how the two cone of shame alternatives we used worked…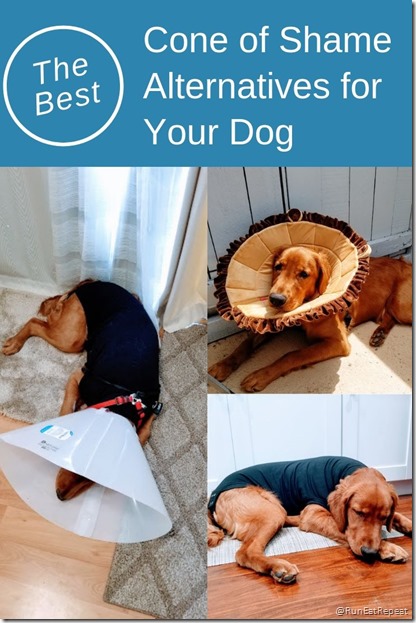 Diego got fixed on Friday and I got him a Suitical to help prevent him from licking his wound. The suitical is a body suit for dogs or cats meant to keep them from licking the areas the suit covers. They also come in long sleeve but I thought that'd be too hot (he's already covered in fur!).
I got the Suitical and put it on him to make sure it fit. It was a tiny bit big but I think if it was too small and tight on his body he would be more bothered by it.
Then, I thought that might not be enough to stop him so I also ordered a cute cone / collar that looks like a lion's mane.
I got both of them on Amazon here…
Suitical Recovery Suit for Dogs – Black – Size X-Large
(*I got the Large for Diego not XL)
Alfie Pet – Noah Recovery Collar (for Dogs and Cats) – Pattern: Lion, Size: XXL
Note: Diego is 7 months old. He's a golden retriever puppy and weighs 68.5 pounds (read: he's relatively big for his age and has a lot of energy). 
I work from home and he had a lot of supervision the first few days after his surgery.
He was neutered so the area I was trying to prevent him from licking was his private area (I'm trying not to use the correct terms for this as many read this at work and have restrictions on the type of websites they can access. Using the medical terminology might flag RER – I know this because it's happened before.)
The wound area didn't seem to hurt, itch or bug him a lot. He wasn't really trying to get at it. But I think if it was easily accessible he would have licked at it just because that's just dogs do.
If it did hurt, itch or bother him… I think this would have presented a problem that would require more supervision or stronger deterrents. But he was a-okay with these tools. 
Here are my thoughts on the dog collar alternatives.
1. Suitical Recovery Suit for Dogs – in Black / size Large for Diego
The Suitical is a bodysuit style one piece for dogs or cats with a  turtle neck top and snaps on the bottom. They also have long sleeved ones. I was afraid he was going to try and take it off but he was okay with it. I think it helped that I put it on the night he got home from the surgery so he was still a little out of it and just figured this was part of the deal.
Without the collar he can sneak in through the leg area and get to his private parts (where the sutures are). I think a smaller size would have been a tighter and made that more difficult but I was afraid that if it was tight he'd be more bothered by the suit and try to take it off. He hasn't seemed to mind it at all because it's not really binding him anywhere.
Even though he can get to the surgery area – it's not 100% accessible and open with the suit. So it's a good barrier.  I take the cone/collar off when we take a walk or when he's going to eat. If I don't put it right back on he's not immediately trying to lick himself. And when he does try to get at it – I have some time to realize that and get the cone.
So the Suitical is a deterrent / speed bump to him getting to his wound. But if he had time to work on it – I think he'd push it to the side and be able to lick himself.
2. Noah Recovery Collar – in brown size XXL for Diego
The collar alternative is a soft collar with a velcro closure. I measured him per the instructions and got the XXL. Again- note his size Diego is a 7 month old Golden Retriever and weighs about 68 pounds. It barely fits his neck. So if your dog is bigger than that or has a pretty thick neck this collar alternative won't work.
It seems 100% more comfortable than the plastic cone of shame from the vet. I think the cone from the vet is a lot wider than it has to be. It's hard plastic, the diameter is WIDE and the dog isn't used to wearing it so he knocks into everything – which seems like it'd cause pain or potential sores on their neck. [I think if the collars were only as deep as the dogs snout it would help.]
When he got back from the procedure he just wanted to sleep and I think sleeping with the soft cone would be a lot more comfortable. (I can't ask him his opinion but I'm fairly confident on this.)
The collar also bends backwards so I did that a few times when he was eating or drinking randomly.
And since it's lighter and softer – if he did knock into something there wasn't hard plastic digging into his neck.
The soft collar is wide enough to deter him from licking his body but he can still get to his legs, which is fine for Diego's situation. If you're trying to keep your pet from licking their limbs – this probably wouldn't work.
He was able to get at it and chew on the soft collar a few times. And he crumpled it up a bit and seemed to be able to get near his wound a few times.
I think if he was alone for hours and bored OR the wound was hurting or itching… he could work at it and get to it. Basically, it worked! But I work from home so I was around most of the time the days after the surgery and if he seemed to be trying to get to the wound I'd correct him to stop. So he never had a good amount of time to really work at it. I think a dog left alone might be able to though.
3. I'm really happy with the suitical and soft collar combination over the hard cone collar. It worked for Diego! But I don't think either one alone would be enough to stop a large dog (or one with a ton of energy) from getting to their wound. Both of these used together they were good enough for our needs and I'd recommend them in combination along with frequent supervision – especially at first to see what your pet can do with it on.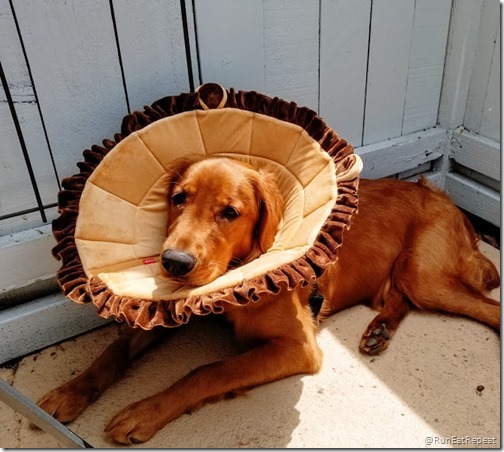 Let me know if you've used these or have other tips and suggestions to add!
Shop My Dog Favorites on Amazon Here
You can follow me on Instagram here – @RunEatRepeat
and you can follow Diego here – @DiegoRedvera 
Question: Tell me what kind of pet you have! 
Reminder: I'm not a vet or zoologist or paleontologist. I'm just a girl with a blog and a dog. Check with your vet to know what's best for your pet. 
Follow @RunEatRepeat on Instagram for the latest running and funning! Thanks!!