I didn't take pictures of all my fun at Disney World because I was trying to be in the moment. (Yes, a weird concept for someone glued to social media most of the time.) But I know some of you world travelers would appreciate the highlights of my stay and eats.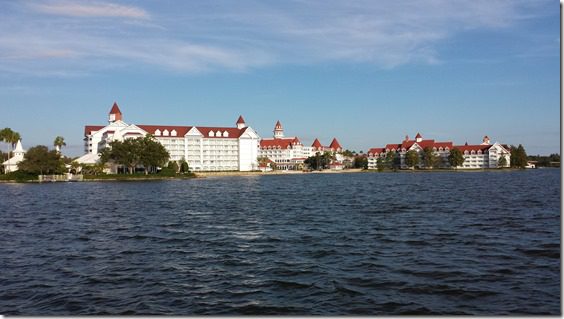 New Balance put us up in The Grand Floridian. The Grand Floridian is swaaaaanky to this girl. As soon as you arrive several cast members greet you "Welcome Home!".
We arrived around dusk and the views and sunset were gorgeous!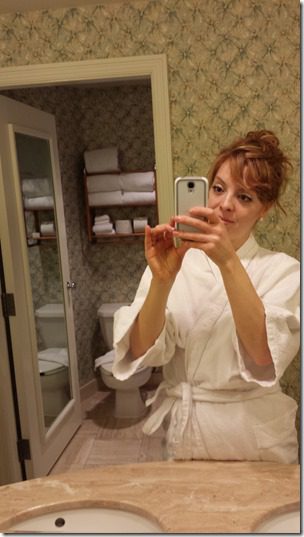 The rooms are very nice, but not as fancy at the lobby. The service is what really sets this place apart – everyone was so friendly and helpful and quick.
The lobby is grand and they are starting to bring out the Christmas decorations. I spotted a few hidden Mickeys too!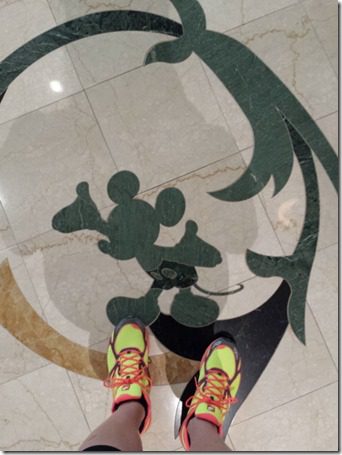 As soon as I received the itinerary I called my mom and told her where I was staying. We love Disney and knew this was a fancy place!
The Grand Floridian is where the legendary real Gingerbread House is located. It is not done yet, but almost and we got a sneak peak and the awesomeness! Now I am craving gingerbread like you don't even know.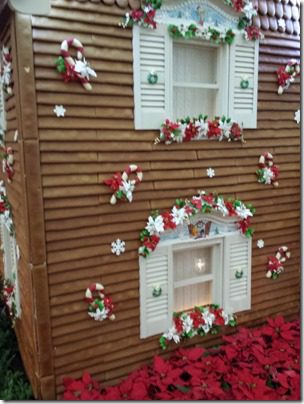 There is a wedding chapel on the property and we saw several bridal parties over the weekend. (I heard that the altar has a view of the castle in the Magic Kingdom.)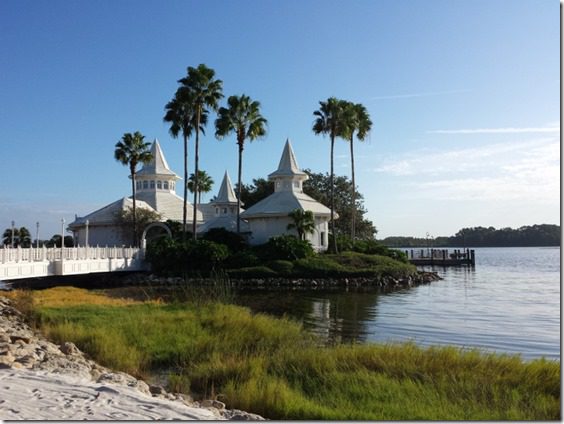 One of the couples was picked up after their ceremony by a horse drawn carriage. Fairytales do come true.
The hotel is a Victorian design and has several separate buildings, most rooms have awesome views of the water or courtyard.
It's a great location, practically everywhere you go there are gorgeous views.  I can't believe this is my life!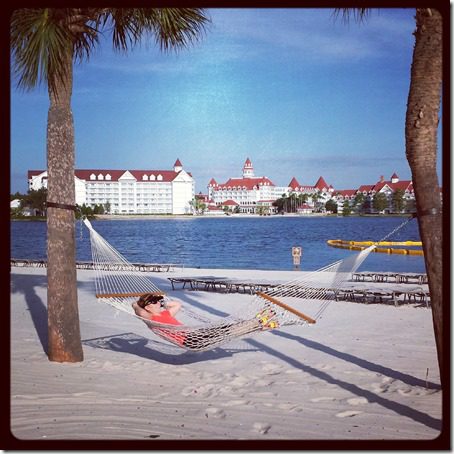 There is a path between the GF and the Polynesian Resort. It's supposed to be a mile but is cut a little short due to construction. I love that NB sponsored the path in an effort to make this area friendly to people who want to stay active. The first morning SR and I tried to run off resort property and it was challenging. There were not options to run on a safe sidewalk.
Dining at Disney and the race expo
On Friday I started my day with some hotel room cereal. I was going to take a picture, but figured you might have seen cereal before. If you haven't, google it.
We hit up the expo at the Wide World of Sports. It was the usual 'big race' expo and featured some of my favorite companies like Sport Hooks. They have amazing marathon medal holders.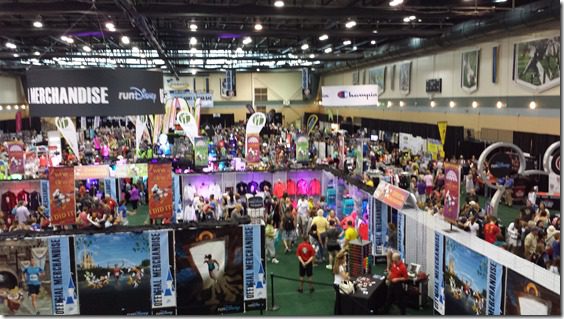 and Sparkle Athletic.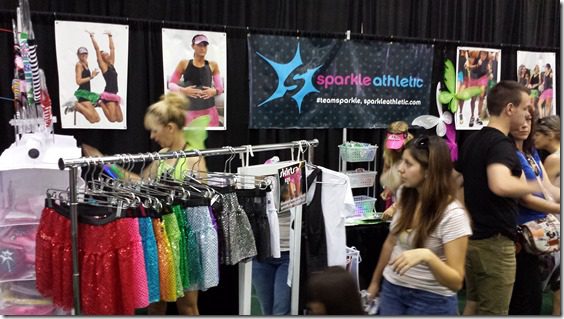 The Run Disney expo is the only place to buy the limited edition New Balance Disney shoe. The NB reps told us they made 1,000 when they first made these and they sold out on the first day.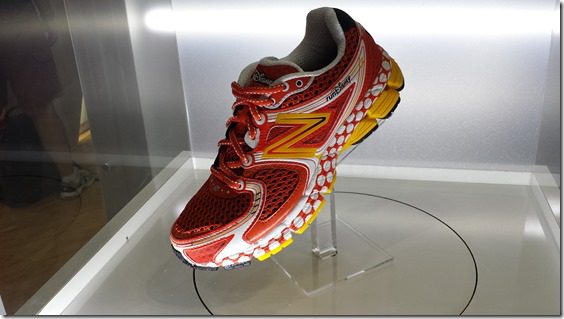 NB is working on a new shoe for 2014. It's also going to have a special RunDisney / New Balance box. You can check out more on their promotional video.
Running in Orlando and Jenny Simpson
Then we made our way to the New Balance field.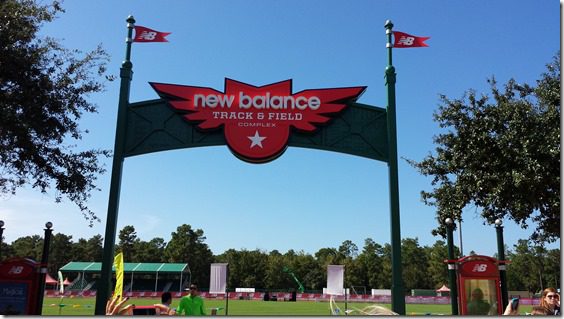 The lovely team from New Balance organized a lunch for us right on the field. This was awesome because Jenny Simpson was doing a track workout right beside us!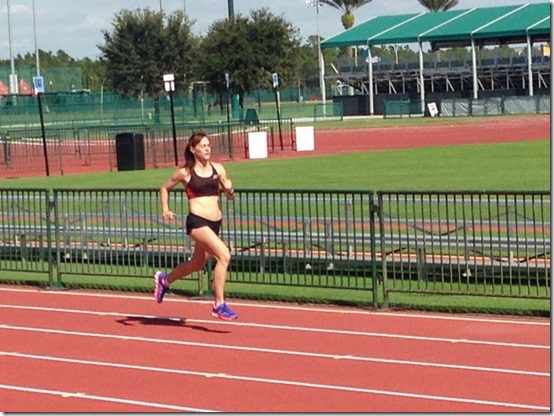 It was also lazy as we sat and ate while she ran so I stuck to one cookie as opposed to thirteen.
What Jenny Simpson eats
Jenny Simpson is the fastest female mile runner this year. She is amazing!! And she is also super sweet, I feel like I've met her before but that might just be because she was so friendly.
After lunch we had a question and answer session with Simpson. She LOVES the New Balance 1400s so I wore them to the race to be fast like her. Apparently running shoes don't work exactly like that, but I did have a good race!
Any time I have the opportunity to ask a fitness superstar a question I ask this super important one:
What do you eat before and after your race? (or hard workouts)
Before races Simpson eats oatmeal or cereal like Cheerios. She also has something with caffeine, like tea before her runs.
After she believes in re-fueling as soon as possible. A dietician told her it's not just the 20-30 minute window after a workout – you should try to eat right away. She does a smoothie, chocolate milk (!) or yogurt right after.
She also talked about running at night or different times of the day. This is standard for a track professional to have to run at various times.
She said not to worry about what food is appropriate for that time of day (don't feel like you have to eat dinner food) and eat what works for you before a run.
Dinner at Disney World
On Saturday night we had dinner at The Wave in the Contemporary Hotel. We took the monorail there from our hotel and it was super convenient.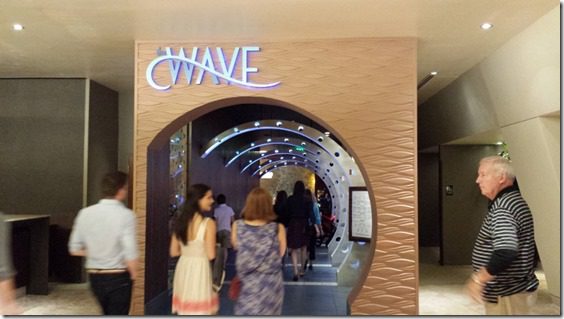 The team put together a menu with options for us, reminding me of one of the best Asian restaurants in Boston, so I can't speak to all the restaurant's offerings but it was a delicious meal – definitely the best I had the entire trip!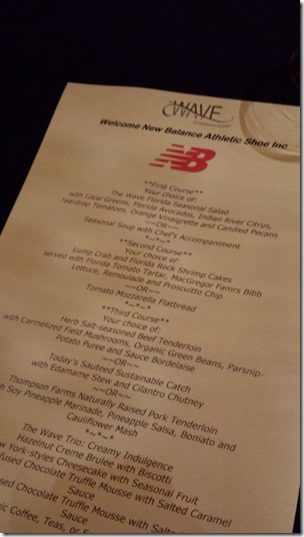 (I had two glasses of white wine that missed the camera.)
My favorite course of the night – CRAB CAKES! Gets me every time.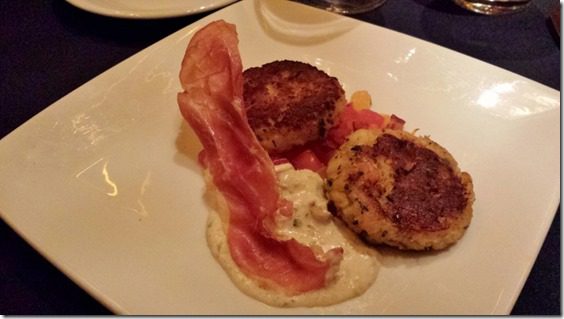 Triple tail fish with edamame stew.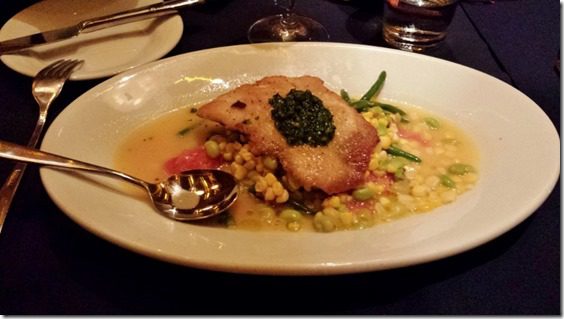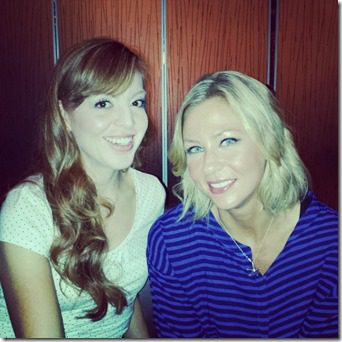 The next day we had brunch at the Grand Floridian convention center. It as delicious!
Fun fact: Mickey shaped food just tastes better!
On Saturday we explored Animal Kingdom.
Love.
And then SR and I spent a little bit of time at the Magic Kingdom. They are just starting to decorate for Christmas, but the tree isn't up yet. This makes me really want to go to Disneyland for Christmas. It gets me in the spirit!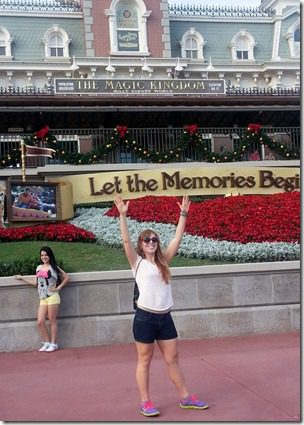 SR was the official photographer because is responsible with her camera phone and I am not.
On the way back I stopped solo at the Polynesian Resort for food. I went to Capt Hooks and got some veggies and a salad to go.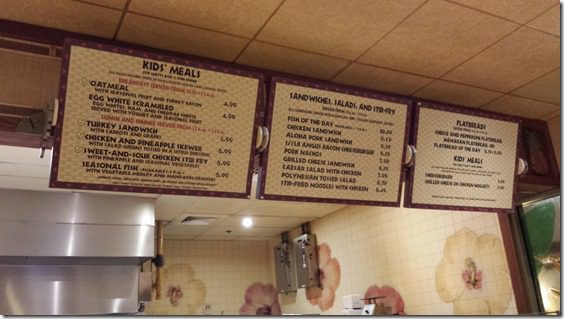 I wouldn't recommend this place, it's a quick service restaurant with limited options.
I received a special delivery of chocolate covered strawberries to the room on Saturday. Um, best day ever.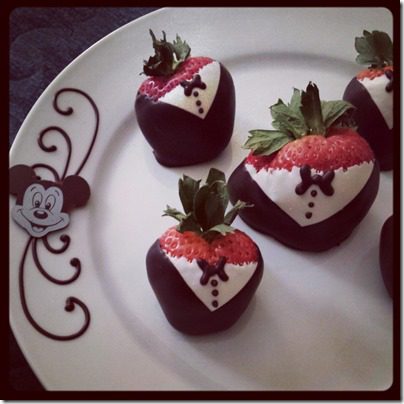 Question: Did you go on a vacation this year? Where to?
Disclaimer: New Balance invited me on this trip as part of the Wine and Dine Half Marathon weekend.  All opinions are my own.