Hello! I ran the Ventura Marathon this weekend and here is my results and recap post…Did you run it? Run another race?
First. Yesterday I wasn't the best at carb-loading, but I was great at food loading. So, it works. I went to Korean BBQ with Ben, my brother, SIL and that baby I love.
Then, we headed to Ventura for packet pick and all that jazz.
And I set out my stuff –  I always recommend doing this the night before a half marathon or marathon – this way you feel more prepared and know if you are missing anything.
Iced my knee because it's weird. It hurts to kneel on it. It hurts a little every now and then, but not when I run (<- I just wrote 'fun' twice, I'm delirious).
Pre-race fuel. x2.
I cannot act like a normal person.
The #1 rule of marathon or half marathon running =
Don't try anything new on race day.
So, I didn't try my new way to wear my Spibelt this time…
Still dark at the Ventura pier before the early start.
Before the race I saw Pam and Shane! I haven't seen Pam in way way too long. He also caught a running pic of me – that saves me $88 on race pics!
The race course: The Ventura Marathon is a FLAT course! A lot of races say that, but then you're running it like, "What the heck?! I didn't sign up for The Hill Central Marathon!!"
But this is probably one of the flattest full marathon courses in California. Camarillo was super flat too – but it was very very windy (and I've heard it's windy every year for some reason?).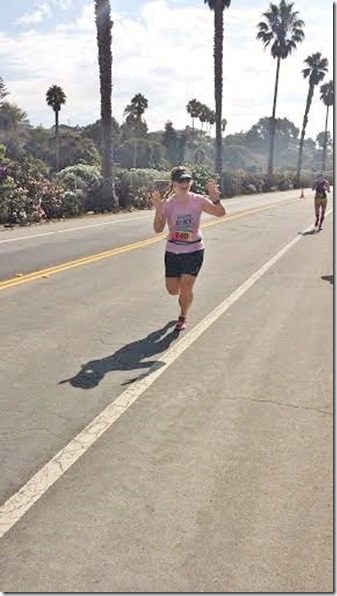 My race: I had an okay race. I'm always proud of busting out 26.2 miles, but I have a lot to do to get to goal. I had a lot of time to think about this over the course of an almost 4 hour run hello, but I think I really got burnt out and disheartened after Santa Rosa last year and just haven't been pushing it. I need to get it together now. That's all. I ran strong until about mile 16 and then fell off.
But, I didn't call a taxi to take me home – so that's a win.
Ventura Marathon results: 3:57:38
In happy news I met Mike and his wife at the start and saw him again at the finish. It's his birthday!!!
Post-marathon feast time
It's also Ben's birthday so I'm off to help celebrate!
Happy Birthday!!!
Question: What was the best thing you DID or ATE this weekend?