I ate all the pumpkin yogurts in the world in an effort to bring you a thorough review. Okay, maybe not ALL the yogurts in the entire world as I only shopped around my local Orange County grocery stores…. But if someone wants to fly me to every capital city around the world I'd happily go on a pumpkin yogurt tasting tour.
Anyway. I have a round up of the usual suspects… they're not all Pumpkin Spice yogurt but along those lines.
The review includes: Greek Whips / Noosa / Chobani / Trader Joes / Yoplait
I'm sharing some thoughts on each in no particular order… Well, I do have a #1 favorite that I note.The nutrition info for each is below too.
Trader Joes Greek Nonfat Yogurt Pumpkin – This one is super thick – probably the thickest out of all of them. The most mild in flavor and sweetness.
Chobani Pumpkin Spice Blended Greek Yogurt – This one is in the middle in terms of thickness, sweetness and flavor. It's not super sweet, spicy or thick. This is probably the best one if you kinda like pumpkin but for sure like yogurt.
Yoplait Greek Whips in pumpkin pie cheesecake – light fluffy texture. This is the opposite of what you think Greek yogurt would be since it's light and fluffy. It's very sweet, but I don't think it's too much. This one is my favorite! It's not typical Greek yogurt and lower in protein but I like pumpkin yogurt as a treat and am not super worried about the nutrition info.
Noosa Pumpkin -The pumpkin part of this yogurt almost like pumpkin pie filling – the texture is similar and taste of that part directly (without mixing it with the yogurt on top) is very pie-y. This one is different because it's like pumpkin pie on the bottom – not a blended yogurt like all the other flavors. It's very creamy and sweet – the most like a dessert.
Yoplait Light Pumpkin Pie – This isn't Greek yogurt so it's thinner in consistency. Sweet with a mild level of pumpkin pie spice flavor. There is a little bit of an artificial taste to it. I wouldn't get this one again.
Here is the nutrition info for all of the pumpkin yogurts I tried this lil go 'round.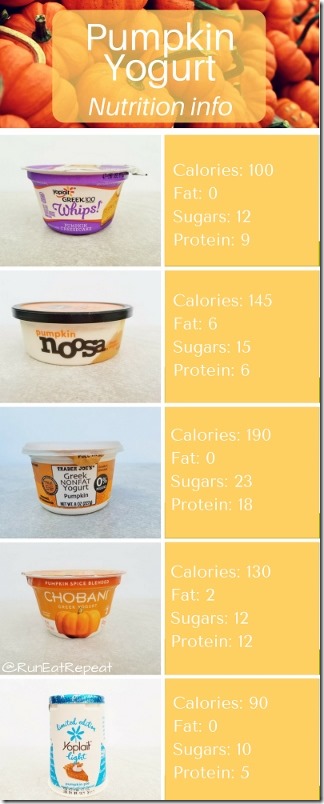 Overall:I think Noose and the Whips one – WIN! I love the flavor and texture of each one – even though they're very different!
TJ's and Chobani are good but I'd get them after the other options.
Question: What's your favorite?