Okay, I get A LOT of emails about new products and diet books and viagra. I pass on most of them, but I have to admit that title of this new diet book  "The Virgin Diet" caught my eye.
I am a sucker for some good marketing so I ended up accepting it under the condition I may or may not blog about it.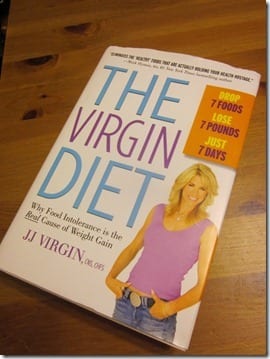 Well, I read the book on the way to Miami (yes, like all of it except the recipes) and am here to tell you about it.
First, the Virgin Diet is named after the author JJ Virgin. I was a little disappointed by this as I figured the name meant you either had to A.) Be a good Catholic Girl or B.) had to do an extra Virgin olive oil enema to do this diet. Nope and nope.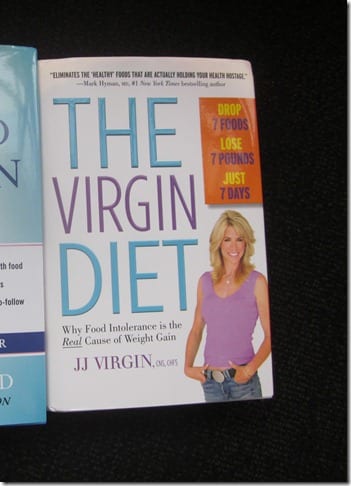 Diet in a nutshell: The author theorizes that food allergies are the reason many people are overweight. For 21 days you completely eliminate the 7 high Food Intolerance foods – dairy, eggs, soy, corn, gluten, peanuts and sugar.
In the next phase you incorporate one of the foods at a time back into your diet for 28 days to see if you are intolerant. If you are intolerant you should go to the Museum of Tolerance in LA and open your mind.
Thoughts – It's very overwhelming to think about cutting out all those foods for 3 weeks. Plus since you cut out so many foods she suggests you have a protein shake for breakfast everyday. Eh, not a fan of that in the winter and think it's just processed food product instead of "real food".
I think this would be best for someone that is showing signs of food allergies. Finally, she had me until eggs. Everything else I could kinda sorta see as a high intolerance food but not my precious eggs. I would like to try this diet if I had more willpower, but I'm no Virgin. Diet participant.
So, I baked some brownies and called it a night. The End.