This is embarrassing to admit, but I'm headed to another CPR class today because I took the wrong one a month ago! Yeah, apparently I need CPR and AED and I took CPR and First Aid. Tragic.
I'm extra mad at myself about this because I went to the wrong class last month the day after being super sick and traveling back home from FL
To add salt to the wound – I thought I was going to have to give Ben a ride this morning, but he didn't need it after all.   I found that out after I decided to postpone exercise to the afternoon. I'm totally a morning person, so I always prefer doing something active first thing in the a.m.
It's also embarrassing to admit how fast I ate this breakfast sandwich…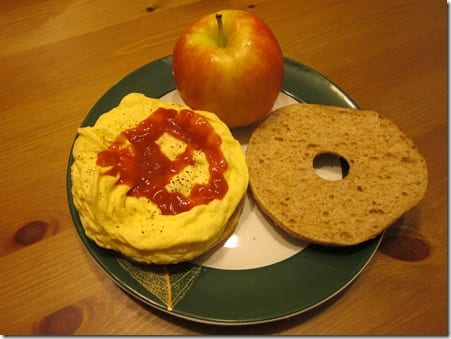 and while we're at it, I'm embarrassed about how good this cheese is – super sharp, from Costco, get it.
I'm not embarrassed to admit that I'll be stopping for an iced coffee on the way to class!
We're supposed to be done by 1pm, so I hope to have lunch and do some Jillian 30 Day Shred before dinner.
See ya later!