Hello! I just ran the Tinkerbell 10K with my mom! It was  her Mother's Day gift / my excuse to finally run a race with her. This is a perfect race to run with a friend or family member because there are so many places to take pictures.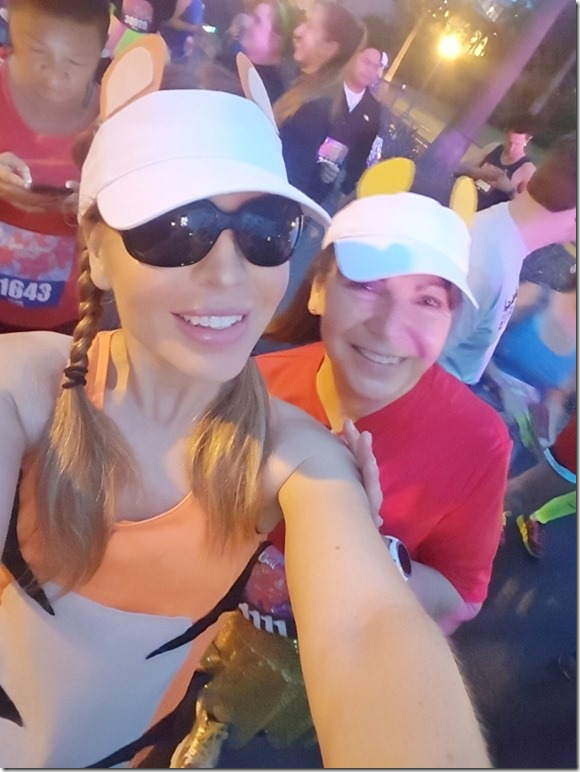 First let's talk about some race day details… on the way to Disneyland it started to rain! Oh no!! I don't super mind the rain normally because it's kind of cool to run in it (since it's such a rare occasion here). But I knew we would be doing it run/walk style with stops for pictures and that would not be as fun in the rain. When I got out of my car I dug around the back and found a rain poncho! Never leave home without it.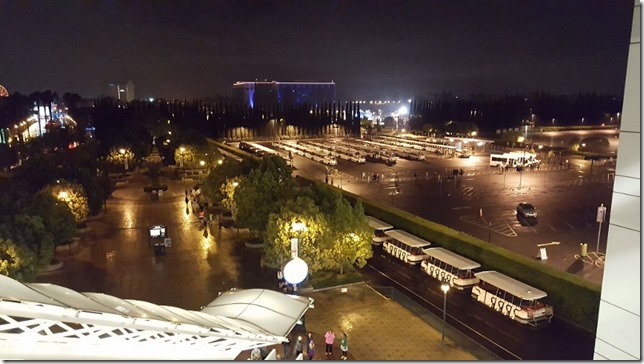 (*I have a rain poncho in my car just in case of earthquakes it can help keep me warm or maybe come in handy. I need to replace it now.)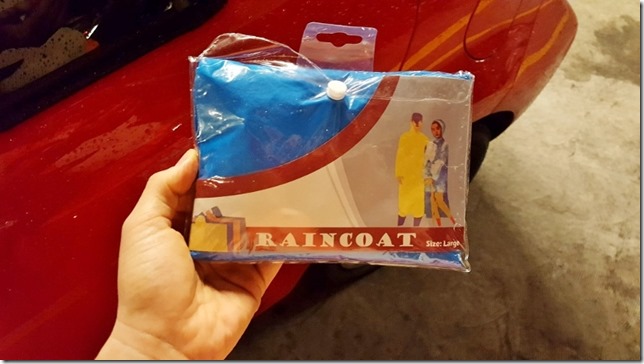 I put it on and headed to the restrooms. My mom and I were meeting there and she wasn't there yet so I had time to mess around while waiting.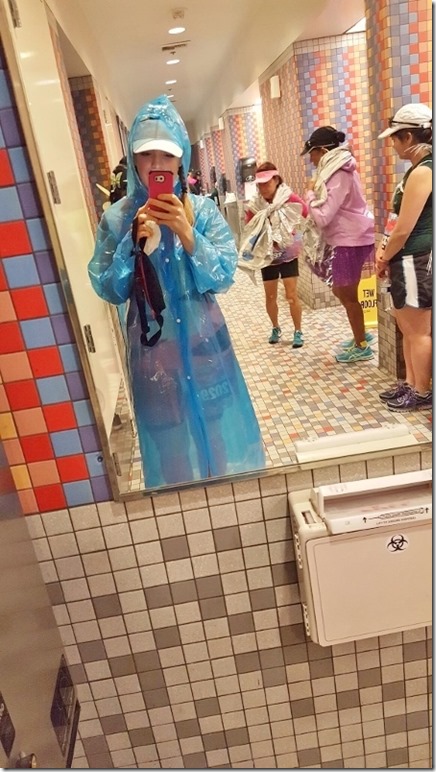 I took a picture of my Tigger running costume in the bathroom because it was still dark outside. The Tinkerbell 10k (and half marathon) start at 5:30am!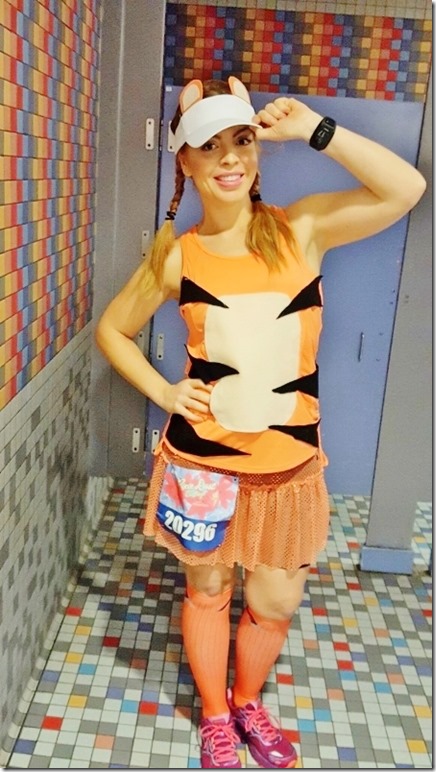 We lined up in the corral and got ready to go. Luckily the rain stopped!!!! Woo-hoo!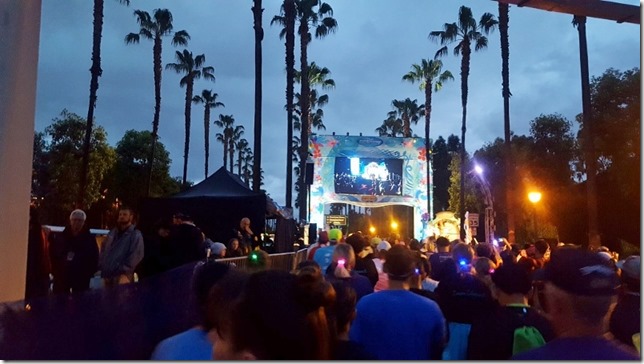 When you're running a race with someone you should make a plan BEFORE the race on if you'll stay together the whole time. Make sure you know each other's pace, goals, preference. I planned on running with my mom the whole time, but ended up running ahead a few times to check out the character photo stops.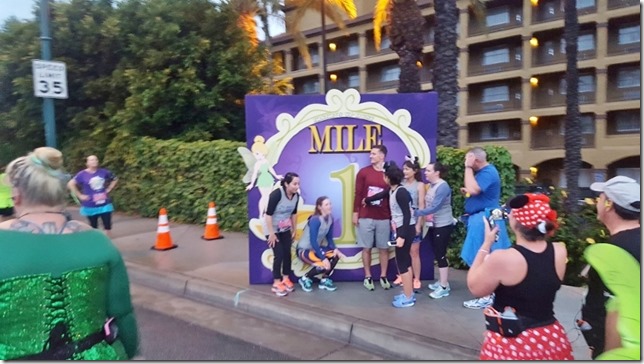 I went at her pace when we were together and walked when she needed. She's been having some knee pain so we had to be mindful of that.
I ran ahead at Toontown to get in line for the character photo stop – but there wasn't one. There were just people randomly taking pics. It was anti-climactic because I was hoping for a character.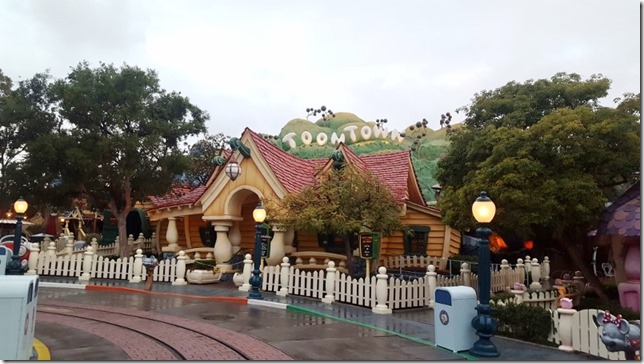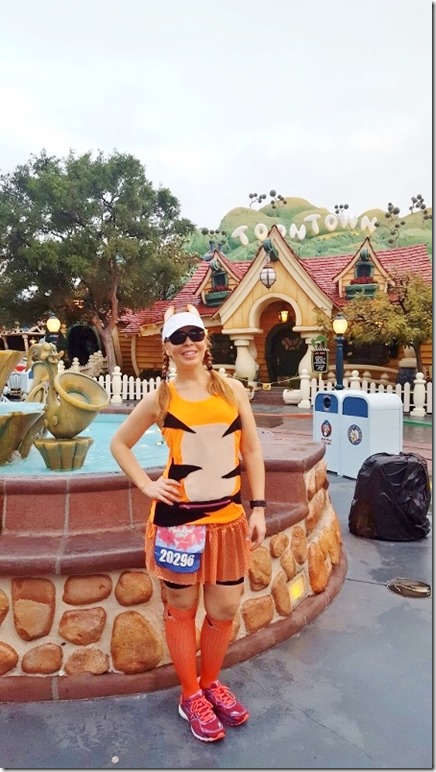 (Note the bag of trash on the ground – I think the cast member I asked to take pictures was supposed to be doing something else and got caught up in a bunch of runners asking him for pics! Ha! He didn't mind, but it wasn't his job even though I didn't realize it at the time. They really should have had a cast member there to help with this.)
The 10K is great because you spend most of the race inside either Disneyland or California Adventure. For the half marathon you end up running around Anaheim a lot. The first mile of the 10K was outside the Disney parks, but then you head into Toontown and run through Fantasyland, the Castle, Frontierland, past the Haunted Mansion, through Adventureland, past Main Street and out of the park near Tomorrowland.
Then, you head to California Adventure.
We made sure to stop in front of Sleeping Beauty's Castle – this is probably the best photo op!
I wanted to dress up like a fun duo and I've always wanted to be Tigger for a race so this was the perfect time to do it. We were Tigger and Pooh and I made the costumes (more on that later).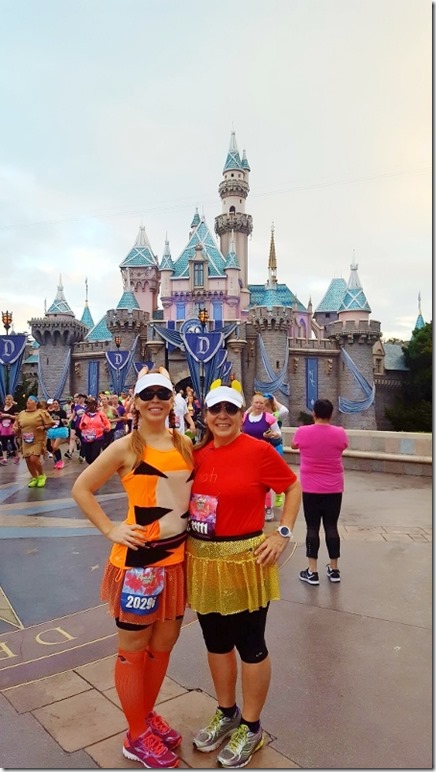 Tip: There are usually Disney cast members available to take your picture. There can be a line for pictures, but when you are paying so much for a 10k (or full or half) you want to make sure you have some good memories of it. Have your phone/camera ready to go so it's quick.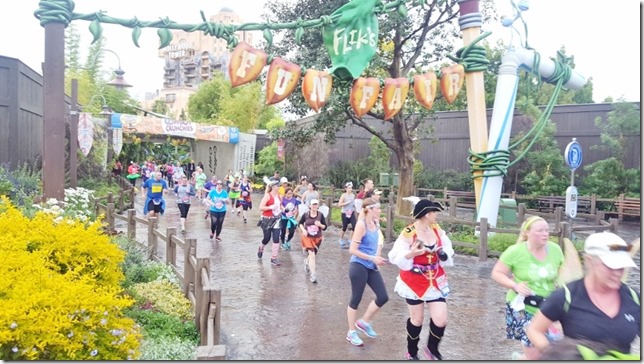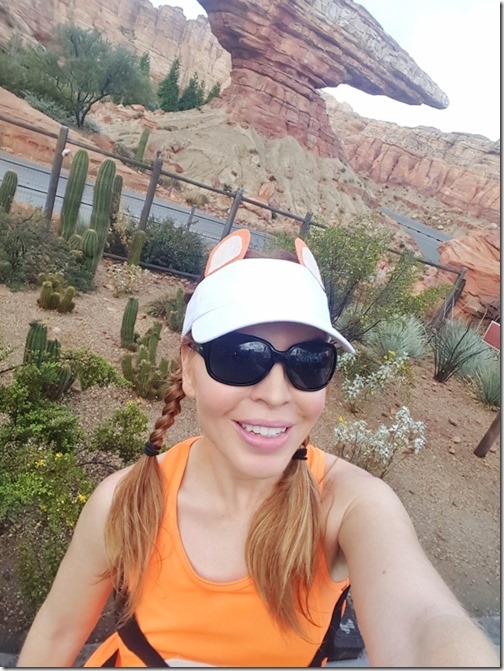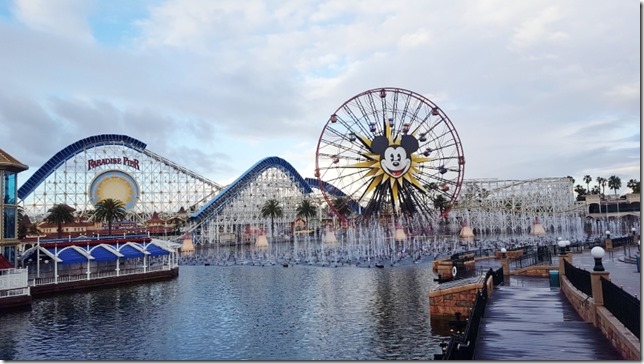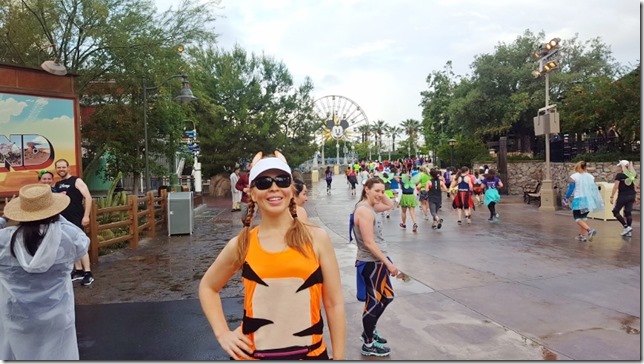 The only bad thing about the Tink 10k was that there were not a lot of character stops on the course this time. Since I was taking it slow with my mom and it was for Mother's Day we really wanted a lot of pictures. There just weren't many stops and the characters they had out were unfamiliar (they were random fairies probably because it's a Tinkerbell race).
Luckily my mom and I were able to ask fellow runners for a few pictures here and there along the course. We stopped at the Mile 6 marker and even made some friends.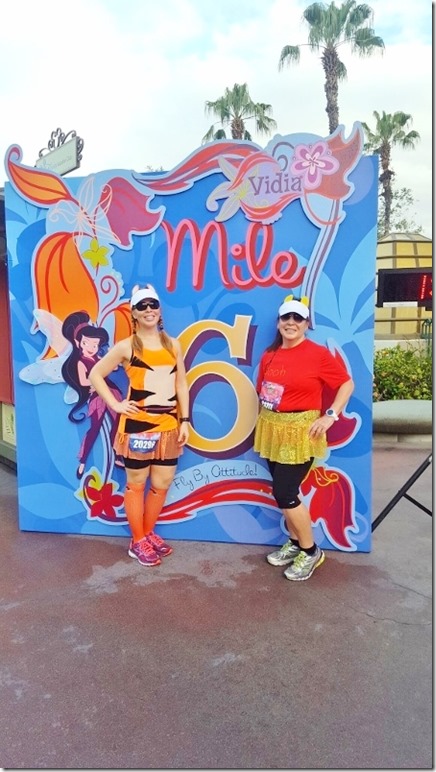 Finished!! Our finish time for the 10k is 1:38:54.
We had a lot of fun (at least I did, not sure if my mom thinks it's fun to dress up like a Pooh Bear and run around Disneyland).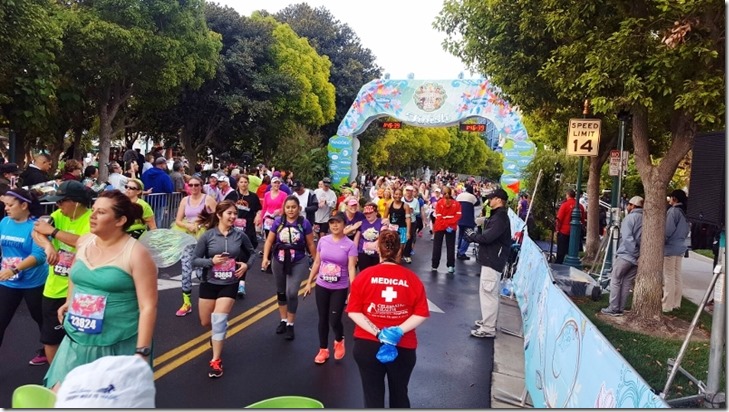 After the race we grabbed our post-race food and water. They are so organized with the finish line chute! This is probably the most streamlined part of the run – you get your medal, get water, get a mylar blanket, get food and take pictures. Boom boom and boom. None of this is crowded.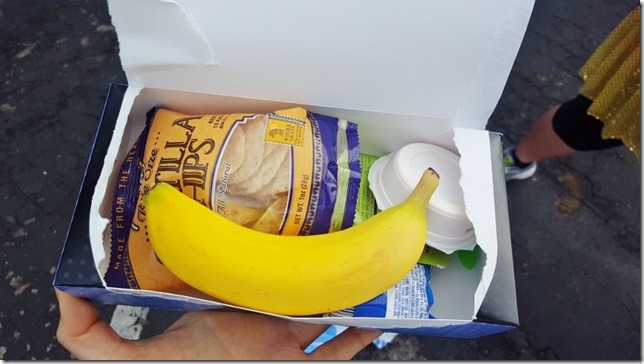 And of course the Tinkerbell 10K medal is the cherry on top.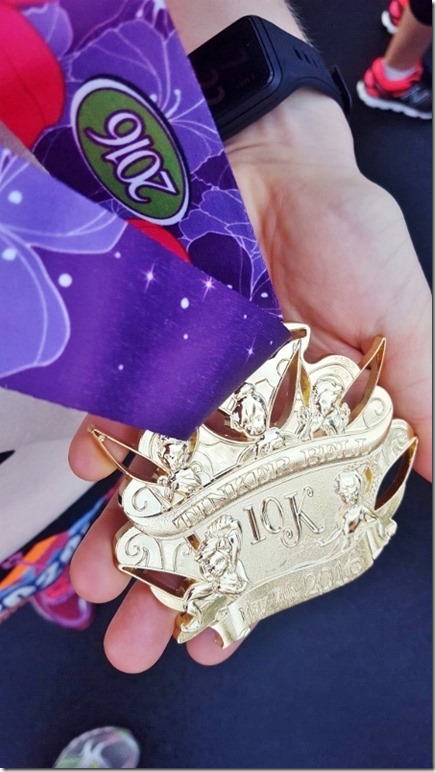 I got my mom a Run Eat Repeat medal hanger from SportHooks for Christmas and she said she's really excited to hang this one up on it!
Happy Mother's Day mom!!
Sorry if I made you dress up in a costume and run 6.2 miles with me. It's how I show love.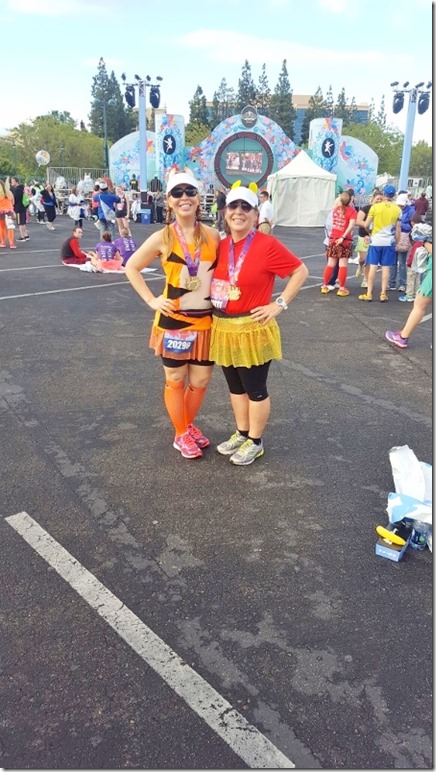 Question: What are you doing this fine Mother's Day?