This super easy strawberries and cream cake is inspired by strawberry shortcake, but only requires 3 ingredients. It's a great way to throw together a dessert no baking required.
Hello! Yesterday I spend the morning running the Tinkerbell Half Marathon (recap coming). With two days of super early wake-up calls for races (the 10K was Saturday) I was not really in the mood to cook or bake. But, I wanted to bring a dessert to my parents' for Mother's Day.
My mom is a fan of strawberries and whipped cream and fruit tart kind of desserts. So I put together this super easy take on strawberries and cream with angel food cake, strawberries and 'cream' in the form of condensed milk. It was so easy and everyone loved it!
First, let's say 'Hi' to my fave tiny person and the dogs. My lil brother used to be my favorite tiny person but he is no longer tiny!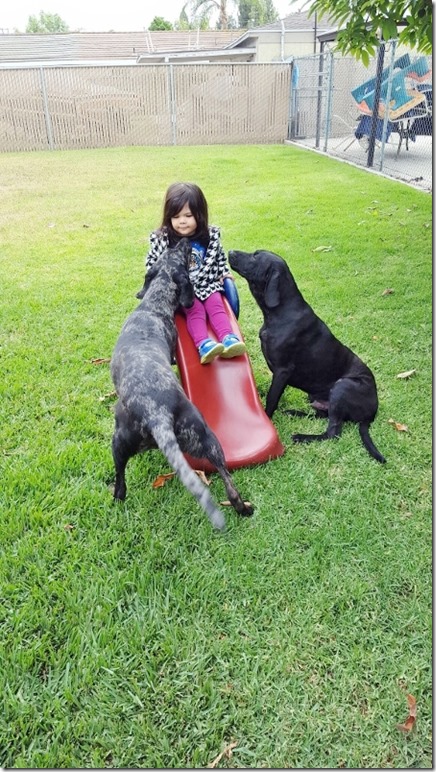 My other brother BBQ-ed and we ate outside.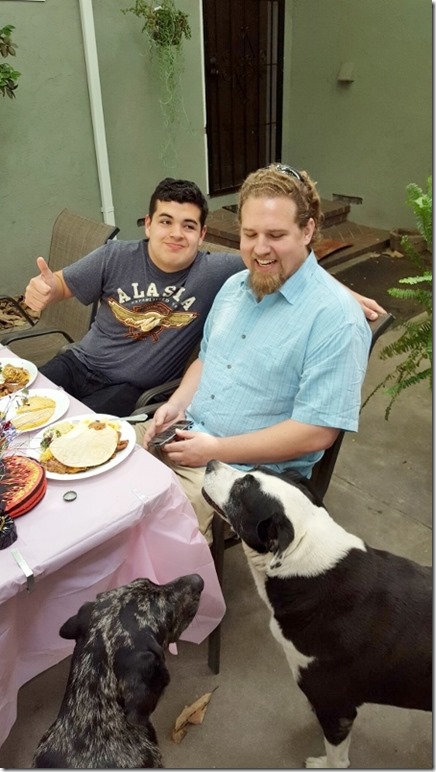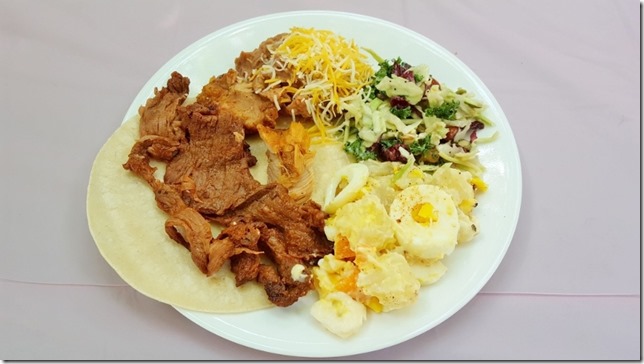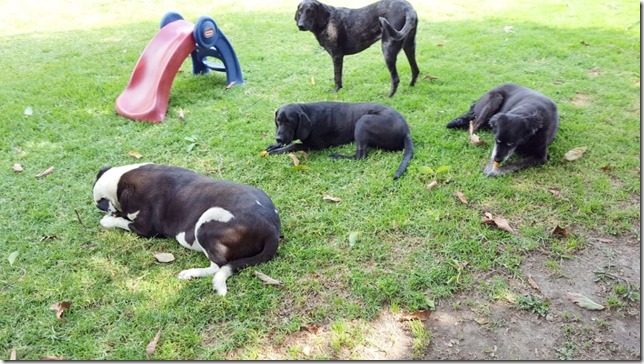 Strawberries and Cream Cake
* 3 ingredients * No Bake * Super Easy *
Ingredients: 3 cups sliced strawberries, angel food cake, sweetened condensed milk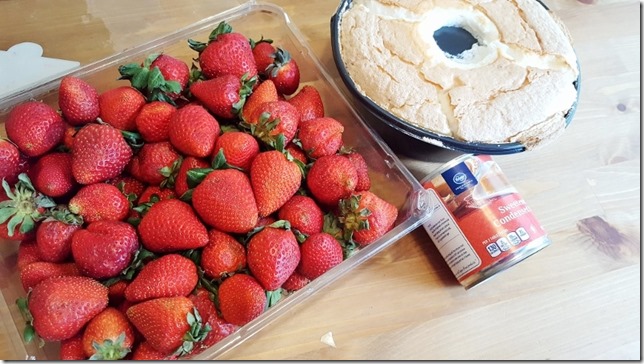 You can make an angel food cake from scratch but this one was $2.99 and it would take a lot longer and about the same amount of money so… nah.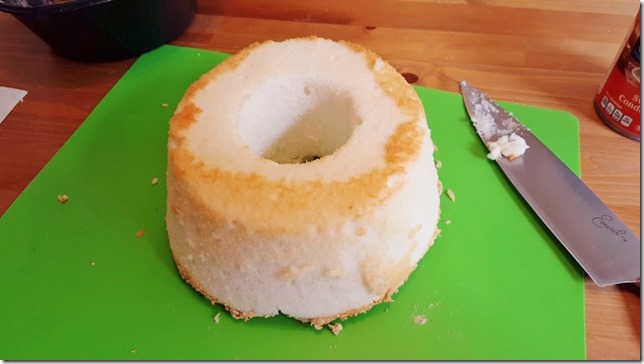 Carefully remove angel food cake from container. Using a sharp knife cut it into 3 layers. Be very gentle with it since this cake is so soft and airy. You can use frosting as 'glue' if you break the cake a little bit.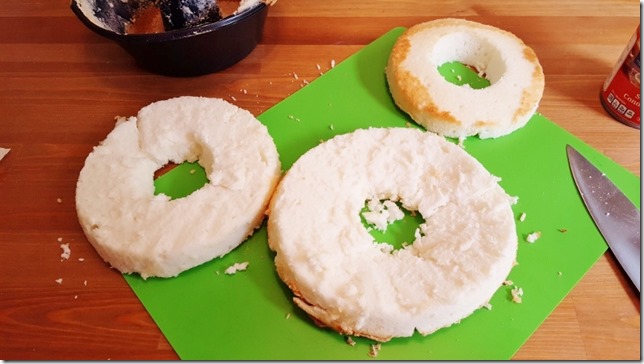 Mix sliced strawberries with condensed milk.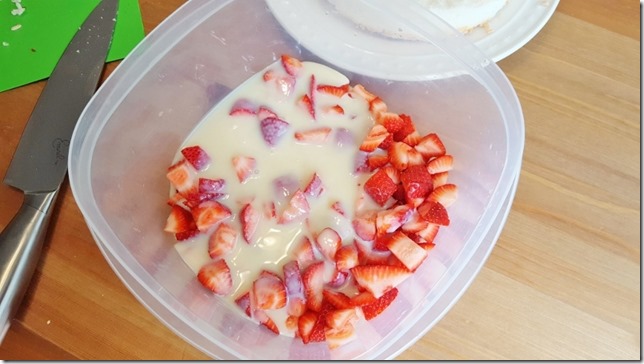 Spoon strawberries on the bottom layer of cake. Top with next layer and repeat.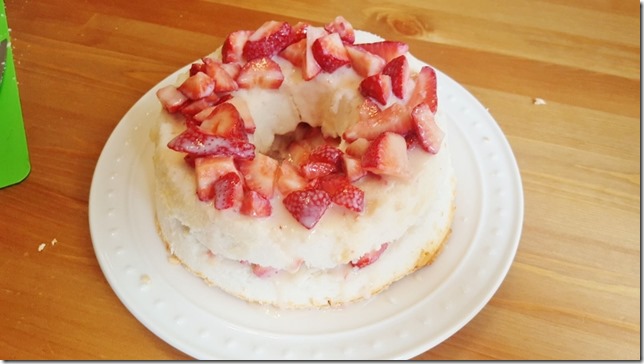 Frost top layer with more condensed milk OR frosting. I used vanilla frosting because I wanted it to look fancy since it was for a party. Top with whole strawberries.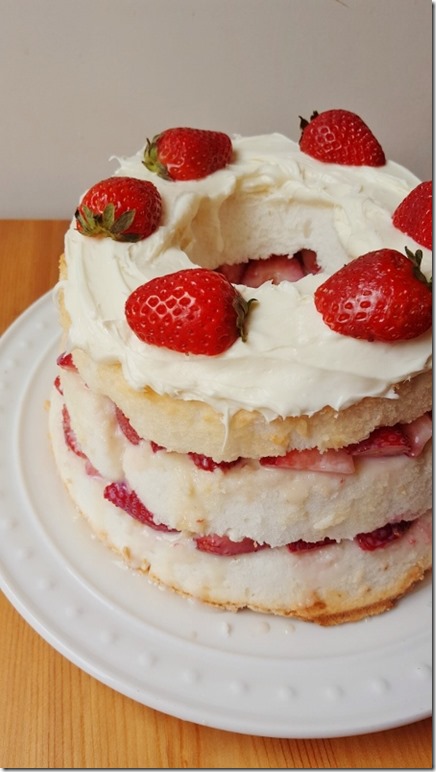 Refrigerate cake to set before cutting.
I put it in the freezer before I drove to my moms with the cake. I should have just refrigerated it or taken it out sooner since the strawberries got a little too frozen. But everyone really liked it!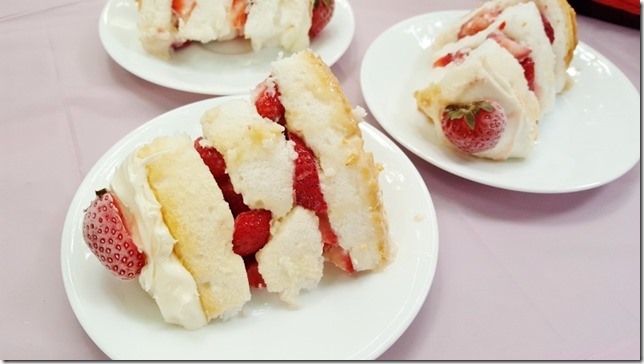 Question:
Do you eat layer cakes one layer at a time or fork a piece of each layer?
Keep Going with these:
Unicorns Running Through Disneyland!
Light Sour Cream Enchiladas Recipe