Podcast: Play in new window | Download
Subscribe: Apple Podcasts | Google Podcasts | Stitcher | RSS
I'm asking Dr. Nita Landry about how to prevent yeast infections, urinary incontinence, sex before workouts and more! Actually, getting tested for STDs in Anchorage doesn't require an appointment to be made, at least if you go with non-public option.
Dr. Landry is a co-host on The Doctor's TV show and has a great way of explaining awkward topics so you don't feel weird about asking! Or at least I didn't – make I should have? Get the show notes and more info at RunEatRepeat.com
We're talking about: 
Sex before competition?
Thoughts on period cups? 
How to prevent yeast infections?
Kegels??
Peeing in your pants.
The new INNOVO device
And more! 
 Today I'm talking with Dr. Nita Landry from the Emmy winning TV show The Doctors. I ask her a ton of TMI potentially embarrassing questions. Please note – I went to Catholic school. I'm Mexican. It's not super open to acknowledge your bathing suit area… but I think this is important and there is nothing wrong with our bodies – we all have one. And it's important to be informed. So I'm publicly talking about some of this stuff in case you're curious about any of this stuff. Please pass it on or use it to take it a step further and chat about with your health care professionals, friends, neighbors, strangers at the dog park, etc. 
Warm Up:  I ran the Lexus Lace Up Half Marathon in Irvine last weekend. Whew! It was HOT and I was battling a stomach situation. But I did it. 
Recap up now:  Lace Up Orange County Half Marathon Recap
And if you want to run one of the other Lace Up Races… use the Discount Code MONICA10
Also there are a lot of other discount codes for races including – Rock N Roll Phoenix and the Revel Race Series on my Race Discounts Page. Check it out!!
And I have a quick workout gear hack on Instagram @RunEatRepeat  – check it out I swear it's made my life easier and I've already been running for years and felt like I had my processes in place. 
Coming up…
I've received some questions about specific running and nutrition needs and have RDs and running coaches coming up soon. If you have a question for a coach – email it or leave a voicemail 562 888 1644 – stop mid-run and ask if you'll forget or put it in your notes app. 
Now let's talk TMI.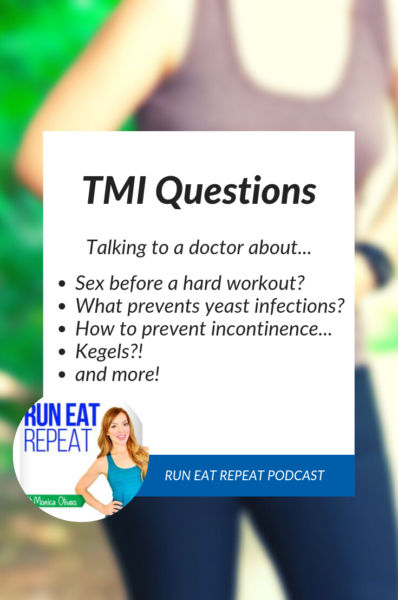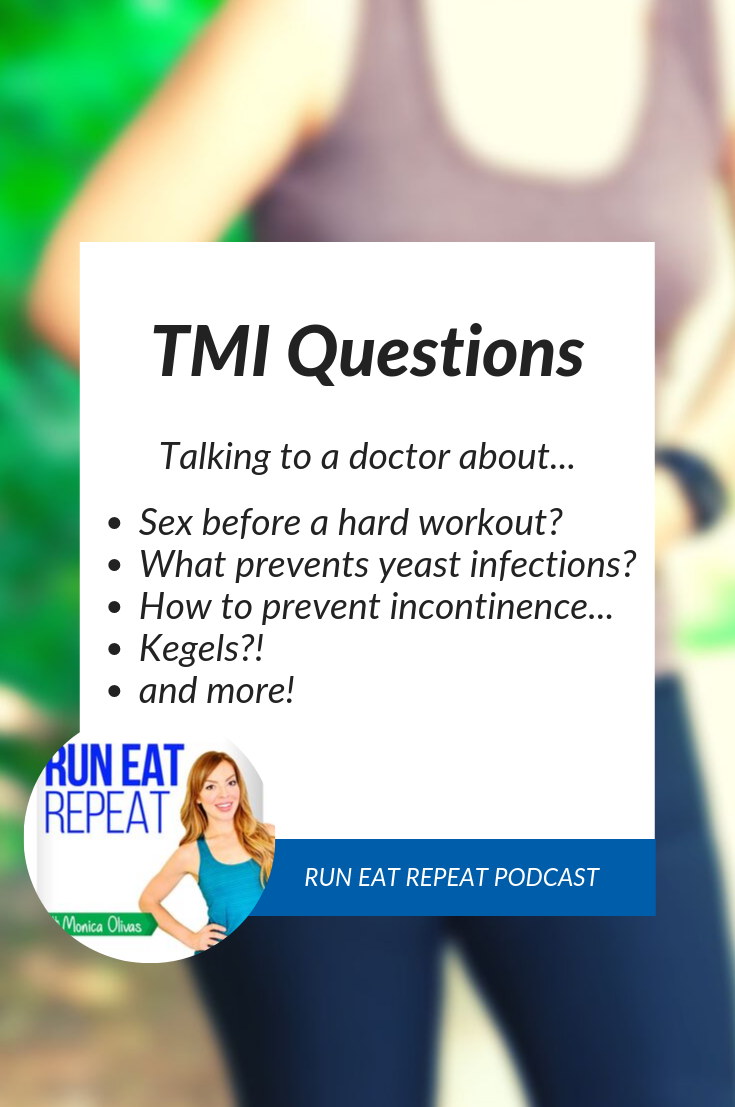 Dr. Nita Answers All My Awkward Questions
Dr. Nita Landry is a Board Certified OB/GYN with a focus on working with young women to promote safe sexual practices, healthy pregnancies and disease prevention.  In addition to practicing medicine, she is also a recurring co-host "The Doctors" TV show. I'll put her contact info in the show notes so you can follow her. Her website has some great videos and clips from the show that I thought were interesting so if this topic is your jam make sure to check that out too. 
Hailing from Alexandria, Louisiana, Dr. Nita received a full scholarship to Dillard University, where she received her undergraduate degree in Biology.  After graduating, Dr. Nita was accepted into the University of South Alabama College of Medicine, where she received a full tuition scholarship. Following her graduation, she completed her OB/GYN Residency at The University of Louisville.
Dr. Nita Landry – thank you so much for being here. I'm excited to talk to you! 
Runners talk about all kinds of TMI topics so we're going to hit on some of them today.
I was recently talking to a male friend about athletic performance and sex but he is using testosterone supplements for men. There's this idea that guys shouldn't have sex before a competition since it's better to build up the testosterone?? Is there any correlation between testosterone in men and athletic performance?

Can hanging out in sweaty workout shorts or capris cause – yeast infection?

What are your thoughts on period cups?

Does bladder leakage only happen to women who've had a vaginal birth? Or is it something that affects many women as they age? 

Do kegels help with preventing incontinence? If so – how often/how many should we do? Is there a recommended regime?  

The new INNOVO device – how does it work?

Are there any questions you wish women were asking? Something you want to leave us with?
I hope that was informative and interesting! I'll put links on RunEatRepeat.com to Dr. Nita's social media and website. 
Follow Dr. Nita Landry on her website  //  Instagram @DrNitaLandry // YouTube Dr. Nita Landry  // or watch The Doctors TV show
Links and Resources Mentioned: 
INNOVO: Want to learn more about the INNOVO device she mentioned? (It's a device that you wear like shorts to help strengthen your pelvic floor to prevent peeing in your pants.)
Get more info here – My Innovo 
Kegels: Learn how to do kegels correctly from the Mayo Clinic here
Fabletics Website: I'm obsessed with Fabletics leggings.
Podcast Awards:
My immune system. 

Fabletics leggings – I think they are the reason for a few positive interactions last week.
Bigger, better dog waste bags. Life.changing. 
If you have any questions for me… ask! 
Email: [email protected]
Leave a voicemail: 562 888 1644
And I really appreciate when you tag @RunEatRepeat on Instagram and let me know you're listening!! Like @britanyg on Instagram who queued up the podcast and shared it!!