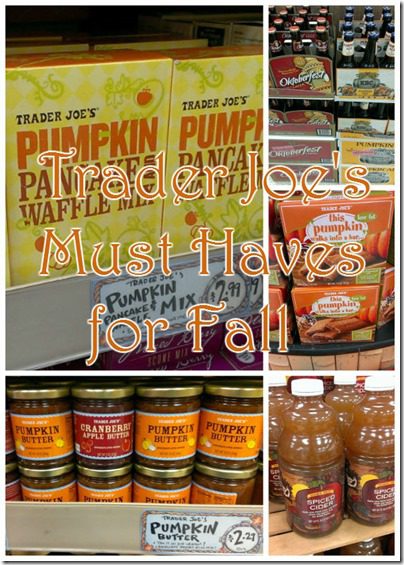 Fall is my favorite time of year. It's the best time of year for food and food-centered gatherings. Even people who don't normally cook or bake usually whip up a batch or two of cookies for the holidays or their 'signature' green bean casserole for Thanksgiving.
Fall is also the time of year when Trader Joe's is at it's best. They have a ton of seasonal food and décor items that we wait for all year! Since my job is to run and eat, I ran over the TJ's yesterday to give you the DL on what you MUST HAVE from Trader Joe's before the season is over.
So get over there before it's all gone no matter how many times I stand in the jam aisle and whisper sweetly…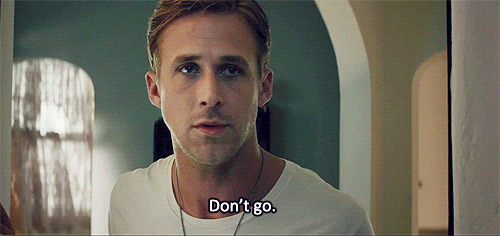 Until they kick me out.
Trader Joe's Must Haves for Fall
1. Pumpkin Butter and/or Cranberry Apple Butter. The PB is my jam. I buy 24 jars and use it year round. The cranberry is great mixed with cream cheese on a turkey sandwich. Try it.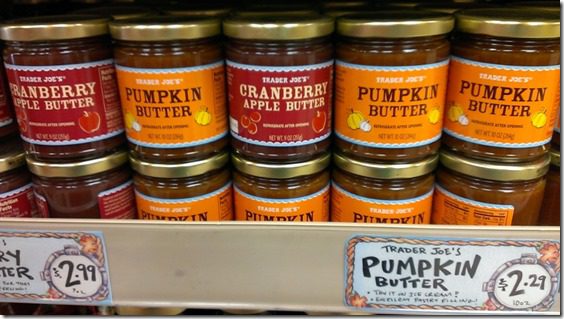 2. "This Pumpkin Walks into a bar" Like a Nutrigrain bar, only better. Heat it in the microwave for 10 seconds.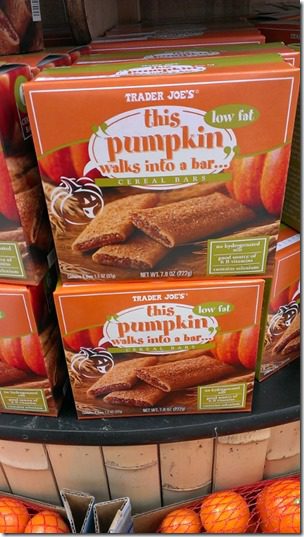 Not sure about the Pumpkin Pop Tarts though. Let me know if you try them.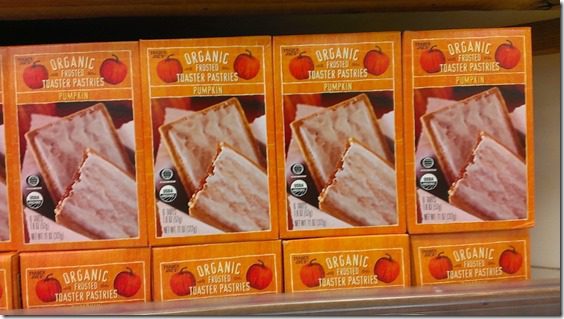 3. Pumpkin Spice Coffee. This is more for you hot coffee drinkers – I don't think pumpkin coffee does well over ice.
4. Pumpkin baked goods! They have two super easy baking kits for pumpkin bread.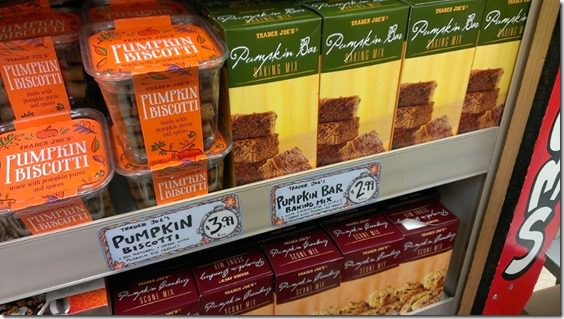 5. Beverages! Spiced Cider is great warm.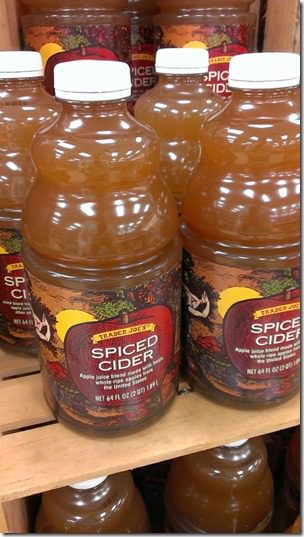 Also their seasonal teas are great. I haven't tried the pumpkin chai yet. Let me know if it's good.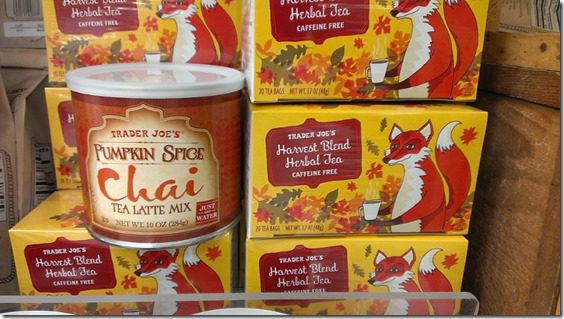 6. Soup! Pumpkin Soup is seasonal. Year round they carry a good squash soup too.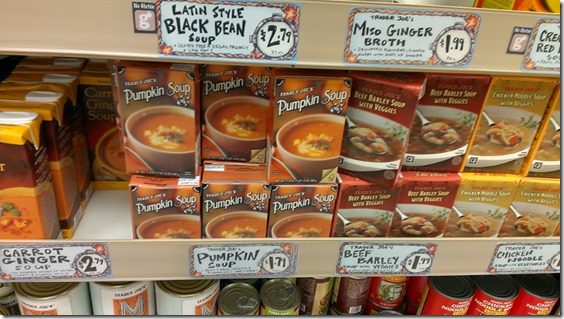 7. Pumpkin Cream Cheese. You know, to go on the pumpkin bread you're going to bake.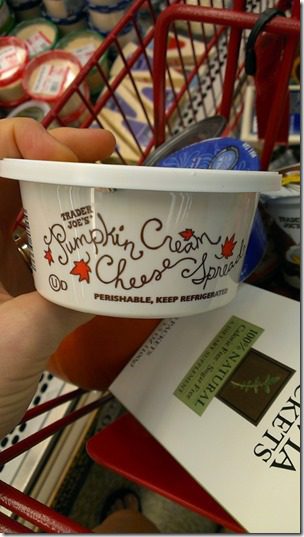 8. Pumpkin Crisps and Pita Crisps with Cranberries and pumpkin seeds. I suspect these are more cranberry / salty-sweet than pumpkin-y.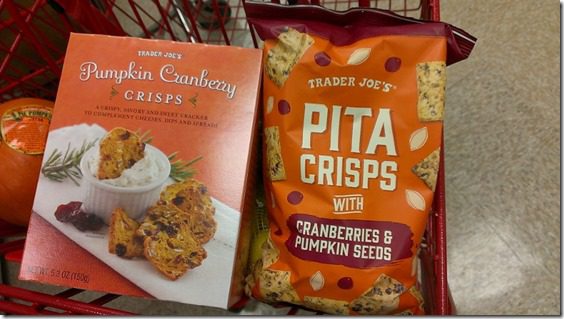 9. Seasonal Beer! I know pumpkin ale is all the rage these days. I'm not a beer girl, but thought I'd pass it on.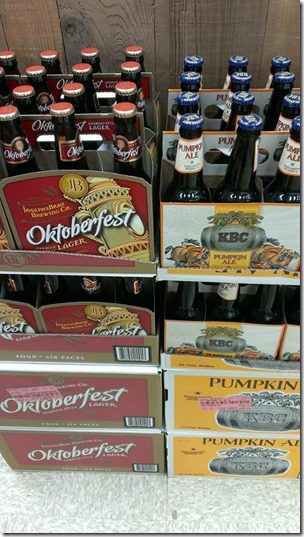 10. Decorations! Every year TJ's has awesome cinnamon brooms and gorgeous Cinderella pumpkins. I love them.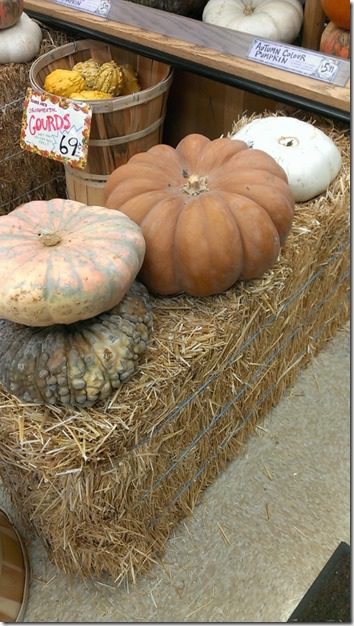 I also bought a sugar pumpkin for a little decoration now and to bake later!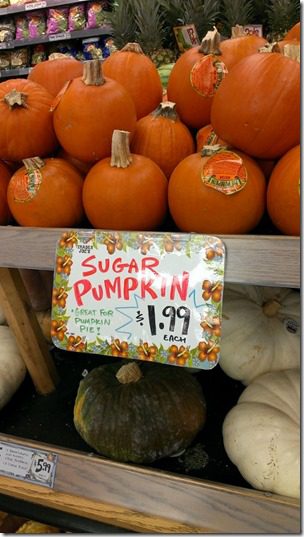 Of interest:
My usual Trader Joe's Must Haves
Where TJ's misses the mark
Question: Is Fall the best season for food?