How's your Tuesday going?!
Mine is swell except for the fact that my bug bites and sun burn are also still SWELL-ed up.
Today I added a sweet potato to lunch to make it a more well rounded meal.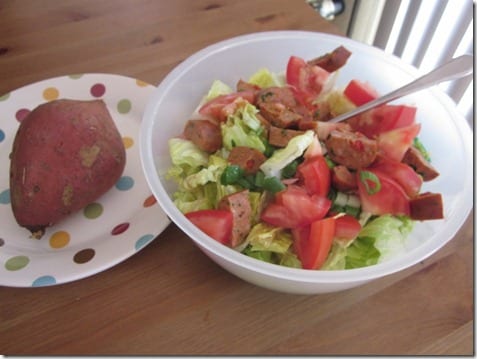 I'm planning on making a protein shake green monster for an afternoon snack before I head to the gym to train 2 clients.
Winner Winner Chicken Dinner:
Winner of the Larabar giveaway is:
I've never tried a Larabar but have heard great things about them! Growing up, my momma made me breakfast and it usually consisted of a bagel with cream cheese, yogurt, and some type of fruit… And to this day I make myself a similar breakfast

Winner of the Naturebox giveaway is:
Kelsey April 3, 2012 at 7:23 am
My fave snack is Chobani with puffins!

*Please email me your name, address and which contest you won.
A few months ago Tina sent out an email asking if I'd like to do the Reach the Beach Relay race in Massachusetts. I had never done a relay race before and being out on the west coast I don't get to see my east coast blog friends nearly enough – so I jumped at the chance!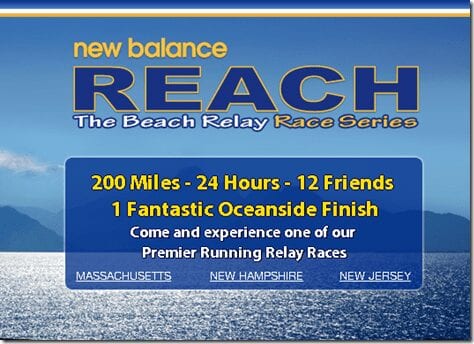 At the time it seemed so far off, plus I really only thought about how fun it was going to be packed in a van with a few of my favorite peeps!
This week our fearless captain Tina sent out the leg assignments. Apparently she hates me because I got the longest, hardest leg! (TWSSx100)
| | | | |
| --- | --- | --- | --- |
| Runner | Leg 1 | Leg 2 | Leg 3 |
| 1 | 2.8 (H) | 4.38 (M) | 3.37 (E) |
| 2 | 3.2 (E) | 7.43 (H) | 8.34 (H) |
| 3 | 5.98 (M) | 5.67 (M) | 2.7 (E) |
| 4 | 5.95 (M) | 4.05 (E) | 8.11 (H) |
| 5 | 3.31 (E) | 3.65 (E) | 4.55 (E) |
| 6 | 6.9 (H) | 2.85 (E) | 6.65 (M) |
| 7 | 7.6 (H) | 6.51 (M) | 5.58 (E) |
| 8 | 7.53 (H) | 8.21 (H) | 6.74 (H) |
| 9 | 6.01 (H) | 6.93 (M) | 6.88 (M) |
| 10 | 5.93 (M) | 2.37 (E) | 6.47 (E) |
| 11 | 5.73 (H) | 4.34 (E) | 7.29 (M) |
| 12 | 6.01 (E) | 3.61 (E) | 7.12 (M) |
To be honest, I didn't plan on training for the relay because we aren't trying to hit a certain time, we're trying to have fun! But, now that I've realized I'm going to be running 22.5 miles in 24 hours – and two of those legs are considered "Hard" – I need to put a training plan together!
The Ragnar site has a beginner and intermediate training program for their relay.
I think the most important thing is to do two or three runs in a 24 hour period to get your body used to all that mileage.
Running 22 miles in 24 hours would be hard enough, but when you factor in traveling across the country, lack of sleep, 6 girls squeezed in a van, eating Teddi Grahams and Red Bull for breakfast – I'm thinking this is going to require me to actually be prepared!
Since Reach the Beach isn't my "goal race" in terms of PR-ing I am not going to plan an entire training cycle around it. But, I do need to train for it.
Here are the facts:
I'll be running 22.50 miles in 24 hours

I will be traveling from California to Boston (which always screws up my energy levels)

I will be running after 10am PST (the official shut off time for my body)
Here is the plan:
Keep Running 4-5 days a week

Do "two a days" once a week (Run twice in one day)

YOGA once a week to help keep me injury free
I just checked and the race is only 6 weeks away. Ah! I didn't realize it was so close!
I'm hoping to get 5 two-a-days in by the week I head to Boston. I HATE running in the afternoon, so it's going to suck. Hopefully, this will make the actual relay more pleasant though
Question: Ever run a relay? How did you train?