Happy Valentine's Day! I have a lot of different Valentine's Day memes for runners to share. You can use these for Instagram, Facebook or screenshot them to text directly to your partner or running buddy.
This year's collection of funny memes / e-cards are below AND I have a lot of other options from previous posts! I'll link to those below.
And if you're looking for gift ideas for your Valentine who loves running – check out my Amazon idea lists. It's basically all of my favorite things. –> Run Eat Repeat Amazon Idea List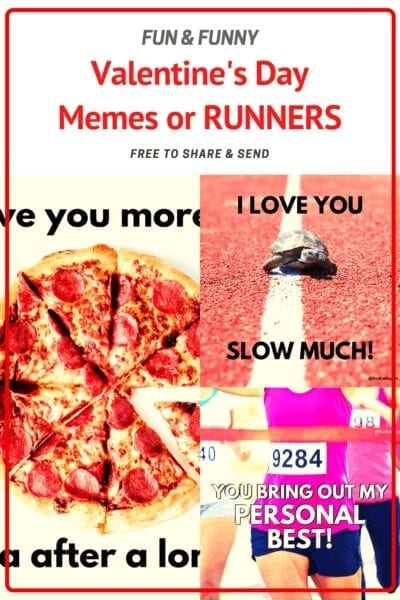 More Valentine's for Runners are linked at the bottom of the post!
Valentine's Day Memes for Runners
You can share these fun Valentine's Day Messages with your favorite runner or social media followers!
Screenshot them or save them and share with your followers on Instagram or Facebook – just please tag @RunEatRepeat for credit.
If we're just meeting Please Follow @RunEatRepeat on instagram here.
What I Think About While Running pie chart:
A List of Things I Love Valentine's meme for Runners: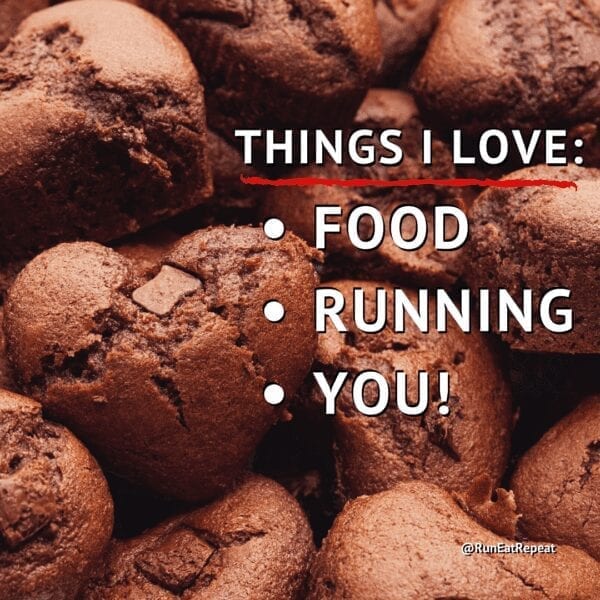 I love you more than Pizza Valentine's meme for Runners:
Happy Valentine's Day for Runners:
You bring out my personal best Valentine's Day meme for Runners:
I love you SLOW MUCH! Valentine's Day meme for runners:
It's not the destination, it's who you run it with! Valentine's Day meme for runners:
Runner Poem for Valentine's Day for your running buddy!
[Roses are red… Violets are blue… Long runs really suck without you]
I LOVE (carb-loading with) YOU! Runner meme for Valentine's Day
Happy Valentine's Day to my running buddy! Sole mates meme:
I love you a waffle lot! Valentine's Day e-card:
You win the race to my heart! Valentine's Day card for runners:
Want to Keep Going?
More Valentine's Day pics and memes you can post: 
Next – follow @RunEatRepeat so you don't miss out on any updates!