Remember when I told you I always get into situations where my friends tell me, "That would only happen to you…" (<- like that time)
Well, I think it happened again. Today after work I took a walk while checking blogs on my phone. I was just minding my biz when these two ladies came towards me the opposite way on the path and stopped me…
Lady in blue "There is the most gorgeous man walking that we just passed! If you walk fast you can catch up to him!"

Lady in grey "Yes! Gorgeous gorgeous! He is walking a dog…"

Lady in blue "and his shirt says New York. If you really want fast you can catch him. You have to see him!"

Lady in grey "Hurry! Walk fast!"
So, what do I do?
Um, what any hot lukewarm blooded American would do – booked it!
Yes. I started walking even faster to see this guy.
Then, I realized this was crazy so I slowed down.
And did what any lukewarm blooded blogger would do – took a picture.
So, no I never caught up to him. But the idea of him is probably better than the reality, right?
And on the way back I passed the ladies again and they asked if I made it to him – ha! Good lookin out ladies, good lookin out.
In other news… Katy is predicting life casting is on it's way out. I kinda agree that blogs that post every aspect of daily life can get boring (unless they're my peeps), and I've been getting away from posting every single detail of my life. One of my friends who used to read life casting blogs said she stopped because, "I get it, they all like oatmeal."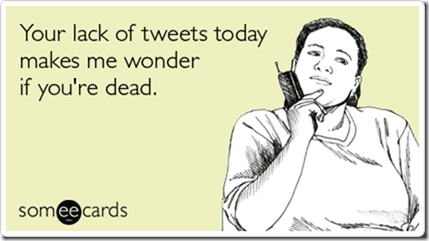 I'm trying to do my own balance with it. But then, you guys ask for more details? So, I don't want to label what I'm doing or where I'm going either way. Some days I'll life cast some days I'll just live and some days I'll write posts about how I awkwardly tried to follow some guy on a walk…
Run SMART Goals
Fill out this form to get the SMART Running Goals worksheet to your inbox!