Hello! Here is a quick post with the details of what I wore to the Long Beach Half Marathon. Knowing what gear to wear to run is really important. The right gear can help prevent chafing, over-heating, getting too cold, being uncomfortable and more. Plan your gear before the race taking into account – the weather on race day and what you're comfortable wearing.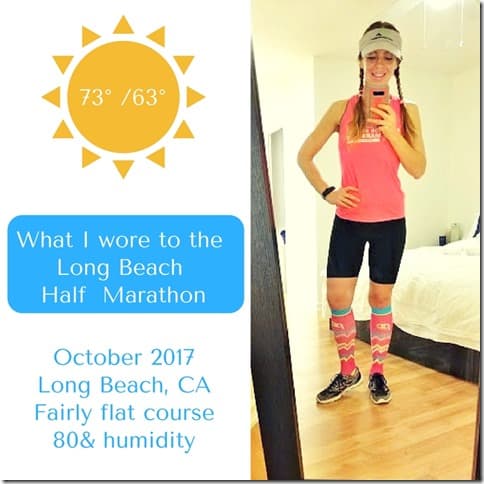 Running Gear for Long Beach Half Marathon 2017:
ProCompression Visor – similar visor for running here
Danskin Now Sports Bra – options… High Impact Sports Bra
LA Marathon tank – (by Skechers this one is similar)
Long Running Shorts – Check out my Running Shorts post for more options
ProCompression Socks – I love compression socks!
Skechers Running Shoes – I rotate between those and Brooks running shoes
Notes: The weather was great (God Bless Southern California). Some years it has been hot at this race though. The combo of shorts, compression socks and a tank – worked well for me. I think the temperature was in the mid 60s at the start and low 70s by the end of the race.
Oh and…a paper towel stuffed in my sports bra for random runny noses situations… #ClassicMonican
Race Recap of the Long Beach Half Marathon 2017 can be found here. 
Question: Do you have your running gear figured out?