Podcast: Play in new window | Download
Subscribe: Google Podcasts | RSS
Hello! Today I'm sharing tips on how to plan for and make a great running costume. Halloween is slowly creeping up on us and there are a lot of races that encourage running in costume. Plus all the Run Disney Races are a great opportunity to dress up to run – so these tips work for anytime you want to run while in a costume. Check out the tips below and then…
Enter the Run Eat Repeat Running Costume Contest!! More information and details are at the end of this post! I'm super excited to see all the running costumes!!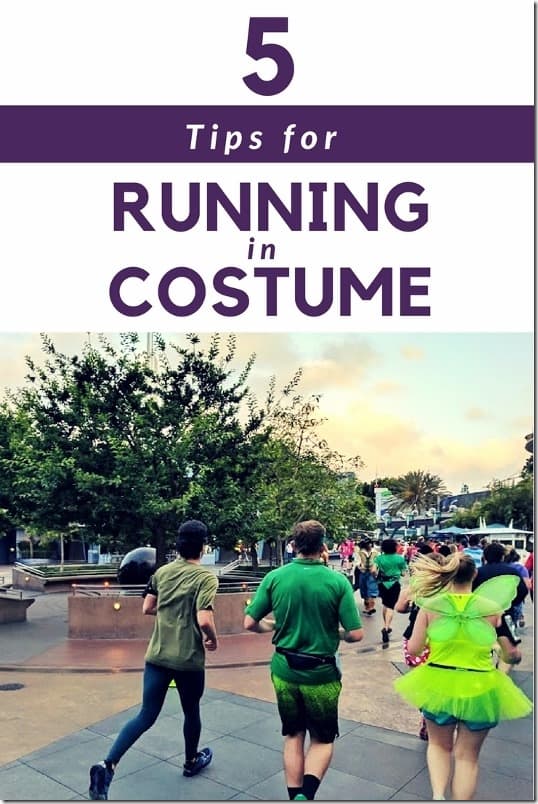 5 Tips for Running in a Costume
1. Check to see if there are any rules or guidelines for your race.
Some races don't allow masks or certain accessories.
2. Think of a good costume idea and then decide if you can make it runner friendly.
Brainstorm a few ideas and consider if it's 'do-able' and would work to run in and work with the weather.
3. Runner friendly costumes follow these guidelines:
– Is it fairly comfortable… you can still wear wick-wear or breathable fabric.
– Allow you to see and hear everything around you.
– Don't obstruct your arms or legs from moving. Can you RUN in it? Will it be heavy or tight?
– Isn't too big, heavy or a burden to wear (carry on your body!) for miles. A wig? A pizza box??
– Won't break during the race.
4. Embrace the epic.
If you have a really good running costume idea that won't make it easy to run but you really want to do it… decide that it's worth it and go for it. As long as you're safe –and your priority is having fun and/or having an epic costume – do you.
5. Focus on Fun! (And maybe don't have fast goals…)
Wearing a costume might make it more challenging to run fast. Or you might want to stop and take pictures along the course route. Or someone might stop you to ask if they can take a picture. Go into the race with the goal of enjoying yourself and having fun.
Check out some of my favorite Running Costume posts here:
How To Make a Cinderella Running Costume
How I Made My Tinkerbell Running Costume
Sleeping Beauty Running Costume DIY
How to Choose a Good Running Costume
How to Make a Winnie the Pooh OR Tigger Costume
5 Reasons to Dress Up For Your Holiday Race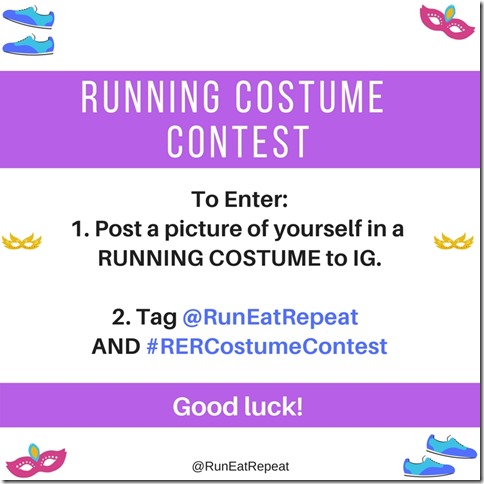 *THE COSTUME CONTEST IS NOW CLOSED*
Running Costume Contest
Enter by posting a picture of you in your running costume to Instagram  and tag @RunEatRepeat AND  #RERCostumeContest
Rules: Photo should be of you in a costume while running, just before running or just after running.  It does NOT have to be a race but it should be a costume you are wearing to run (either a training run or race). Ends Oct 31st at midnight 2017.
All entries must be posted by Oct 31st at midnight PST. We ask that private accounts are made public during the giveaway in order to be entered. This contest is in no way sponsored, administered by, or associated with Instagram, Inc. By entering, entrants confirm they are 13+ years of age, release Instagram and anyone associated with Run Eat Repeat of any and all responsibility, and agree to Instagram's term of use.
Categories:
Best Costume – Top 3
Best Duo or Group
Contest open from 10.9.17 until 10.31.17 midnight PST.  Must tag @RunEatRepeat and use the hashtag #RERCostumeContest  to be considered.
Follow @RunEatRepeat on Instagram for updates and more on the Running Costume Contest.
*THE COSTUME CONTEST IS NOW CLOSED*
Got a question you'd like me to answer on an upcoming episode?
Leave a voicemail with your running / food / life question and I may answer it on the Run Eat Repeat podcast.
Run Eat Repeat Question line: 562-888-1644
Please subscribe to the Run Eat Repeat podcast and leave a review on iTunes or your podcast app!
Thanks for listening!
Don't Miss It!
Get the latest sales, podcasts, recipes and more straight to your email!