Podcast: Play in new window | Download
Subscribe: Apple Podcasts | Google Podcasts | Stitcher | RSS
Check out RunEatRepeat on Instagram for the latest running and eating fun or follow me on Facebook to join the RER team!
Today is a special episode because it's part of the Nutrition for Runners series. I reached out to my friend Steve Mackel because I wanted him to explain his strategy for fueling during a race. It's the 10 – 30 – 45 method I use in races – and I realized I haven't talked about it lately.
But we ended up talking about carb-loading, what to eat before a race, what to eat during a race and after a race – and I didn't want to hold out this information in case you're running the LA Marathon this weekend or training for a race and can use this in training!
Before I get to the interview I want to tell you about Steve because he has an impressive resume and so much experience working with athletes of all levels… from first time half marathon runners to seasoned veterans trying to PR or qualify for the Boston Marathon – he has coached them all.
We met in 2013 on a project with the NYC Marathon and I was fairly newbie at the time and learned a ton! He coaches a great running group – the Sole Runners and I've been able to run a few races with them. This is a list of just some of Steve Mackel's credits…
ChiRunning – Master Instructor
NASM – Personal Trainer
Precision Nutrition certification
RRCA – Marathon Coach
Certified Indoor Cycling Instructor
Certified Massage Therapist
NASM – Senior Fitness Specialist
FIST Biker Fitter
Certified Hypnotherapist

*Get the Fueling Cheat Sheet Here*

Most recently we ran the Surf City Half Marathon together. We both pushed ourselves and did our best at the race. He brings out the best in people! Let's get into the tips on what to eat before, during and after your race…
Warm Up:
I asked Steve a few questions to start including…
What is your favorite race? The NYC Marathon and Athens Marathon
Training for anything right now? He's training to run the Mt. Charleston Revel Marathon.
*Bonus: if you want to run one of the Revel Race Marathons or Half Marathons – check out the race discounts page to save on those runs!! 
What to eat DURING a Race or Long Run:
What is your strategy for fueling during a marathon or half marathon?
Do you eat gels or chews during a race? Which ones? How often?
Steve's thoughts on caffeine before and during a race.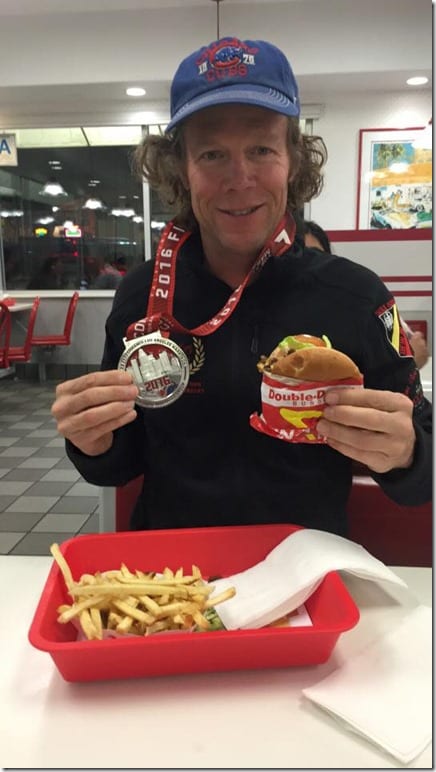 How to Carb-Load
Carb-loading is more than what you eat the night before a race. You should start carb loading in the days leading up to the race. Increase your intake to 60 to 70% carbs. Try to eat fairly 'normal' the night before the race and top it off race morning.
**There's a 3 day Carb-Loading Meal Plan on the Fuel Cheat Sheet.**
10  – 30 – 45 method to fueling for a race
The 10 – 30 – 45 fuel strategy for marathon and half marathon races is a great way to make sure you are drinking and eating enough. Set your watch to beep every 10 minutes / 30 minutes / 45 minutes and take in the fuel or liquid your body needs. The amount of water, electrolytes and food you need depends on your body, your race and goals. Practice this in training and learn your needs.
10 minutes – drink water or your running drink of choice
30 minutes – electrolyte
45 minutes – 150 – 200 calories
Most gels are about 100 calories
My favorites…
I use Clif Shot Blocks and Mocha Gels. I usually drink whatever electrolyte drink is on the course for a race. During training runs or for hot weather races when I bring my own water bottle I drink Spark usually in Fruit Punch or Mango Strawberry.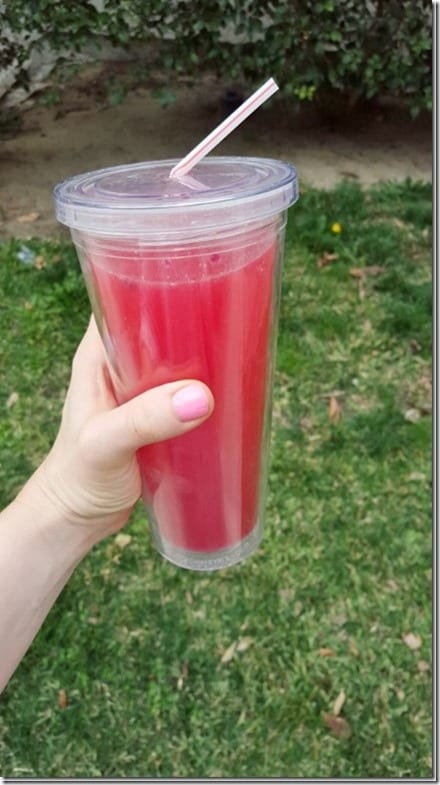 What should you eat AFTER a half marathon or marathon:
Chocolate Milk
Look for something that's about 3 to 1 or 4 to 1 carbs to protein ratio
Carbs are important to refuel your body.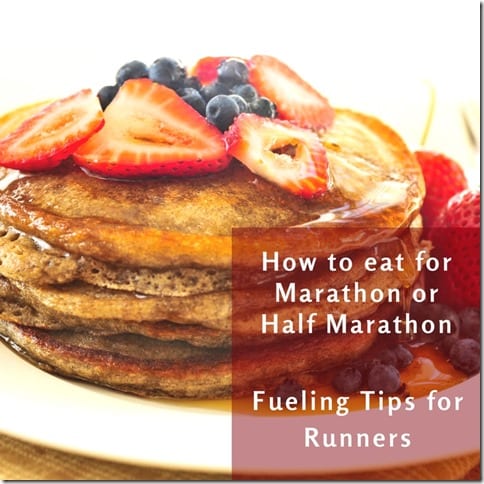 Get more information on the Sole Runners half marathon and marathon training group on their Facebook Page – Sole Runners.
Or you can contact Steve on his site MarathonTraining.tv
Good luck to anyone racing LA this weekend!! The Sole Runners are running the LA Marathon too! Say 'Hi' if you see their aid station around mile 18!
Then, they'll start a new training plan in May for the Long Beach half marathon or marathon in October. They train in Long Beach, CA so if you're in the area and want to run a half or full with a super fun, friendly group check them out.
Running Fuel to Try:
Clif Energy Blocks variety pack
Honey Stinger Waffle variety pack
(Spark also available in canister)
If you have any follow up questions – leave them in the comments or on today's Instagram post. 
Get the Fuel Cheat Sheet Here: