Hello! Today I'm sharing every single little detail of my life – from what I ate today to how I am an incompetent cat owner… kinda.
First, I managed to ruin my white Run Eat Repeat tank by washing it with some new jeans that turned it into a sad light blue color. Boo.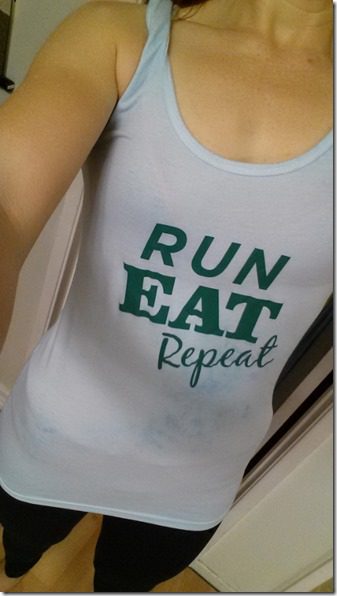 (You can get a RER tank and other gear in my Spreadshirt shop!)
But I'm not the only one that makes mistakes.
I've been eating a packet of oatmeal before I go run lately. It's nice and warm and is just enough to hold me over until breakfast. I usually buy the low sugar Maple and Brown Sugar instant oatmeal.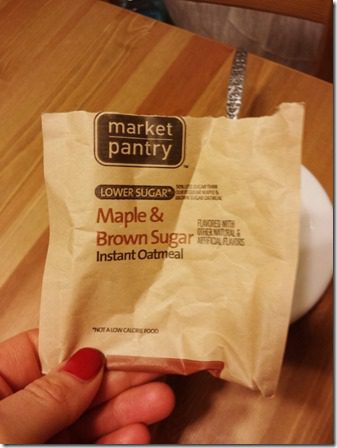 Well, this morning I made a packet and went to eat it only to discover it was actually plain oats! Ha!! Where's my Maple? Where's my Brown Sugar?? I want a refund. No harm no foul – I threw on some stevia and PB and all was okay in the world.
I've been sipping hot tea like it's my job this week. My heater is 'lost' (read: in the attic and I don't want to get it) so I am freezing. Luckily tea is delicious and warms me up and I have a lifetime month's supply from Celestial Seasonings.
This picture sums up my life right now: Tea in hand, wearing multiple layers, cat staring at me with love/hate, plastic bag on floor for said cat to suffocate, clothes drying on a hanger on the doorknob…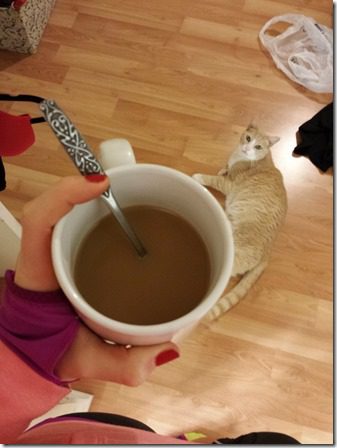 And now for the good stuff – what's in my purse.
This is part of my collaboration with Ricola®. Today we're talking about cold and flu season and the things I keep in my purse to stay healthy and feeling good in the winter.
I don't know if you've noticed but I always have the world's LARGEST purse. *Yes, like I'm in the Guinness Book of World Records for it.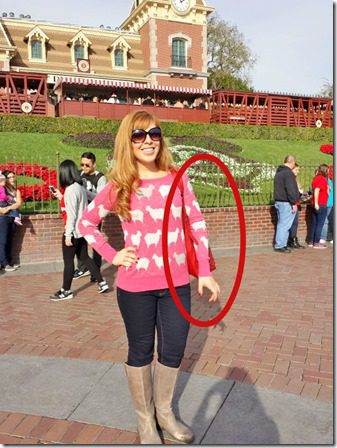 (Apparently I'm also holding hands with an invisible person in this picture too. #weirdo)
I even lugged that sucker all around Disneyland this weekend. Hey, I needed to bring all my essentials, snacks and randomness that I might need!
But seriously, there are a few items I have in my purse specifically for cold and flu season that help keep me feeling great.
The weather is super dry so water, Ricola drops and chapstick help keep me feeling hydrated. I also always have a snack of some sort – NEED. And I try to keep anti-bacterial balm in my purse when I know I'll be touching a lot of random things – like the safety bars on a ride or shopping cart!
I actually got the tip to use Ricola drops to keep your mouth moist and clear a slightly stuffy nose from a friend who's a waitress and has to talk all day and doesn't have easy access to water. Thanks Heathy!
Those drops above are the Ricola® Original Natural Herb Cough Drops – they have  Chrüterchraft (natural herb ingredient that's only in Ricola products from Switzerland) in them. I am pretty sure I know how to say that word thanks to the commercials, which is kinda cool right? More importantly, all Ricola drops have that ingredient. Most importantly, even though they are super soothing they don't 'taste like medicine' to me, which I appreciate.
Related: Staying Healthy During Cold and Flu Season
Question: What do you ALWAYS have in your purse or pocket?
*I made that up, but mostly just because I don't think there's a category for that. If there was I'd be in the running for world's largest purse fo sho.
Disclaimer: This post is sponsored by Ricola Herb and Throat drops. All opinions are my own.
Run SMART Goals
Fill out this form to get the SMART Running Goals worksheet to your inbox!