Hello! I ran the Phoenix Marathon yesterday. It was hot and fun and sweaty and a bit ol' blast. I miss running with SkinnyRunner! Here is my recap of the race and results and a little bit of the fun. I was going to post all the fun, but this post became 26 pages long.
Let's start with race morning. We woke up at 3:30am and got ready in 15 minutes. I took my oatmeal and iced coffee to go.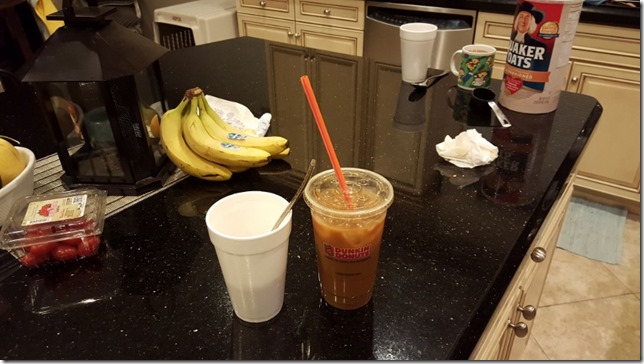 SR and I made great time to the race but hit a ton of traffic near the freeway exit and tried to find our way to the parking. Long long long story short a police officer helped direct us to the correct area but we were still caught in a lot of traffic and knew we were going to miss the last bus to the full marathon.
The Phoenix Marathon is a point to point course so you have to park near the finish line and take a bus to the start. The last bus to the start is 5:15am and we weren't even near parking at that point. So, we resigned ourselves to running the half and just tried to get there in time.
We parked and were advised by a parking attendant the last bus to the marathon was gone. Okay.
Then, a crackle came over their walkie talkie and someone said "There is one bus left, tell them to hurry!!!"
We took off running to another parking lot to catch it. I was the second to the last person on the last bus. We barely made it.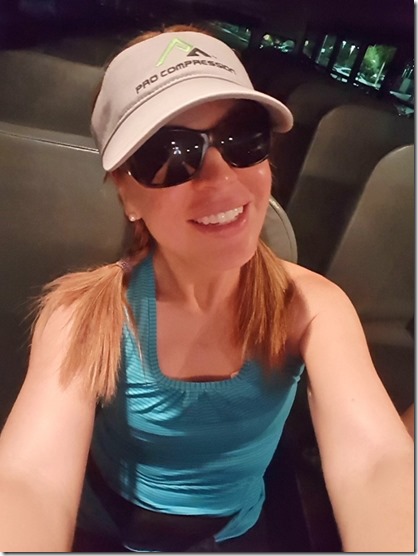 By the time the bus got to the start the gun went off and the race had started! We hit the porta potties and crossed the empty start line almost ten minutes after the gun time.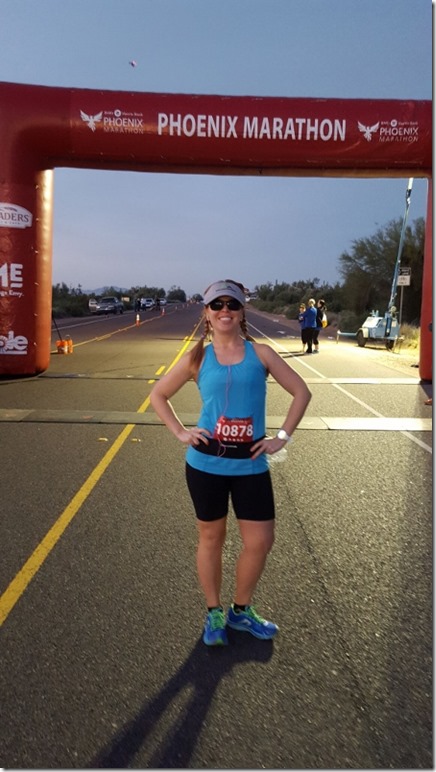 This was the start line when we got there: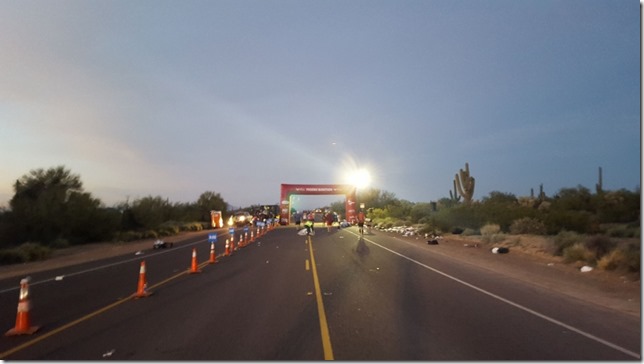 The race:
The first miles of the course are in a gorgeous area surrounded by cacti and open land. I love it. I love places like this! The course is net downhill, but just felt flat to me not an obvious elevation drop like the course elevation shows. (I think that's because I just ran Revel City so it's by comparison.)
It was hot though. And I'm not in full marathon shape so it was a pretty rough race for me. I felt great until mile 17ish (just like at the LA marathon) and then just hung on for dear life.
It went well considering the weather and my need to train more. But I am happy with another long run in the books. And I had a lot of fun running with SR.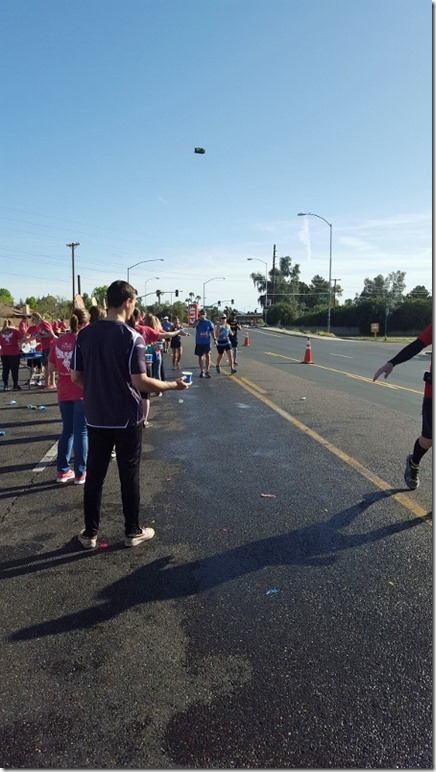 Trent! It's been so long since I'd seen Marathon Man!!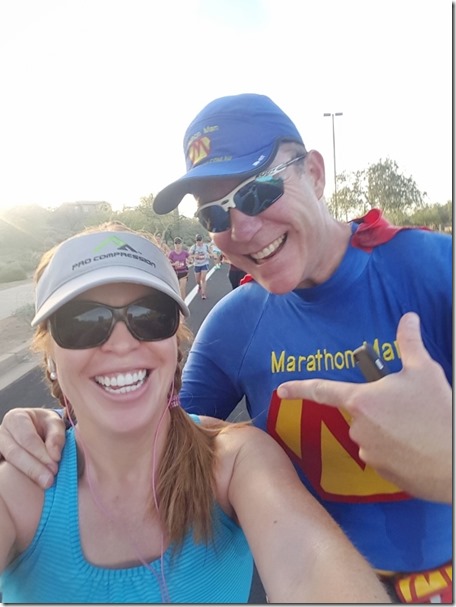 That's SR's sexy legs: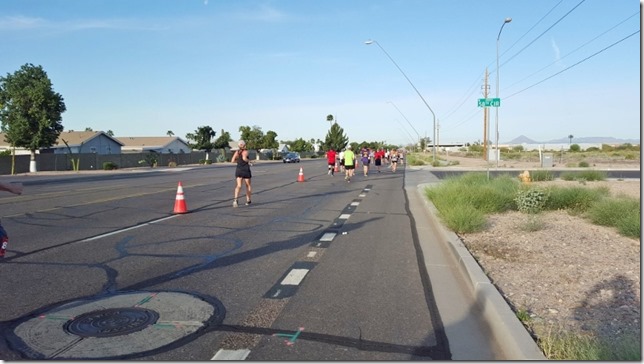 On the course we spotted Brian, Emily, Carlee around mile something (I have no idea because I was too tired to be of sound mind and body).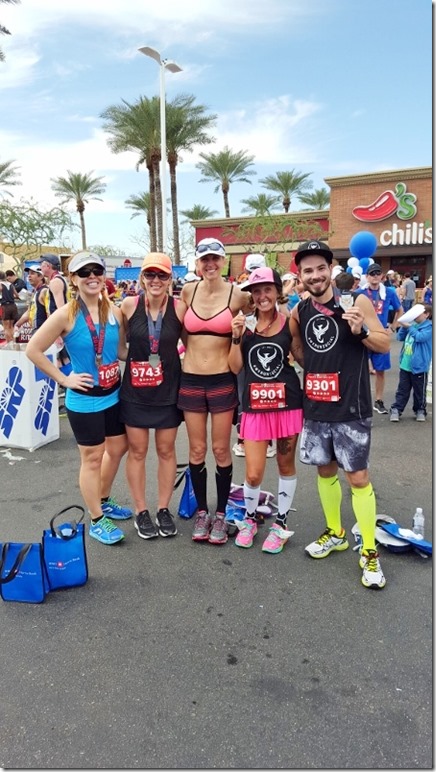 The finish:
Q: You know what the best part of running a marathon is?
A: When it's over.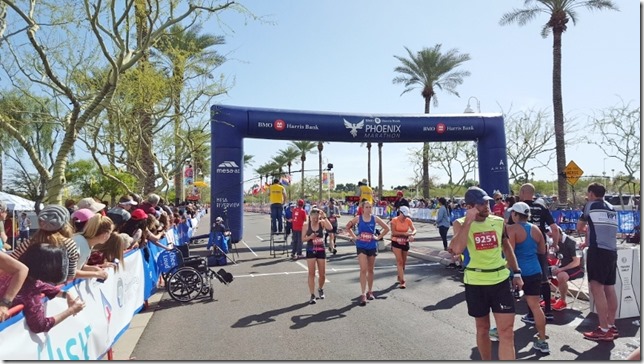 Phoenix Marathon Results: 4:04:26 Pace: 9:20
Actual pic of me after the race…
I didn't feel like eating a ton after the race, which is a bummer because the post-race food was epic. They were handing out BBQ and fresh French Toast from a local restaurant. Like, epic thick French Toast!!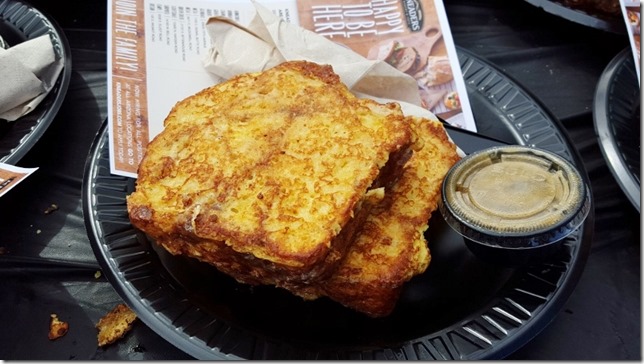 I made SR get some because it's good for you.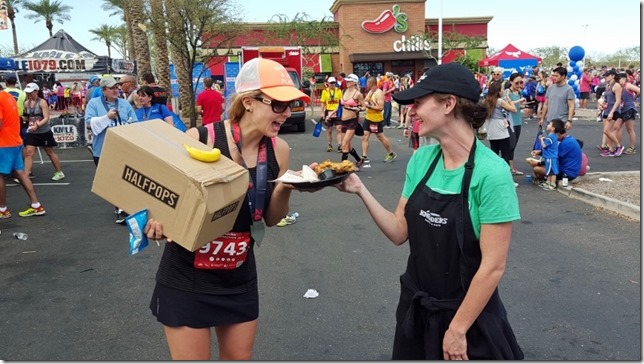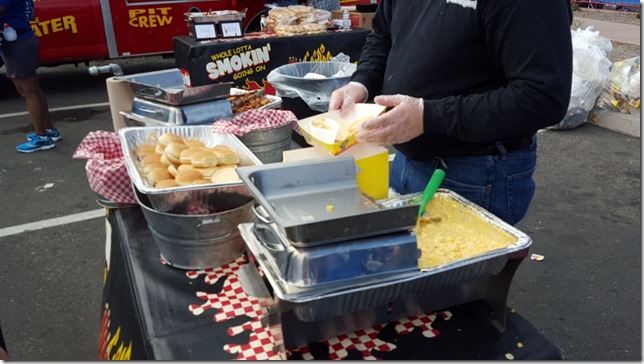 Then, we went to relax and eat all the things and drink all the things.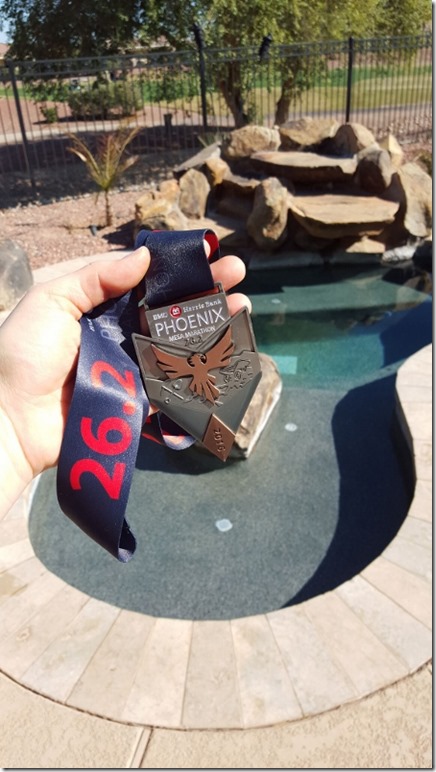 It was so good to meet new runners and old friends who I hadn't met in person. Runners are good people.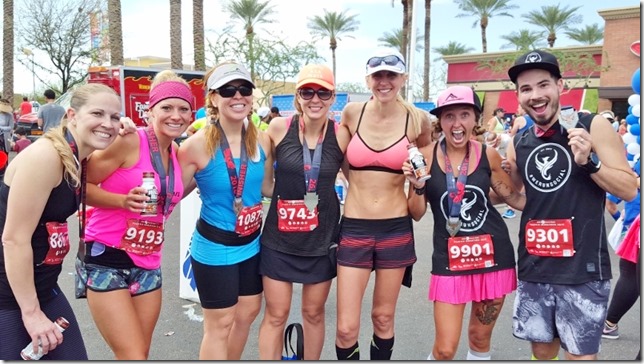 Question: French Toast or Pancakes? Or Both?