Today I learned what "Wind Chill Factor" means. I had never experienced cold, cuts right through you kinda wind until today. Ouch.
I set out on my last "long" run of 8 miles and it was cold this morning.  I considered going back for more clothes, but thought I'd warm up once I kept running – WRONG. I never warmed up and the wind was hitting me hard. I tried to keep my hands in fists (inside my gloves) as much as possible, but they still got so cold they were aching.
At one point several points in the run I just wanted to cry, but I know from experience that running +  crying = hyperventilating 🙁
I am not even sure how far I went (I think it must have been between 7 and 8 miles) because my Garmin was not working today.
When I got home Ben could see I was upset and I finally broke down and said some bad words expressed my frustration.
Truth time: I have considered dropping out of the marathon more than once in the last few weeks. I am frustrated, scared, overwhelmed and under prepared. A lot of running is mental and when you are running a marathon you really have to be mentally strong and positive. I am not those things right now. It is like I have already decided I cannot do it and I will fail. That is rough.
I do not believe I am physically or mentally ready to do my best, or even a good job, at the marathon. I am "psyched out" 🙁
But, I do think I can at least finish it (even if it is walking) and try to have a good time. So, I think I will press on and run it and just try to finish, walk some of it if I want, and enjoy running around Disney.
It is very hard to admit that I am not ready to do a good job (mentally or physically). But, that's where I am right now…
Before I left on my chilly run I had half a bagel with PB. When I got back I paced around a bit until I could feel my hands, then got in the shower. I decided an egg-centric breakfast was in order: Egg scramble with spinach, onions and cheese, toast with butter and Pumpkin Butter and an orange.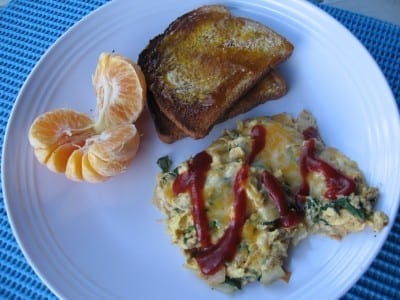 Whew! I feel like this post (and my post-run freak out) was very cathartic. Thanks for reading. I feel a lot better now 🙂